Convicted Pussy Riot members sent to remote prisons east of Moscow
Published time: 22 Oct, 2012 22:49
Edited time: 23 Oct, 2012 02:49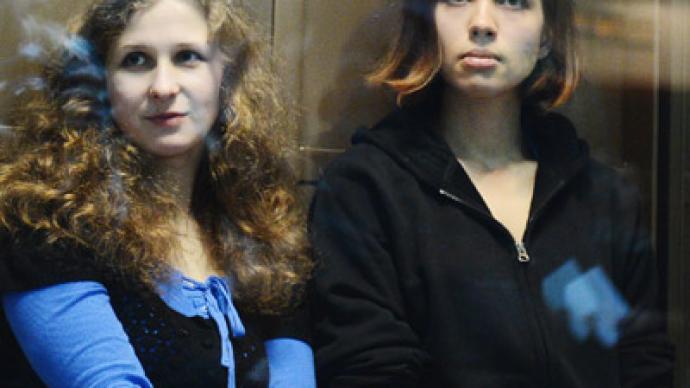 Two members of the convicted Pussy Riot punk band will serve their prison terms in remote prisons, despite their pleas to stay in the capital. The exact correctional facilities will be revealed as soon as prisoners arrive to their final destinations.
­The defense team has earlier argued that staying in the vicinity of Moscow is necessary, as both Maria Alyokhina and Nadezhda Tolokonnikova have small children. Lawyers have also said that health and safety concerns would be much better catered for if they remained in the capital.

Penetentiary officials have confirmed the prisoners are in transport, one of the lawyers, Mark Feigin said, adding he has not been informed of their exact whereabouts.
Online speculations from the supporters reveal that Tolokonnikova has allegedly been sent to Mordovia, about 500 km east of Moscow, and Alyokhina to the Perm region, near the Ural Mountains about 1,100 km away.

Their exact location will not be known until the convicts reach their final destination.  By law relatives must be informed once a convict arrives at a prison, which if transported by train or vehicle can take several days.

A third member, Yekaterina Samutsevich, was released on probation after successfully appealing her conviction.

The trio were arrested after they stormed the Christ the Savior Cathedral in February, where they performed a profanity-laden 'punk prayer.'
During their final testimonies in August, the women apologized before those whose feelings has been hurt, but said they regret nothing.
They also insisted that their performance, which included the words "Mother of God, drive out Putin", was not a personal attack on the president, but on the political system he created. A Moscow court ruled the song was not a political action, rather hooliganism motivated by religious hatred.
The punk group members were sentenced to two years in a medium-security prison on August 17 for hooliganism motivated by religious hatred.