Freedom should not be destructive – Russian Orthodox Church chief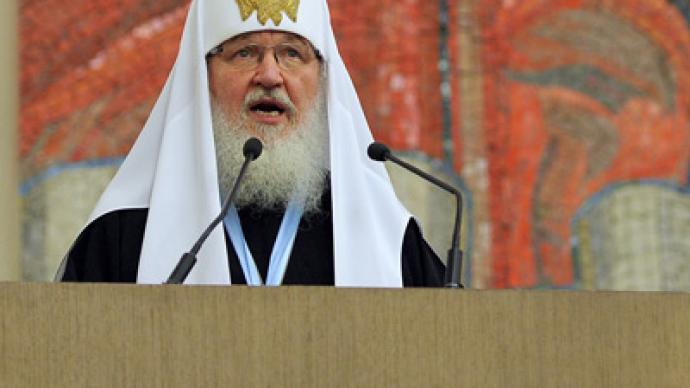 Russian Orthodox Church head Patriarch Kirill recently pushed back against accusations that the Church opposed freedom of speech over its role in the recent trial of the infamous punk band Pussy Riot.
"Freedom of speech and creation are important values," Patriarch Kirill said during a meeting of the Church Supreme Council on Friday. Without these freedoms, Orthodox Christianity would have lacked "hundreds of theologians' works," citing famous paintings of religious icons and church architecture, he said."But any freedom can be turned into evil," Interfax quoted Kirill as saying.The comment came shortly after politicians in the German town of Wittenberg nominated the members of Pussy Riot for their 'Fearless Word' freedom of speech award in honor of Martin Luther. The Protestant theologian helped launch the Reformation in Germany in the 1500s.The move to salute Pussy Riot angered German churchgoers and religious leaders, however, who accused them of honoring blasphemy. A final vote on the award will be taken in November by delegates from 16 German towns with ties to Luther.Pussy Riot's February stunt in Moscow largest church, Christ the Savior Cathedral, split Russian society; some saw the protest as insulting to believer's feelings, while others called it a courageous act. The group staged a 'punk prayer' on the cathedral's altar, asking that the Virgin Mary "redeem" Russia from Vladimir Putin.Three members of the band were arrested and sentenced to two years in jail each for hooliganism motivated by religious hatred and enmity. Earlier this week, a Moscow court freed one of the convicted women, Ekaterina Samutsevich, but upheld jail terms for the other two.Patriarch Kirill expressed the opinion that secular society and religious communities should strive to find balance between outrage and an enforced limitation of freedoms, as during the Soviet era.During his Friday speech, the cleric argued that human dignity precludes using freedom and art to disruptive ends: "An Orthodox Christian will never mock symbols of other religions. That's not because they are sacred for him, but because it would be insulting for a person sharing these beliefs." Believers and non-believers alike who violate widely held societal beliefs often become pariahs, he said. The Russian Church has come under harsh media criticism recently for its alleged interference in public life, and for some of its clerics' apparently impious and luxurious lifestyles. The church has also accused of holding undue influence in state politics; the Pussy Riot case only fueled this debate. In protest against the Pussy Riot trial, vandals desecrated a number of holy sites across Russia, chopped down crosses and leaving graffiti on the walls of churches.