Pussy Riot's Alyokhina announces hunger strike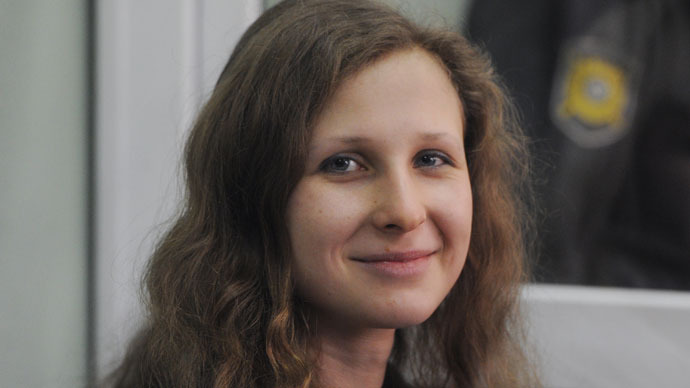 Maria Alyokhina, an imprisoned member of punk band Pussy Riot, has declared a hunger strike in protest against a court's decision not to allow her to personally attend a hearing on her possible parole release.
Following the announcement, the court ruled to postpone the parole hearing till May 23. "I'm declaring a hunger strike and order my defense lawyers not to take part in this court trial," Alyokhina stated.
She participated in the hearing via video conference from the penal colony in the Perm region in Russia's Urals, where she is serving her two-year sentence for hooliganism over the Pussy Riot's 'punk-prayer' in Moscow's main Russian Orthodox cathedral. 
"Given that the Bereznikovsky city court [considering Alyokhina's parole release] is just across the road from the colony, the decision to deny her to attend the hearing can only be explained as humiliation," tweeted Pavel Chikov, head of Agora, an association of human rights organizations.
Prosecutor Lev Tashnikov said there was no need for Alyokhina's presence in the courtroom. The judge also said that there were no grounds for her to attend the hearing, as she could talk with her defense lawyer via the video link, Rossiyskaya Gazeta reported.
During the Wednesday hearing, Alyokhina also demanded that the judge – who refused to let her personally participate in the hearing – and the prosecutor recuse themselves from the trial. Prosecutor Tashkinov has personal enmity towards her, she argued. The court rejected both requests.
Alyokhina, 24, appealed for parole in April, seven months after the court sentenced her and two other Pussy Riot members to jail. Her fellow band member Nadezhda Tolokonnikova – who is also serving a two-year sentence – was denied parole last month. The third convicted activist, Ekaterina Samutsevich, was released on probation in October last year.
It is yet unclear whether Alyokhina will participate in tomorrow's court hearing.
You can share this story on social media: