Pussy Riot 'principles violated': Former band members back off from released pair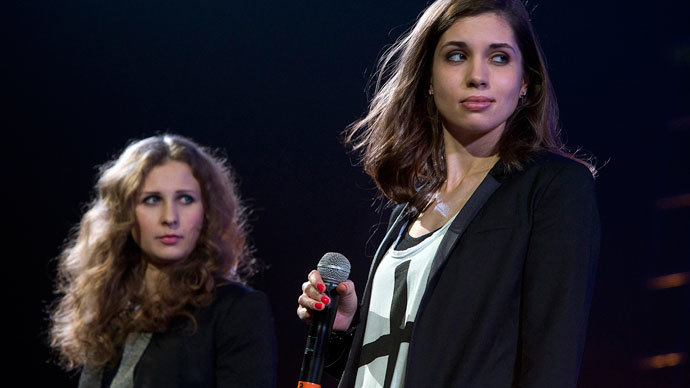 Six Pussy Riot members have reproached formerly imprisoned ex-members, Maria and Nadezhda, for 'completely forgetting about the aspirations and ideals' of the ensemble by taking part in a star-studded Amnesty International's gig in Brooklyn.
Nadezhda Tolokonnikova and Maria Alekhina spent 21 months of their two-year sentences in prison for singing a "punk prayer" protest song in Moscow's landmark Orthodox cathedral in February 2012. Convicted of hooliganism motivated by religious hatred, they were released from prison in late December last year, following an amnesty from the government. Throughout all this time, they have been under the glare of the media spotlight, both in Russia and overseas.
On February 5, Maria and Nadezhda made their first public appearance in the United States and shared the stage with one of their loyal supporters, Madonna.
"Unfortunately for us, they are being so carried away with the problems in Russian prisons, that they completely forgot about the aspirations and ideals of our group — feminism, separatist resistance, fight against authoritarianism and personality cult, all of which, as a matter of fact, was the cause for their unjust punishment," Tolokonnikova and Alekhina's ex-fellow members complained in their open letter on Thursday.
"Now it is no secret that Masha and Nadia are no longer members of the group, and they will no longer take part in radical actions. Now they are engaged in a new project. They are now institutionalized advocates of prisoners' rights," the bandmembers, who wished to remain anonymous and identified themselves as Garadja, Fara, Shaiba, Cat, Seraphima, and Schumacher, wrote.
"And as you know, such advocacy is hardly compatible with radical political statements and provocative works of art that raise controversial topics in modern society. Just as gender conformity is not compatible with radical feminism," the sextet wrapped up.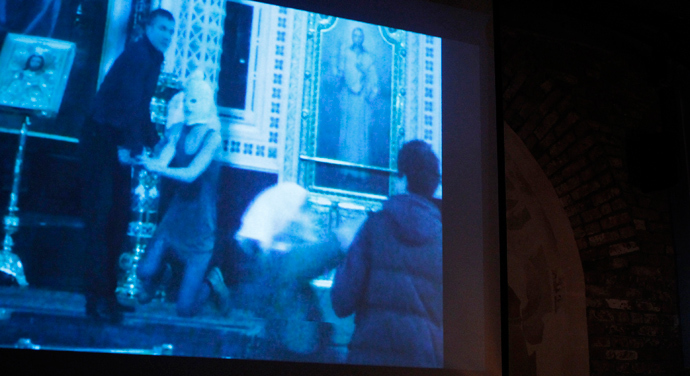 Ex-fellow members lashed out at Masha and Nadia for choosing to take part in Amnesty International's "Bringing Human Rights Home" concert, which drew a crowd of thousands into one of New York's biggest venues with a maximum capacity of nearly 20,000.
"Our performances are always 'illegal,' staged only in unpredictable locations and public places not designed for traditional entertainment," Pussy Riot members noted, adding that those who attend their performances are "always spontaneous passersby, and we never sell tickets to our 'shows.'"
They also mentioned that the poster of the event promoting Tolokonikova and Alekhina's appearance at the New York concert featured a man in a balaclava with an electric guitar, under the name of Pussy Riot, "while the organizers smartly called for people to buy expensive tickets."
"All this is an extreme contradiction of the very principles of the Pussy Riot collective: We are an all-female separatist collective: no man can represent us either on a poster or in reality," Pussy Riot members stated in their letter.
Meanwhile, some of those who attended the Wednesday gig were surprised to find out that Tolokonnikova, 24, and Alekhina, 25, didn't perform any of their famed radical songs, but recited catchphrases from the closing statements of the Russian activists arrested during a pro-democracy rally on May 6, 2012 instead.
An interpreter translated the young women's vehement speech from Russian into English. Their performance reached a climax when Nadia and Masha, wearing T-shirts with large crosses on their chests, demanded the release of anti-government prisoners and chanted "Russia will be free" several times in English to make sure everyone present at the Barclays Center in Brooklyn understood.
Meanwhile, introducing them on stage was the queen of pop herself, Madonna, who couldn't help thanking the former prisoners "for making pussy a 'sayable' word" in her household. "I've always considered myself a freedom fighter since the early '80s when I realized I had a voice and I could sing more than songs about being a material girl, or feeling like a virgin," Madonna mentioned.
The band's name must have become a household name for another prominent American, the US Ambassador to the United Nations Samantha Power, with whom Tolokonnikova and Alekhina caught up with ahead of the New York concert.
According to Power's deputy spokesman, Kurtis Cooper, the trio discussed "the disturbing trend in (Russia) of legislation, prosecutions and government actions aimed at suppressing dissent and pressuring groups that advocate fundamental human rights and basic government accountability."
When asked about their half-hour brief meeting, Russian UN Ambassador Vitaly Churkin ironically wondered: "She [Power] has not joined the band? I would expect her to invite them to perform at the National Cathedral in Washington. Maybe they could arrange a world tour for them, you know.

St Peter's Cathedral in Rome, then maybe in Mecca in Saudi Arabia, ending up with a gala concert at the Wailing Wall in Jerusalem," Churkin suggested. "So if Ambassador Power fell short I would be disappointed," he added.
"Will you join us?" Power responded on Twitter. "I can't sing, but if Pussy Riot will have me, Ambassador Churkin, I say our first concert is for Russia's political prisoners," the US Ambassador to the United Nations wrote, suggesting that their joint gig be held at Moscow's Matrosskaya Tishina prison.
In fact, Tolokonnikova and Alyokhina told a press conference ahead of the concert that "anybody can be Pussy Riot."
"You just need to put on a mask and stage an act of protest in your particular country," one of them pointed out.
You can share this story on social media: