British mainstream freaks out over RT UK launch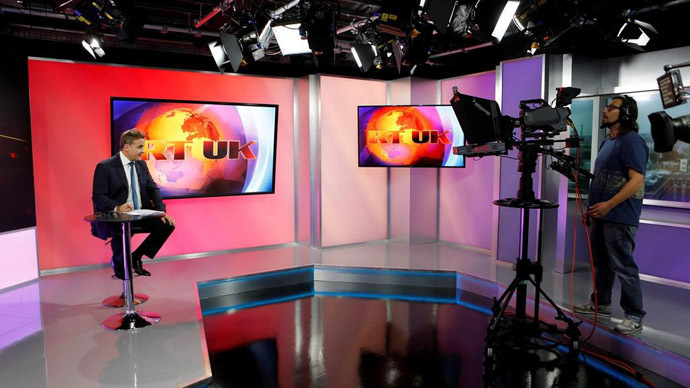 UK news outlets and personalities are reacting with predictable venom to the just-launched RT UK's pledge to "challenge" the UK status quo.
The "red scare-mongering" portrays the network as a "Kremlin-backed mouthpiece" and a "key weapon" Vladimir Putin wields against Western societies. Even Reuters worried that RT is seeking "to extend Russia's soft power in a close US ally".
@RT_com@RTTV_UK@BillDod1@Polly_Boiko@maxkeiser@afshinrattansi one disadvantage of democracy:No one can stop this people to spread lies

— Alan (@free1953) October 30, 2014
The Guardian and The Mirror went for "laughs" - scrambling up two stories on RT's 'greatest hits' that included an activist refusing to discuss Chelsea Manning's sentence as he was invited to do, an interview with Steven Seagal who criticized western media coverage of the Ukraine crisis and a video of Putin singing Blueberry Hill at a charity dinner.

The Sunday Times columnist chose the way of personal attacks against RT staff.
RT UK's launch also coincided with a London panel debate on "countering Russian disinformation", hosted by a UAE-funded NGO – its press release mentioning the only Russian channel – RT. Tory activist and Conservative Home executive editor Mark Wallace got so worked up that he urged British MPs to boycott RT UK on the premise that speaking to the channel would spread "propaganda."
Dear fellow Westminster bods, can we all agree not to appear on @RTTV_UK? There's no upside in helping the Kremlin spread its propaganda.

— Mark Wallace (@wallaceme) October 30, 2014
@wallaceme No. I go on it regularly and will continue to do so. We're not in the business of handpicking acceptable outlets.

— Ian Dunt (@IanDunt) October 30, 2014
How could RT now welcome such a thorough promotion of what it does and represents? Never mind the fact that the channel-bashers failed to notice that RT is a Monte-Carlo TV Festival winner for best 24-hour newscast, and a three-time Emmy nominee for topics far less amusing – though no less noteworthy, including coverage of the global Occupy movement and Guantanamo detainees' hunger strike.
MT @js_jacques RT just unveiled its new logo #Russianpropagandapic.twitter.com/xxZxbiRfFB#Ukraine#Russia#Putin#propaganda#Novorossiya

— hp (@2111015) October 31, 2014
It follows that the issue of a singing president is far more difficult to ignore for the mainstream media in the West.
RT's international stations have always strived to simply deliver news that people are struggling to get elsewhere. And despite these "funny" / fear-mongering UK press pieces, it seems that this is exactly what many are expecting of RT's new UK channel.
People commenting on the Guardian website agreed:
- At least it might prove a bit of an antidote to the BBC / ITV / CHANNEL 5 news broadcasts from Tory HQ??
- Its coverage of the Scottish referendum was pretty fair and balanced, I thought, unlike some other broadcasters closer to home.
- Russia Today provide balance to the UK media. Counters a narrative and provides a platform for alternative voice. For that I'm grateful they exist in the UK.
- RT is more reliable now than our dear old graun. Great news that we will have another source to compare with what currently passes for journalism in the UK. How UK's oligarch press barons and the elitist London establishment must hate that!
Mr. Wallace's appeal didn't sit too well with others either, with Politics.co.uk editor Ian Dunt responding frankly, suggesting officials and commentators should not be "handpicking acceptable outlets". RT offers "commendable" coverage of UK politics and is a "worthwhile part of a varied media diet", Dunt noted.
In the end, all the listicles, the panicked appeals, the sneering and snide comments on the RT UK launch, point to the fact that those with a vested interest in indignation will carry on being indignant to their hearts' content.
@evakatrina@Polly_Boiko@BillDod1@afshinrattansi I love the format of the new @RTTV_UK !!! Give yourselves a cheer!!! :-)

— Spud (@MashSmasher) October 30, 2014
For the rest – well, they are turning to RT on air, online, and on YouTube, where the outlet has already become the #1 TV news network with more than 2 billion views. As for the 2.5 million UK viewers who tuned in to RT International last quarter – now they have a news outlet that speaks directly to them and offers something different to the same stories in rotation on the mainstream networks. Let's let Britons decide for themselves if they like this addition to their news menu.