Cover your ass! Conservative attack on donkey lovemaking overturned in Poland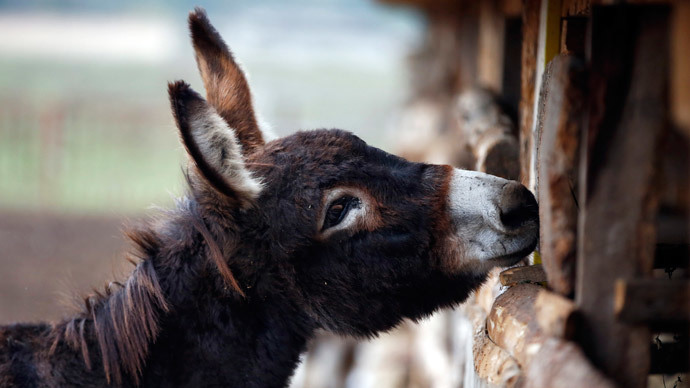 A conservative politician's move to have a zoo separate two donkeys to prevent them from mating in front of visitors provoked outrage in Poland. Following a vocal public campaign and media coverage, the old-time lovers are together again.
Napoleon and Antosia have been mates at the Old Zoo of Poznan, one of the oldest in Poland, for a decade, producing six offspring over the years. But the donkey couple drew some unwanted attention after mothers expressed outrage that children had to witness the animals copulating.
Local official Lydia Dudziak, from the conservative Law and Justice party, championed the cause. She convinced zoo management to put the donkeys into adjacent pens so that the fence would not allow them to consummate their partnership.
haha :D #osły#sexafera#zoo#ZnowuRAZEM#Poznań#cityknowhowpic.twitter.com/qTGijzi82D

— Julia Juleeczka (@Juleeczka) September 25, 2014
The relocation however didn't go down well with many Poles, who didn't feel the need to bar donkeys from performing a natural act of procreation. An online petition to reunite Napoleon and Antosia garnered nearly 7,000 signatures. Two separate Facebook pages devoted to the hooved couple and featuring them in the act attracted some 10,000 'likes'.
The controversy drew national media coverage this week. Animal experts warned that keeping the donkeys apart would likely hurt their wellbeing. Some commenters wondered whether the zoo would be required to feed animals in secrecy on the assumption that some visitors may find that process repulsive.
The issue was even discussed by lawmakers, with Adam Hofman of the Law and Justice party criticizing his fellow politician. He said the issue crossed into an astounding "level of absurdity."
Tak wygląda szacowna radna PiS Lidia Dudziak..ta od osłów. Nie wiem jakie Wy macie odczucia, ale ja tam wolę osły! pic.twitter.com/hjpwKT2dAB

— Misha von Jadczak (@michaljadczak) September 24, 2014
Facing the pressure, the zoo acknowledged it had made a mistake on Thursday and said the asinine lovers were back in their pen together.
"It was never our intention for any animals to feel uncomfortable because of their natural behavior," the zoo said in a statement.