Dragon-cat and bee-dog: Russian groomers turn ordinary animals into futuristic creatures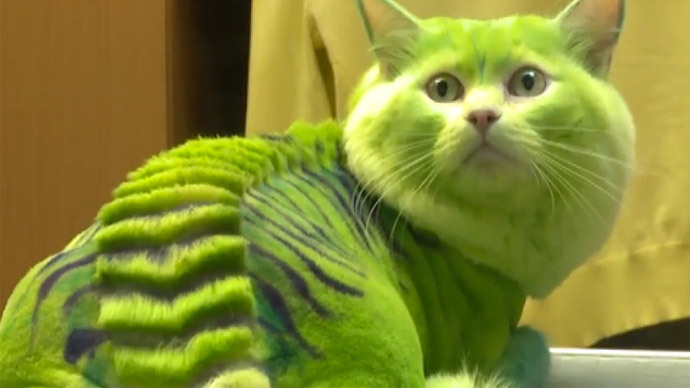 An emerald green cat with a dragon tail and a yellow-black dog which looks like a bee… It's not a scene from a futuristic movie, but an animal salon in southern Russia, where groomers turned a cat into a scary dragon and a dog into a buzzing bee.
The groomers from the southern Russian city of Yekaterinburg, in the Urals, decided to stage a beauty contest among their clients.
"We decided to make a bright summer, pretty dog. That's why we decided to color it as a bee. It's a bright image," says Ekaterina Aidimirova, a groomer and the owner of Pchyolka, a bee-dog. Ekaterina thinks that the dog with its smooth fur really looks like a bee.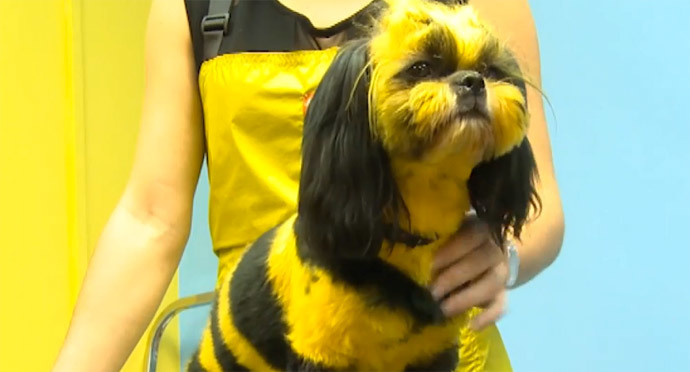 Vasya, a Siberian cat with grey fur was transformed into a savage dragon at the hands of creative groomers. His skin became emerald-green and his tale was shaved and colored like a dragon's tail.
Aidimirova adds that at first people may be shocked when they see dogs and cats transformed this way.
"But then they are delighted, enthusiastic [about it]. Children like them [colored cats and dogs] very much," she adds.
Daria Gots, the director of the animal salon, says the colors are totally harmless.
"We used harmless colors. The manufactures claim they have health effect from the extracts of special plants," she told Ruptly.
The fantasy of the groomers from Yekaterinburg is endless. Among their "creations" are dogs colored as zebras and superman.
In the meantime, Russia is not the only country where you can see dragon-cats and bee-dogs. Such a practice is widely spread in other countries, such as the USA and China.
In China a new trend has emerged - to turn your pet into an exotic animal, a tiger or a panda.
"Our panda design is one of the most popular," Sun Ruowen, owner of the Ruowen Pet Spa in Beijing, said. "Since this year is the Chinese 'Year of the Tiger,' our tiger design has also grown in popularity."
Statistics from the Beijing Association of Small Animal Protection shows that Beijing spends 500mn yuan ( $81mn) a year on pets.
Crazy pets or crazy owners? Take a look at this collection and decide for yourself!
Guess which #purplepower celeb took her dog to #petsmart for some #petexpressions flair? pic.twitter.com/PzKiRut2Ql

— PetSmart (@PetSmart) April 17, 2014
COLOR: Punky Colour Bright Yellow & Avatar Berry Pink by The Creative Groomer PHOTO: Cat Opson pic.twitter.com/sqf8bIyIxL

— The Creative Groomer (@creativegroomer) September 16, 2013
What do you think? Super Zoo Mandalay Bay 2013. pic.twitter.com/Qy7bmsew3t

— The Creative Groomer (@creativegroomer) July 24, 2013
Help your dog get in the #StPatricksDay spirit w/ #PetExpressions! Book your appt today: http://t.co/ZyFMLPlakppic.twitter.com/s8Ns6wI3aN

— PetSmart (@PetSmart) March 14, 2014
Is your #pet ready for #ValentinesDay? Share the love w/ our new color chalking! Find a salon: http://t.co/bvOm2eT2KQpic.twitter.com/O8ou7m0Zej

— PetSmart (@PetSmart) February 14, 2014
You might be ready for #TheBigGame, but is your pet? Share your team spirit w/ our color chalking & football apparel pic.twitter.com/dE8Lcx3PrB

— PetSmart (@PetSmart) February 1, 2014
Rainbow Dash is here! pic.twitter.com/mtTLozooKN

— The Creative Groomer (@creativegroomer) July 24, 2013
In China, it's a growing trend to dye/coloured dogs make them look like different animals http://t.co/c1GwrukT

— WTF FACTS (@WTFLifeFacts) September 14, 2012
Add a little colour to your pooches next grooming visit ! #PrairiePawsGrooming#Dogs#Strathmorepic.twitter.com/S2RCuH1FZT

— Prairie Paws (@PrairiePaws1) September 14, 2014
"PAWesome" might be our new favorite word. @petbox We're loving the PAWESOME sights here at #SZ14! @superzootweetpic.twitter.com/6y7W3ReaeN

— SuperZoo (@superzootweet) July 22, 2014
Cooper got a blue Mohawk for Sunday Funday tomorrow! #coltspride#inspiredbypets#eglpetm#petexpressionspic.twitter.com/ef1JLmKH2p

— Greenwood PetSmart (@PetSmart1065) September 14, 2014.
Creative Grooming... pic.twitter.com/Qqg7Sa9U9t

— The Creative Groomer (@creativegroomer) June 24, 2014
What do you see? pic.twitter.com/qjmF1fqNJs

— The Creative Groomer (@creativegroomer) June 17, 2014
CREATIVE GROOMER: Su Eld-Weavers pic.twitter.com/kUr0oKs0PG

— The Creative Groomer (@creativegroomer) May 18, 2014
CREATIVE GROOMER: Lori Craig pic.twitter.com/7jHo4iXzw5

— The Creative Groomer (@creativegroomer) January 14, 2014
My Little Pony Part 1 of 2! pic.twitter.com/z02csiJPZP

— The Creative Groomer (@creativegroomer) October 24, 2013
COLOR: Punky Colour (Pink Flower) and Blo Pen (Green Leaf) PHOTO: Yessenia Solano from Costa Rica pic.twitter.com/wilNxrBBLR

— The Creative Groomer (@creativegroomer) October 2, 2013
@Pet_Paint Hi thanks for the follow - here's our attempt with PetPaint for the first time - pic.twitter.com/mg79mPmtf1

— Pawsitively Pets (@mypawsitivepet) October 31, 2013
PetPaint orange... to create designs you've been FALLing for this season! pic.twitter.com/jWqDLKbEwr

— PetPaint (@Pet_Paint) November 7, 2013
We love this! #PetPaint#Halloweenpic.twitter.com/P2OKWggkXO

— PetPaint (@Pet_Paint) October 30, 2013
#PETPAINT Decorate your dog for #halloween ! Listen to Age Geary creator of Pet Paint http://t.co/yIIVG1oO9tpic.twitter.com/CQCay43fmv

— Best Bets For Pets (@BestBetsForPets) October 6, 2013
PetPaint would like to thank our new friend Gina for sharing Oscar...err Walter The Grouch #PetPaintpic.twitter.com/VB0fALjGqU

— PetPaint (@Pet_Paint) October 30, 2013