​Yellowstone National Park to kill up to 900 bison this winter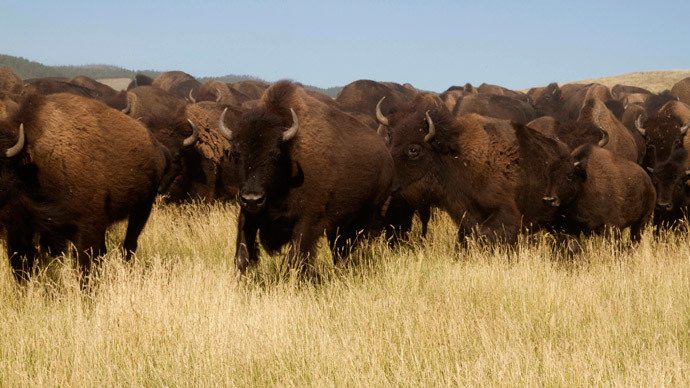 The bison population in Yellowstone National Park will be significantly reduced this winter, as park officials have announced a plan to cull up to 900 animals that attempt to leave or drift away from the park.
The park's famous bison population currently stands at roughly 4,900, meaning it could be reduced by about one-fifth.
According to Reuters, the cull announced Tuesday by Yellowstone's science and research branch would be the largest in seven years.
However, it would still leave the herd's numbers significantly higher than what both state and federal wildlife officials have established as the target goal – a population of somewhere between 3,000 and 3,500.
READ MORE: Feds want to repopulate US with genetically pure bison
"It will not get us close to the goal of 3,000, but it will stabilize the population and bring it down somewhat," David Hallac, chief of the park's science and research branch, told Reuters.
Although Yellowstone's bison compose the only remaining herd of free-ranging buffalo in the United States, officials want to keep the population from growing too large, out of fear that drifting animals will spread a bacterial disease known as brucellosis to cattle that also graze in Montana's fields.
The animals were once all over the western parts of the country before hunting drove them to near extinction.
The park's plan was revealed just one day after animal rights activists filed an emergency legal petition demanding the Obama administration stop the practice of killing bison. Filed by the Buffalo Field Campaign and Friends of Animals, the petition urges the National Park Service and the US Forest Service to conduct a population study that would "correct" the deficiencies in the current bison management plan.
The group also claimed that bison are being killed simply for "crossing an arbitrary line," and said that "there has never been a single case of wild bison transmitting brucellosis to livestock."
"Slaughtering wild bison is the livestock industry's way of eliminating competition and maintaining control of grazing lands surrounding Yellowstone National Park and across the west," Daniel Brister of the Buffalo Field Campaign said in a statement."Montana's livestock industry continues to use brucellosis to frighten and mislead the public into supporting its discrimination against bison."
About half of Yellowstone's buffalo could have been exposed to brucellosis, Reuters reported.
The US Interior Department is considering a new plan that would potentially allow new, disease-free bison herds to repopulate much of the land they used to roam through. The plan is based on the idea that the government can move various herds to external sites, where they would be quarantined for years in an attempt to keep the disease from spreading.
If the disease can be successfully stomped out, the healthy buffalo would be taken to other parts of the west, where they could re-establish themselves.
You can share this story on social media: