Feds want to repopulate US with genetically pure bison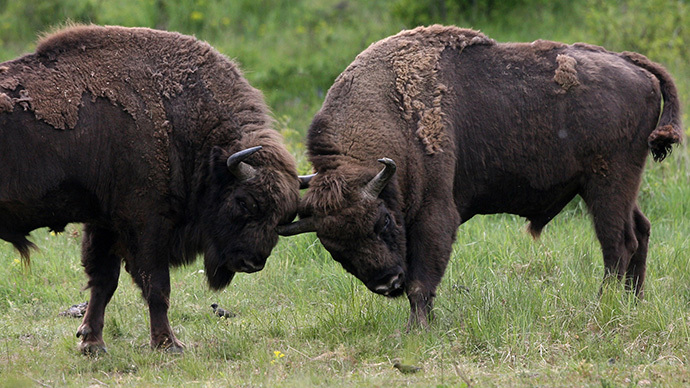 The United States Interior Department is moving forward for now with a plan that could someday re-populate a large portion of America with herds of wild bison unlike anything seen since the 1800s.
On Wednesday, officials at Yellowstone National Park said they'll start asking for comments concerning an Interior Department proposal that would quarantine herds of bison to eliminate the spread of a certain disease, and then eventually relocate the healthy animals to ranges across the US.
Yellowstone holds most of America's bison, Reuters reported on Thursday, with around 4,000 or so of the animals, also known as buffalo, calling the park home. The Interior Department thinks public lands in parts of the American West like Colorado, Arizona, New Mexico, Nebraska and South Dakota could contain healthy bison herds, however, if an experiment the agency is considering works out as planned.
The Interior Department is holding two meetings next month in Montana, and wants the public to weigh in there on what they think about an effort to conserve the species and keep its population growing.
According to Reuters, roughly half of the bison in Yellowstone are believed to have been infected with a deadly type of infection spread by cows called brucellosis. Through the Interior Department's proposal, the government would move herds of the animal to external sites, and then quarantine them for years to attempt and prevent the disease from spreading further.
Then, once the animal population is ridden of the disease, new herds of healthy bison could be brought to parts of the West to re-establish buffalo populations there.
Already, though, some have expressed complaints over the proposal.
"We have legitimate concerns about containment and damage to private property and we need to address the impact on ranchers that graze on federal lands," Jay Bodner, the natural resource director for the Montana Stockgrowers Association, told Reuters.
The Interior Department's plan would aim to reestablish a dominant bison presence in the US more than a century after the species population dwindled down from millions to fewer than 50 that took refuge in Yellowstone in the early 1900s.
According to a statement released by the park, the plan would "support the culture and nutrition of Native Americans, and reduce the number of Yellowstone bison that are shipped to processing facilities" to be slaughtered.
Currently "There are no operational quarantine facilities, which are fenced areas where bison are repeatedly tested over several years to ensure they are free of brucellosis," the Park Service says, prompting the government to routinely send infected bison to offsite facilities to be slaughtered.
"Substantial funding is needed to establish and operate a quarantine facility and associated terminal pasture," the Park Service pleads on their site.
You can share this story on social media: