Scientists debunk fears of a Yellowstone eruption over viral video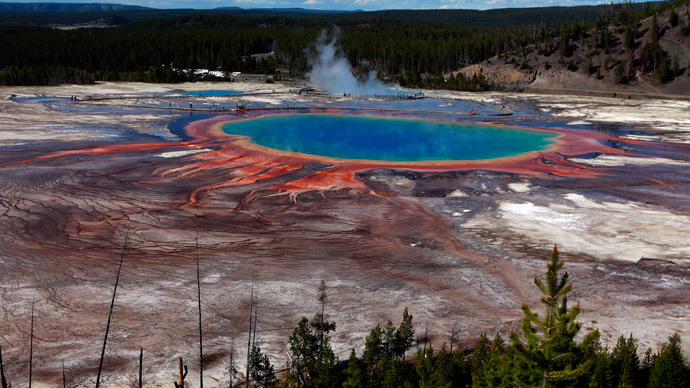 A bison herd stampeding through Yellowstone National Park is not proof of an upcoming volcanic eruption, geologists and park officials have said, despite a recent viral video that implies the animals' instincts tipped them off to an upcoming disaster.
The video was posted online on March 20 and has since attracted millions of views. It shows dozens of bisons running along a road in the park, a popular attraction for tourists and outdoorsmen alike. Much of Yellowstone does sit on the surface of a long dormant volcanic caldera, or super volcano, which last erupted nearly 700,000 years ago.
Images of the running bison were quickly picked up by various media outlets, prompting comments from readers worried about issues ranging from biblical doom to the effects of global warming. Yellowstone officials admitted they have been overwhelmed by hundreds of calls and emails that have come in since the video, which featured a purported survivalist discussing an "imminent eruption," went viral.
"It was a spring-like day and they were frisky," park spokeswoman Amy Bartlett told Reuters of the rushing bison. "Contrary to online reports, it's a natural occurrence and not the end of the world."
The truth is much easier to explain than a supervolcano. Yellowstone National Park public affairs chief Al Nash told BuzzFeed that the bison migrate from the park during the colder months to find food at lower elevation. Then, after the winter snow begins to melt, they return.
"We have seen no signs to suggest the Yellowstone volcano is about to erupt," he said. The video of the bison actually shows the animals galloping deeper into the park, not away from it, officials said.
Claims of an imminent eruption became more credible to some earlier this week when a 4.8 magnitude earthquake shook the northwest section of the park. No injuries were reported, and the damage that was reported was not enough to alter any substantial portion of the park – although the quake was the strongest to hit the park since 1980.
The earthquake did occur, however, near "an area or ground uplift tied to the upward movement of molten rock in the super-volcano, whose mouth, or caldera, is 50 miles long and 30 miles wide," according to Reuters. Peter Cervelli, associate director for science and technology at the US Geological Survey's Volcano Science Center in California, told journalist Laura Zuckerman that uplift is rising by about 15 centimeters each year, although that does not make volcanic activity any more likely.
"The chance of that happening in our lifetimes is exceedingly insignificant," he said.
Conclusive research on whether animals are able to predict catastrophic events is lacking, although a number of behavior analysts have publicly asserted that certain creatures exhibit odd behavior before major events take place.
Florida scientists monitoring 14 blacktip sharks via electronic monitor reported that the sharks dove into deeper waters 12 hours before Hurricane Charley struck in 2004. They observed the sharks for four years before this event and determined that their relocation – which lasted for two weeks after Charley had dissipated – was an anomaly.
Similar instances – including elephants trumpeting, stomping, and retreating to higher ground 12 hours before the 2005 tsunami ravaged the Indian coastline – have been reported throughout the world.
You can share this story on social media: