Tiger tragedy: Indian student mauled to death in zoo enclosure (GRAPHIC VIDEO)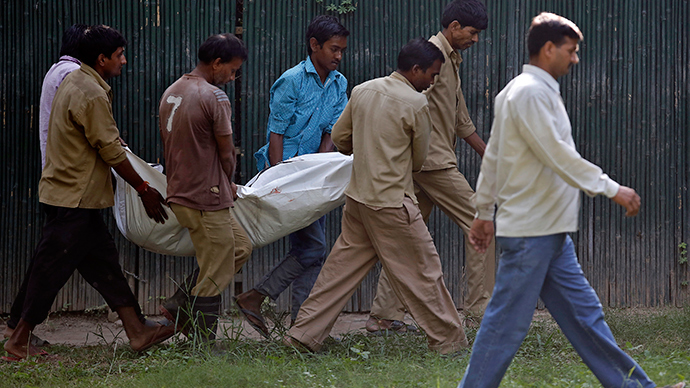 An Indian school student has been attacked and killed by a white tiger at a New Delhi zoo. The young man jumped over security barriers before falling over five meters into the tigers' enclosure, where he was mauled to death.
The incident happened just after 1 pm local time Tuesday, when the youngster, identified as Maqsood, fell or jumped into the enclosure. He was immediately confronted by the animal. Onlookers tried to throw stones at the tiger to distract it, but to no avail.
"After he fell down, the white tiger which was further inside the enclosure came towards Maqsood. As the tiger came closer, he clasped his hands and seemed to be praying. The tiger watched Maqsood closely for almost 15 minutes," an onlooker told the Indian Express.
After the standoff, the big cat swiped at him before crushing his neck with a single bite.
"We are all in a complete state of shock," said Amitabh Agnihotri, the director of the city's National Zoological Park.
"The tiger grabbed the youth and killed him. I am not clear whether the youth jumped into the cage or he slipped accidentally."
"The barricade was too low and it seems the tiger grabbed the youth into his cage and firmly latched on to the youth's neck," an eyewitness who alerted the police told Indian media.
Reports by local media say that Masqsood had been suffering from a mental illness since he was 11 years old. Various sources placed the male's current age at between 19 and 22. Police said that the dead man's father concurred that his son had mental problems, but there was no documentary evidence of this, the Indian Express reported.
Some eyewitnesses said that the man had not jumped into the enclosure, but had fallen after he lost his balance.
"The tiger was just being a tiger," said Belinda Wright, who has spent years working to protect India's dwindling numbers of wild tigers. "An unusual object fell into his domain. ... He's a wild animal in captivity. It is certainly not the tiger's fault."
"The zoo did have tranquilizer guns," said manager Riaz Khan. "But by the time we could arrange them, the man was dead."
The Hindustan Times says the zoo's authorities have been charged with causing death by negligence.