Man-eating tiger shot dead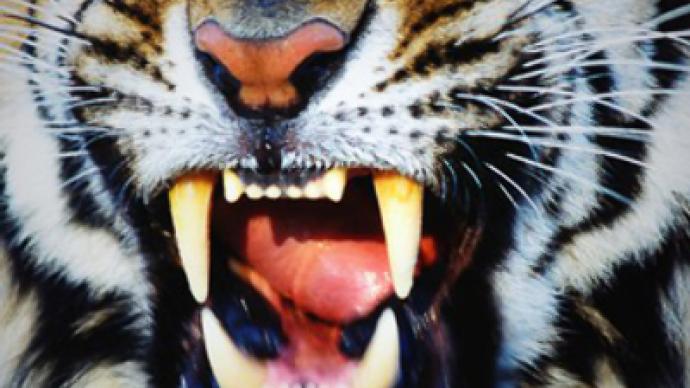 A rare Amur tiger has been killed by a group of hunters after ambushing and eating a man. The animal was possibly suffering from a disease which had made it unusually aggressive.
The victim of the endangered predator was a local fisherman in the Far Eastern Primorye region. After he went missing, relatives called on authorities to search for him.
The rescue party found the man's body near a river, with an agitated Amur tiger roaming near it. As they scared the predator away and inspected the body, a horrible realization came to light. The animal had not only ambushed its victim, but had also eaten part of his liver, brain and leg, they later reported.
The man-eating tiger was shot shortly after. It had numerous scars on its body, probably from a poacher's trap or claws of another animal. It also looked starved, and had no fur on its legs.
The unhealthy appearance and odd behaviour suggest that the animal was ill, probably suffering from a disease affecting its neural system, commented the head of the local animal preservation inspection. He added that the area had plenty of prey for the tiger.
Last year there was a similar case in the region, when an Amur tiger roamed into the local road and attacked passing cars. The animal was caught and sent to a rehabilitation centre, but later died from an unidentified neural disease.
The body of the tiger has been sent to a laboratory for tests, which will hopefully shed light on his condition.
Unfortunately, Amur tigers are one of Earth's most endangered species. There are an estimated 450 left living in the wild.
You can share this story on social media: