Putin: Russia will not get involved in arms race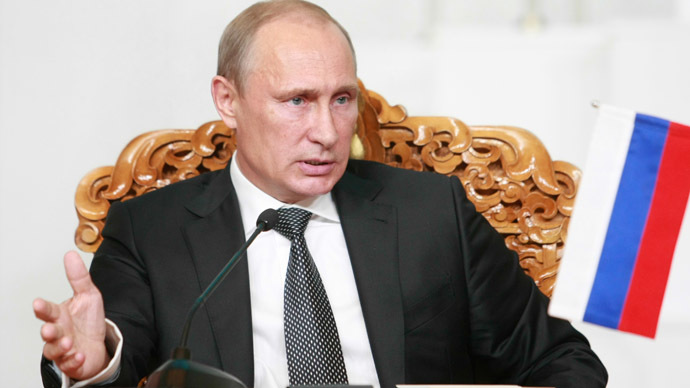 Russia is not going to get involved in a new arms race, President Vladimir Putin said as he ordered his government to work out "balanced and realistic" defense strategy for 2016 through 2025.
"Someone really wants to unleash a new arms race," Russia's president said at a meeting with senior defense industry officials. "We, of course, are not going to be involved in this race."
Putin tasked the defense industry to work out a new military doctrine by December. His comments came a week after Russia said Sept. 2 it would review the doctrine, in response to NATO announcing its intentions to expand in Eastern Europe amid Ukrainian crisis.
'Ukrainian crisis provoked by the West to resuscitate NATO'
Speaking about the situation in Ukraine, Putin blamed Western countries for the bloody conflict in the southeastern regions of the country.
"Recently, as you know, NATO has decided to build up its forces in Eastern Europe. The crisis in Ukraine, which was, in fact, provoked and created by some of our Western partners, is now used for the resuscitation of this military bloc," he said.
All the actions Russia is taking are retaliatory measures of self-defense, Putin said.
"We have been repeatedly saying, warning that we will have to, exactly have to, take appropriate retaliatory measures to ensure our security," Putin said. "We have said many times that it would be very desirable to avoid excessive hysterics when these decisions will be finally accepted and will be implemented. I want to emphasize that everything we do, is only retaliatory measures," he added.
At the end of August, NATO announced its plans to bring its forces closer to Russian borders, specifically to the three Baltic States – Latvia, Lithuania and Estonia – as the situation in Ukraine showed no signs of improvement. NATO's expansion was the key topic of discussions at the alliance's summit in Wales at the end of last week.
Russia warned that NATO's progress towards the east and Ukraine, which the military bloc sees as a potential member, will trigger a strong reaction.
'We will react to NATO build-up!' Key Putin quotes from defense policy address
In July, Putin said that NATO's military build-up near Russia's borders, which includes the US-built missile defense system, is not just for defensive purposes, but is an "offensive weapon" and an "element of the US offensive system deployed outside the mainland."
Responding to NATO's intentions last week, Russia's envoy to the alliance, Aleksandr Grushko, indicated that this will be "taken into consideration" in Russia's military planning.
You can share this story on social media: