Obama hints at NATO membership for Ukraine, urges military support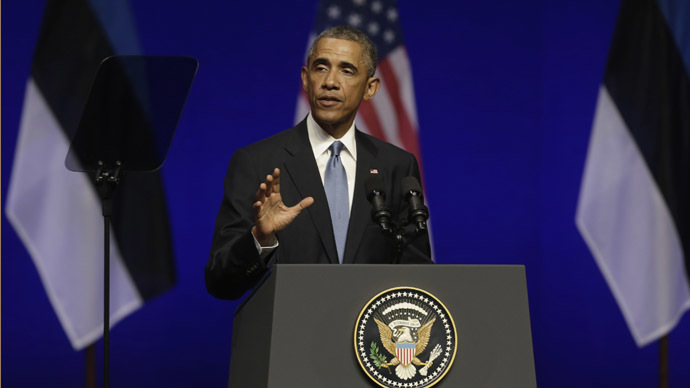 Barack Obama says the "door to NATO membership will remain open" for new members, while also urging the organization to help strengthen Ukraine's military. Germany has promised to send non-lethal aid, such as bullet proof vests and medical supplies.
Speaking in Estonia, Obama did not explicitly point to Ukraine when referring to expanding NATO membership to other nations. However, the underlying message was clear for all to see, as he accused Russia of a "brazen assault" on Ukraine.
"And we must reaffirm the principle that has always guided our alliance, for countries that meet our standards and that can make meaningful contributions to allied security, the door to NATO membership will remain open," the US President said, after meeting the leaders of Estonia, Latvia and Lithuania, who are all NATO members, Reuters reported.
Obama's comments came after Ukrainian Prime Minister Arseny Yatsenyuk said he wanted his country to join the North Atlantic Treaty Organization saying, "Russia is a terrorist state, it is an aggressor state and will bear responsibility under international law."
"Concerning NATO, I consider the most correct decision would be to accept Ukraine as a member of NATO," Ukraine's prime minister added.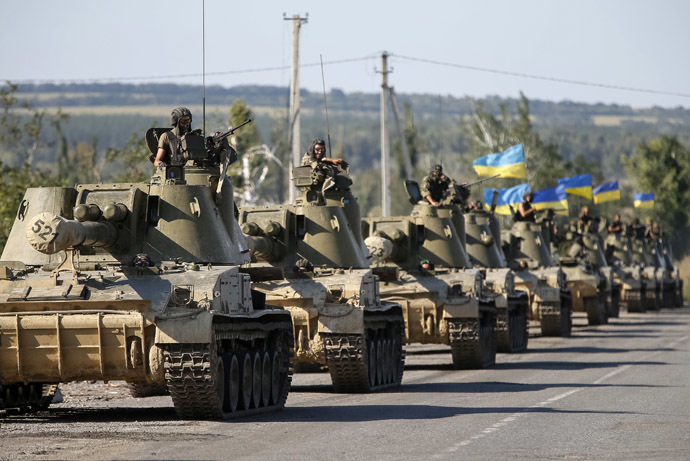 Under the NATO treaty, an attack on any individual NATO state would be treated as an attack on all alliance members.
In a reference that is likely to stoke tensions further with Russia, Obama said that NATO needs to give Ukraine, as well as other former Soviet states as much support as possible.
"NATO must make concrete commitments to help Ukraine modernize and strengthen its security forces. We must do more to help other NATO partners, including Georgia and Moldova, strengthen their defenses as well," he said in a speech to a packed concert hall in the Estonian capital.
On Monday NATO Secretary-General Anders Fogh Rasmussen said he expects Ukraine to abandon its non-aligned status following elections on October 26, which would leave it free to join the organization.
"I understand that the current political leadership in Kiev envisages that the new parliament after the parliamentary election in Ukraine will change the legislation on non-alliance status," Rasmussen told a press conference in Brussels.
Full NATO membership for Ukraine akin to lunacy –expert
However, not everyone believes that Ukraine's desire to join NATO is a sound one. William Engdahl, a geopolitical expert who spoke to RT, said there is a difference of interests between President Petro Poroshenko, who has business interests in the east of Ukraine and Yatsenyuk, who has close links with Washington and the Ukrainian nationalists.
In Engdahl's view, Yatsenyuk's talk of full NATO membership for Ukraine is "akin to lunacy."
His thoughts were shared by the Czech Republic Prime Minister Bohuslav Sobotka, who said at the weekend, "Ukraine is not ready for EU membership, not ready for NATO membership… Both organizations should be giving realistic hopes to Ukraine," the politician told Czech broadcasters.
"If the Ukrainian side sees President Petro Poroshenko's peace settlement plan as a path to successful solution to the crisis, then it cannot accompany it with ideas of Ukraine's membership in NATO and the EU," Sobotka added, according to RIA Novosti.
Chancellor Merkel to "personally oversee" transfer of non-lethal aid to Ukraine
Meanwhile, Germany says it will send protective equipment and medical aid to the Ukrainian army, according to a government spokeswoman. She added that Chancellor Angela Merkel will "personally oversee" the transfer of 20,000 bullet-proof vests, mobile hospitals and medical supplies, according to the German news agency, DPA
"The German government has several requests to export protective gear for Ukrainian armed forces. Departments have already concluded the assessment with a positive outcome," said the spokeswoman, according to Reuters.
However, the country has ruled out sending any arms to Ukraine, with Chancellor Merkel adding there will be no military solution to the crisis.
You can share this story on social media: