US prepares military drill in W. Ukraine for mid-September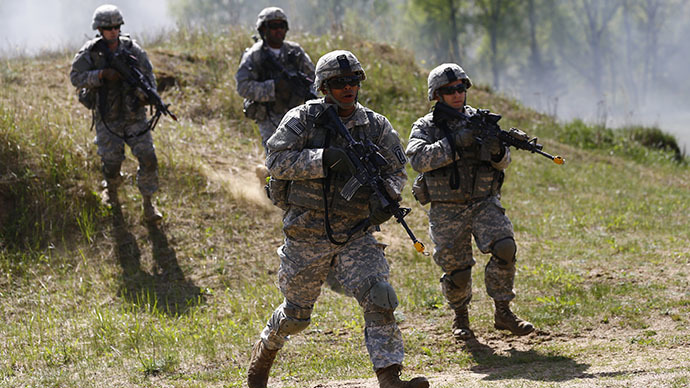 The US and its allies are preparing to stage a military exercise in western Ukraine, close to the Polish border, in mid-September. The joint drill will involve over 1,000 troops from the US and Europe, as well as from Ukraine.
READ MORE: Estonia wants NATO bases on its territory as military bloc plans expansion
Initially planned for mid-July, the exercise – code-named 'Rapid Trident' – was halted due to a significant escalation in the conflict between Kiev and the southeastern regions of Ukraine.

Now, as the fighting between the two sides continues, the US Army's European Command (EUCOM) plans to go ahead and stage the exercise on September 16-26.

"At the moment, we are still planning for [the exercise] to go ahead," US Navy Captain Gregory Hicks, spokesman for EUCOM, announced on Tuesday.

The annual exercise will take place at Yavoriv training center in the city of Lvov, near Ukraine's border with Poland.

Around 200 US personnel will be involved in the drill, as well as 1,100 others from Ukraine, Azerbaijan, Britain, Canada, Georgia, Germany, Latvia, Lithuania, Moldova, Norway, Poland, Romania, and Spain, EUCOM said.

In addition to staging air force exercises, the United States is moving tanks and 600 troops to Poland and the Baltic states of Estonia, Latvia, and Lithuania for joint maneuvers in October, Reuters reports. The new deployment will replace a more lightly armed force of paratroopers.

Rapid Trident 2014 is designed to "promote regional stability and security, strengthen partnership capacity and foster trust while improving interoperability between the land forces of Ukraine, and NATO and partner nations," according to the US Forces in Europe website.
READ MORE: Russia to adjust military doctrine due to NATO expansion, Ukraine crisis
The exercise will be mainly focused on command post drills, patrolling, and dealing with improvised explosive devices.

Despite the involvement of many NATO members, Rapid Trident is not formally a NATO drill.
The Ukrainian-American exercises have taken place in Lvov since 2006 under the framework of NATO's broader 'Partnership for Peace,' which Ukraine is part of.

This year's drill will mean the first significant deployment of US troops and other personnel to Ukraine since the crisis erupted.

Last year's Rapid Trident, which focused on "airborne and air-mobile infantry operations," according to a report on the Rapid Trident website, brought together 17 NATO countries for joint exercises.

The announcement comes just two days before the NATO 2014 summit is set to open in Wales. The alliance's expansion to Eastern Europe is expected to become one of the main discussions and the 28-member bloc expects, despite internal opposition, to agree on the "more visible NATO presence in the East."

The White House said the US and its allies are set to discuss plans to significantly increase the readiness of NATO response forces.
READ MORE: NATO planning 'rapid-deployment force' of 10,000 troops to counter Russia
White House spokesman Josh Earnest told reporters that the meetings within the summit are expected to involve discussions on potential trainings, exercises, and other issues regarding infrastructure and other needs in Eastern Europe.

Back in June, US President Barack Obama pledged to invest $1 billion in stepping up America's military presence in Eastern Europe amid the Ukraine crisis. Also that month, Washington vowed additional military help to Ukraine, as well as the potential training of its law enforcement and military personnel.
You can share this story on social media: