74% of Germans oppose permanent NATO bases in Poland and Baltics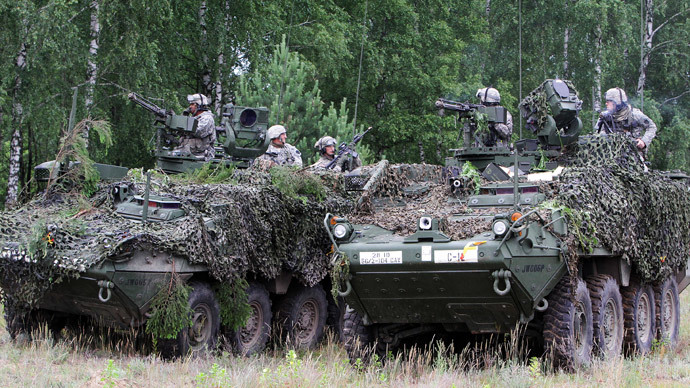 Nearly three-quarters of Germans oppose having permanent NATO military bases in Poland and the Baltic states as a buffer against Russia, a new poll reveals. The opinion reflects a growing trend within Europe opposing further NATO eastern expansion.
In the Forsa poll for the Internationale Politik magazine's latest edition slated for Friday, 74 percent of those surveyed were against the idea, while only 18 percent supported it, Reuters reports. Opposition to NATO expansion in Eastern Europe remains highest in former Communist eastern Germany, Forsa said.
Poland, Estonia, Lithuania and Latvia - all former members of the Soviet bloc – fear that Russia poses a military threat following recent events in Ukraine, and have asked for further security guarantees from their NATO partners.
Poland first proposed the idea of increasing the US military presence in Eastern Europe, with Polish Defense Minister Tomasz Siemoniak calling on the Pentagon to deploy as many as 10,000 American troops in his country in April.
The Three Baltic States welcomed the idea that same month.
As a result, thousands of NATO troops held exercises in the region earlier this month, NATO warships have intensified patrols in the Baltic Sea, and jet fighters have likewise stepped up their air patrols.
The alliance has tripled the number of fighter jets based in the Baltics and NATO's top military commander, US Air Force General Philip Breedlove, said in May that NATO would consider permanently stationing troops in Eastern Europe.
Russia claims that would violate a 1997 agreement, in which both sides committed to avoid "any potentially threatening build-up of conventional forces in agreed regions of Europe, to include Central and Eastern Europe."
Earlier this month, Russian Foreign Minister Sergey Lavrov said the "artificial attempt" to continue NATO's eastward expansion would be "counterproductive."
Germany is not the only country which feels uncomfortable about an increased NATO presence in Eastern Europe.
Earlier this month, two eastern European states – Slovakia and the Czech Republic – both refused to host foreign troops and military bases on their territories.
The announcements came just days after US President Barack Obama announced a plan to invest $1 billion dollars in ramping up its military presence in Eastern Europe.
Read more: NATO troops and bases not welcome in Slovakia and Czech Republic
Read more: Russia now enemy, so we'll help Ukraine build up military - NATO chief
You can share this story on social media: