Obama pledges $1bn for more troops, military drills in E. Europe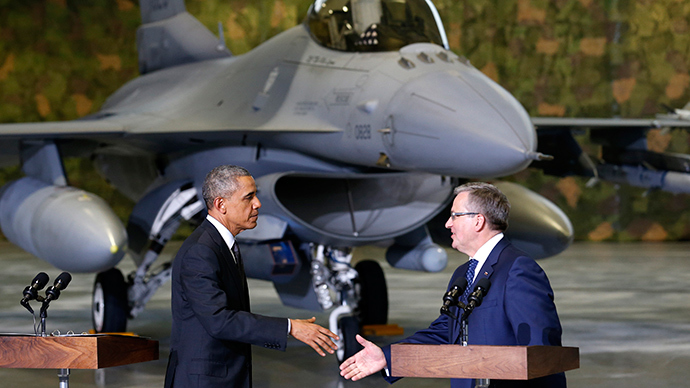 President Obama has announced a plan to invest $1 billion in stepping up its military presence in Eastern Europe amid the Ukrainian crisis. The White House will send more troops and equipment to the region to "reaffirm" its commitment to NATO allies.
Speaking at a news conference in Warsaw, Obama said America was stepping up its partnership with countries in Eastern Europe with a view to bolstering security. The moves are aimed at upping the pressure on Russia, which Washington has accused of inciting unrest in Ukraine.

In line with the plans, Obama will ask Congress to provide up to $1 billion to finance the deployment of more troops and equipment.

"Under this effort, and with the support of Congress, the United States will preposition more equipment in Europe," Obama said at the Polish capital's Belweder Palace.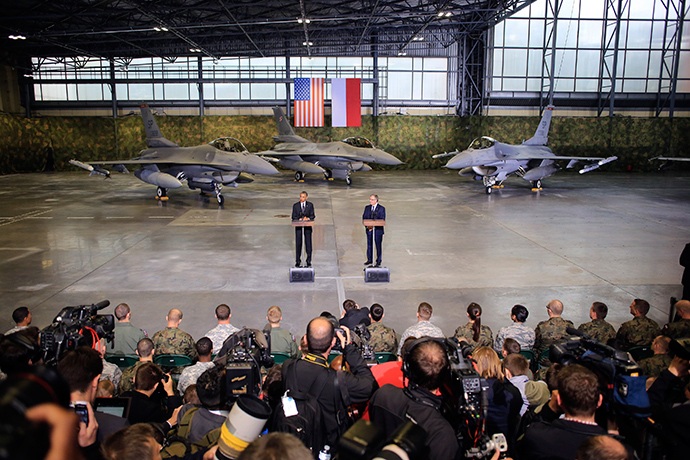 Earlier in the day Obama met with US and Polish air personnel in Warsaw and said the US had already begun rotating additional soldiers in the region.

"Given the situation in Ukraine right now, we have also increased our American presence. We've begun rotating additional ground troops and F-16 aircraft into Poland... to help our forces support NATO air missions," said Obama, calling the commitment to NATO allies in Europe "the cornerstone of our own security."

Obama called on Moscow to refrain from further provocation in Ukraine and said it has a responsibility to work constructively with the new government in Kiev. He added that the troop buildup in Eastern Europe was not meant to threaten Russia, but "rebuilding trust may take some time."
The American president will meet with newly-elected Ukrainian President Petro Poroshenko during his two-day stay in Poland.

Polish President Bronislaw Komorowski praised Washington's plans to beef up military forces in the region.

"We welcome them as an announcement of a real return by NATO to standing very strongly by the basis of the alliance, which is Article 5, which speaks about the collective defense of the countries' territories," Komorowski said.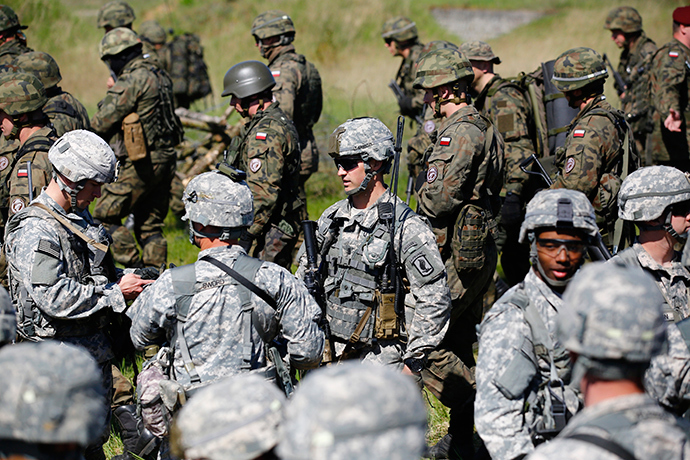 Russia has decried the increase in NATO troops close to its border as a blatant provocation and accused the organization of fueling violence in Ukraine. Moscow has said it is ready for dialogue with Poroshenko, but has urged the newly elected President to halt the "anti-terror operation" in the east of Ukraine.

"NATO is providing Kiev – a member of its Partnership for Peace program – with technical assistance, thus encouraging the prolongation of its use of force. Thus the Alliance accepts a part of the responsibility for the escalation of the situation, and the collapse of diplomatic negotiations," said Aleksandr Grushko, Russia's envoy to NATO.

Thus far the US has deployed 600 troops for military drills in Estonia, Latvia, Lithuania, Estonia and Poland.
John Rees, British political analyst and national officer at Stop the War Coalition, told RT the US' moves were indicative of an "expansionist mood" which could usher in a "dangerous period of interstate rivalry."
Rees said operation Rapid Trident, a joint US, UK and Ukrainian military drill due to take place next month, could escalate the current crisis even further.
"I cannot think of anything more dangerous in the current circumstances than to have a deployment of UK and US troops alongside Ukrainian troops this summer," he told RT.
You can share this story on social media: