2014 NATO Summit in Wales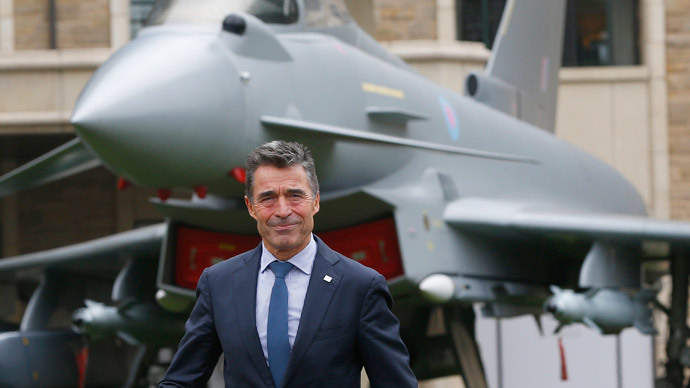 World leaders have arrived for the NATO Summit at the Celtic Manor Resort in Newport. The summit has been marked by protests and one of the largest security operations to ever take place on British soil. Ukraine and Islamic State have topped the agenda.
05 September 2014

17:52 GMT

NATO is aiming to promote greater interoperability between Ukraine's forces and the alliance, according to an official declaration signed in Wales.

"We have launched additional efforts to support the reform and transformation of the security and defense sectors and promote greater interoperability between Ukraine's and NATO forces," the document reads. "These efforts are designed to enhance Ukraine's ability to provide for its own security."

NATO said it welcomes Ukraine's participation in the Partnership Interoperability Initiative and "Ukraine's interest in the enhanced opportunities within the Initiative, and look forward to its future participation."

17:13 GMT

British police thanked protesters at the NATO summit in Wales for the peaceful nature of demonstrations.

16:07 GMT

Reports: No To NATO protesters outside and inside Barclays bank in Newport have glued themselves to floor and furniture.

16:05 GMT

Obama says NATO leaders has reaffirmed their commitment to mutual defence and to deployments in Eastern Europe. They have agreed the new "spearhead" rapid-reaction force, and they have committed themselves to spending more on defence. He said "NATO will not be complacent."

The US president said NATO allies will supply security support to Ukraine, including non-lethal equipment and support for logistics. "We have sent a message to Russia that actions have consequences," he said, as new sanctions are discussed. He says Russia must stop its violations of Ukraine's territorial integrity.

The combat mission in Afghanistan ends in three months, and NATO urges the two presidential candidates to make the necessary compromises.

Obama said NATO's partners will also join a broad, international effort to combat Isis.

15:49 GMT

President Obama about to hold a press conference from NATO Summit. Watch it LIVE here.

15:46 GMT

Wales Summit Declaration: Nuclear weapons

"As long as nuclear weapons exist, NATO will remain a nuclear alliance. The strategic nuclear forces of the Alliance, particularly those of the United States, are the supreme guarantee of the security of the Allies. The independent strategic nuclear forces of the United Kingdom and France have a deterrent role of their own and contribute to the overall deterrence and security of the Alliance. The circumstances in which any use of nuclear weapons might have to be contemplated are extremely remote."

Read the full Wales Summit Declaration here.

15:43 GMT

.

BREAKING NEWS: Pentagon confirms Ahmed Godane, co-founder of al-Shabaab, was killed in U.S. air strike in Somalia

— Guy Faulconbridge (@GuyReuters) September 5, 2014

15:42 GMT

Wales Summit Declaration: Islamic State

"The so-called Islamic State of Iraq and the Levant (ISIL) poses a grave threat to the Iraqi people, to the Syrian people, to the wider region, and to our nations. We are outraged by ISIL's recent barbaric attacks against all civilian populations, in particular the systematic and deliberate targeting of entire religious and ethnic communities. We condemn in the strongest terms ISIL's violent and cowardly acts. If the security of any Ally is threatened, we will not hesitate to take all necessary steps to ensure our collective defence."

Read the full Wales Summit Declaration here.