'We will react to NATO build-up!' Key Putin quotes from defense policy address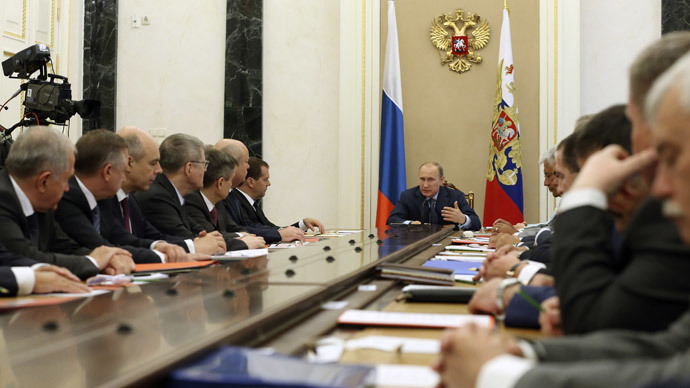 Moscow will respond to NATO's expansion towards Russia's borders, President Vladimir Putin said at the emergency Security Council meeting in Moscow. Here are his key quotes on Russia's defense, Western sanctions, and violence in eastern Ukraine.
On NATO'S missile system and Russia's defense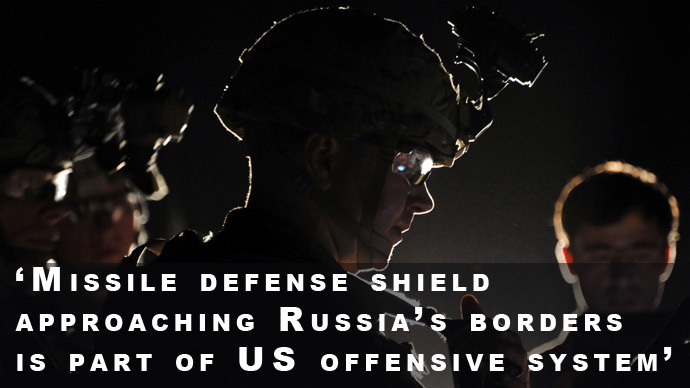 NATO forces have been increasing military presence in Eastern European countries bordering Russia and sending warships to the Baltic and Mediterranean due to the escalation of the Ukrainian crisis. NATO has also stated that it will endorse new funding for Ukraine's defense, blaming Russia for destabilizing the situation in Ukraine.
"We shall provide an adequate and well-measured response to NATO's expansion towards Russia's borders, and we shall take note of [the West] setting up a global missile defense architecture and building up its arsenals of precision-guided weapons," Putin said on Tuesday.
"No matter what our Western counterparts tell us, we can see what's going on. As it stands, NATO is blatantly building up its forces in Eastern Europe, including the Black Sea and the Baltic Sea areas. Its operational and combat training activities are gaining in scale."
Putin stated that NATO's military build-up near Russia's border is not just for defense, but is an "offensive weapon" and an "element of the US offensive system deployed outside the mainland."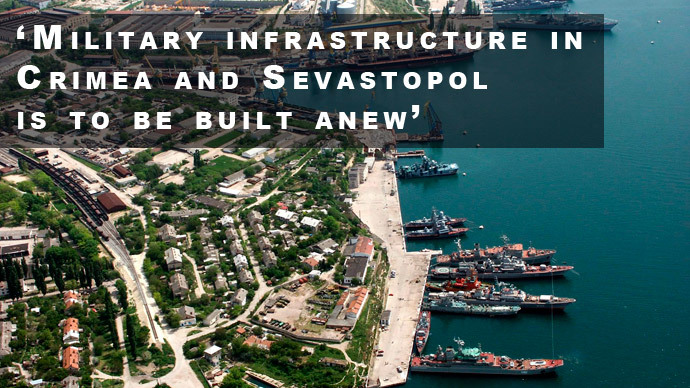 "With that in mind, we need to promptly and diligently implement all the measures we have planned to strengthen our nation's defense capabilities, including our plans for Crimea and Sevastopol, where we will practically have to set up our military architecture from scratch."
On sanctions and sovereignty
Putin has criticized the rounds of sanctions that the US and EU have imposed on Russia, which began during Crimea's accession to Russia and continued after the MH17 plane crash in Ukraine.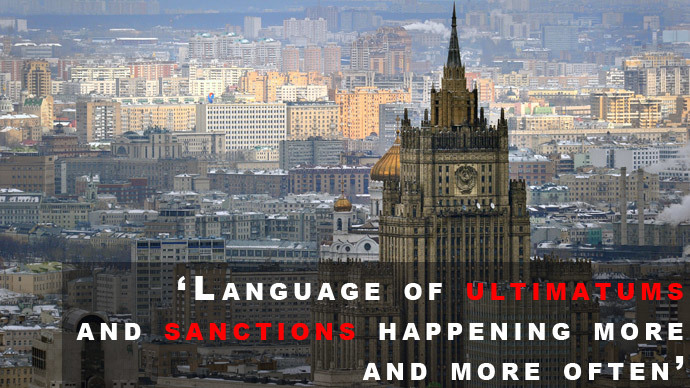 "The very concept of the state sovereignty is becoming diluted. Unwanted regimes and countries that are trying to exercise independent policy or simply stand in the way of someone's interests are getting destabilized," Putin said.
"Attempts aimed at destabilizing the social and political situation, throwing off Russia and striking at its vulnerable and soft spots have been and will be made," he added.
According to Putin, Western states are trying to "make Russia agreeable so that certain matters at the international arena are resolved in favor of other countries."
"The so-called competitive struggle at the international arena will imply the use of tools in both economic and political fields. This will include the potential of security services, modern information and communication technologies, and connections of dependent, puppet NGOs – the so-called soft power," Putin pointed out. "Apparently, some countries regard it as democracy."
Putin stressed that Russia has an edge over other states, as the country isn't a member of any alliance.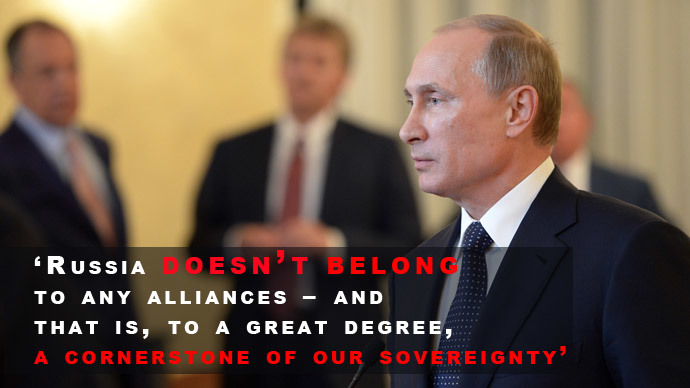 "Any alliance member countries lose part of their sovereignty and it rarely goes in tune with the national interests of the country. But it's their sovereign decision."
"On our part, we follow all the norms of international law and fulfill our obligations to our partners. We expect other countries and organizations, military and political alliances – Russia is not a part of any alliance, and that underpins our sovereignty – to take our national interests into consideration."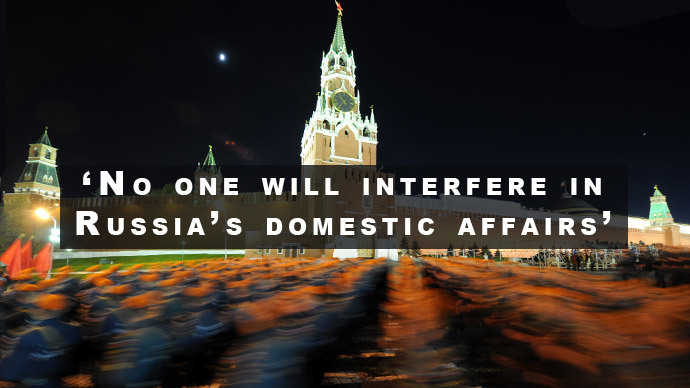 The president also pointed out that any controversial issues in Russia will be "settled through diplomatic means only," with no other state meddling in the country's internal affairs.
Such methods that are used to pressure weak countries will not work on Russia, he said, adding that they are "absolutely unacceptable and counterproductive" and "undermining the current world order."
On Ukraine crisis and MH17 investigation
Internal problems are often used to trigger coups that are financed from outside, Putin said.
"Of course, there always are some kinds of problems, but it is not clear why one has to use them to completely destabilize and destroy the country – what we often see recently in various regions of the world."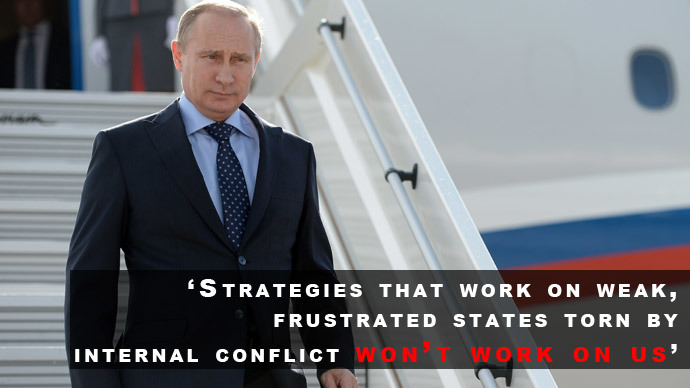 As a result of such coups, radical nationalist – or simply neo-fascist, fundamentalist forces – come to power, which is what happened in Ukraine, Putin said.
"Yes, after the coup, elections were held, but for some reason again those who funded or carried out the coup became the heads of state. The current authorities are using force trying to silence the part of the population that disagrees with this development," Putin noted with regret.
The international community has been calling on Russia to use its influence on the eastern anti-government militia to cooperate in the resolution of the crisis.
"We of course will do everything in our power but that is not nearly enough," the president said.
Putin believes the West must appeal to Kiev to honor its ceasefire pledge.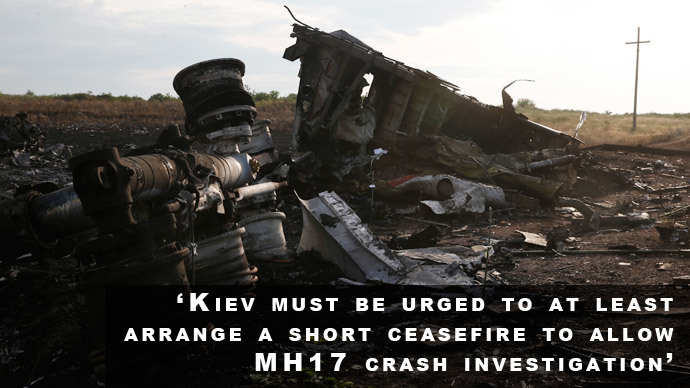 Putin highlighted that Kiev should not fuel the conflict, citing Tuesday's incident when "the Ukrainian Armed Forces attacked Donetsk with their tanks" as the local militia were handing the black box of the crashed MH17 over to experts.
"Tanks broke through to the train station and opened fire at it. The international experts there could not even look out of the windows," said the Russian head of state. "It's not like the rebels are shooting at themselves."
You can share this story on social media: