Debt-ridden Spain to spend €1mn on riot gear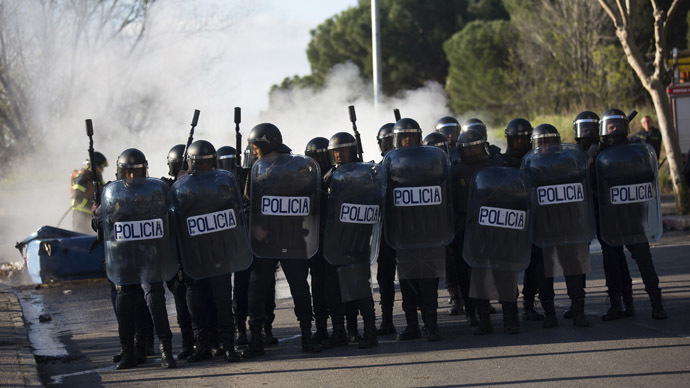 The Spanish government intends to spend about 1 million euro on police riot gear, despite the country's debt rising by 58 billion euro over the last year. Authorities worry about widespread protests they believe will grip the nation in the autumn.
Spain has become the protest capital of Europe. Just the first half of 2013 saw in the region of 36,000 protests in Spain, with Barcelona accounting for 2,500 of them, according to the Local. Given the love of the populace to take to the streets, the government is not taking any chances, with protests expected to peak in the autumn.
The Interior Ministry says they will be purchasing equipment ranging from riot batons to stab proof vests, while they also want to buy water cannon to help deal with protestors. Law enforcements said the water cannon are necessary, "given the current social dynamic."
"We have a problem with equipment," said Javier Estévez of the Sindicato Unificado de Policia, the Spanish Police Union, pointing to a protest last March that left 67 police officers injured. "We don't have the best or even up-to-date equipment," the Guardian quotes him as saying.
Amnesty International has been critical of the government's move to buy riot gear and water cannon, saying they could not only lead to more casualties, but also inflame already volatile situations.
"They say they buy this material to control disturbances, but how exactly will it be used?" posed Amnesty's Ángel Gonzalo. "In Greece we have documented how these water cannons, when used a short distance, can provoke severe injuries and commotions."
The organization is also critical that the new equipment could lead to further crackdowns on Spanish citizens civil rights.
"The Spanish government is using the full force of the law to suffocate legitimate peaceful protest," said Jezerca Tigani, Europe and Central Asia deputy program director for the non-profit organization.
"The police have repeatedly used batons and rubber bullets against demonstrators, injuring and maiming protestors and bystanders alike. The police act with complete impunity, while peaceful demonstrators and leaders of social movements are continually harassed, stigmatized, beaten, sometimes arrested to face criminal charges, imprisonment and fines," Tigani added.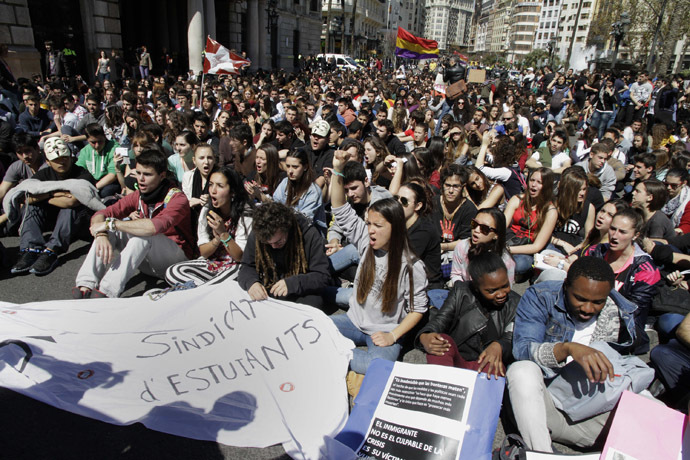 Numerous protests planned over autumn
The Coordinadora 25-S activist group already has plenty of protests planned for autumn. The next march is planned for September 11, to mark Catalonia Day, while they are also planning a three-day strike from October 21-23 to support Spanish teachers. Protests are also expected over government plans to impose heavy fines on those taking part in unauthorized protests.
There are also rallies planned to protest at the government's plan to limit access to abortions in the country, as well as demonstrations against the monarchy with a demand for a referendum as to whether Spain should become a republic.
At Felipe VI's coronation in June, when he took over the throne from his father Juan Carlos, 3,000 anti-monarchy activists flooded the area in central Madrid, EuropaPress reports. Waving the red, yellow and purple flags of Spain's second republic, protesters demanded the abolition of the monarchy.
There was a heavy police presence with 7,000 riot police controlling the center of the capital with some 120 snipers keeping watch, however the Local reported that people were being detained just for saying the word 'republic' or for wearing the color purple, which is associated with the anti-monarchy movement.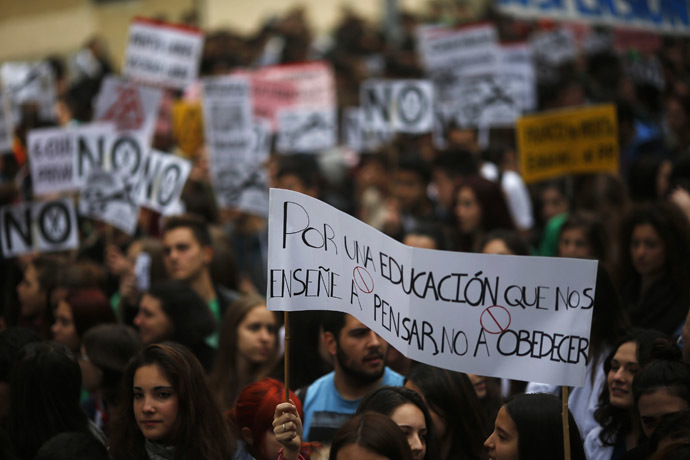 Spain is crippled by debt and has a staggering unemployment rate of 24.5 percent - and even this is a two-year low. In comparison, the EU average for those out of work is 11.5 percent.
The Spanish government has been looking to make widespread budget cuts with overall spending in 2013 down by 40 billion euro. Funds for almost a quarter of Spaniards who are unemployed were reduced by 6.3 percent, while healthcare and education have also suffered.
The government is desperate for funds, and last month sold the Catalunya Bank to Banco Bilbao Vizcaya Argentaria for 1.2 billion euro, one-tenth of the 12 billion euro of taxpayer money it used to salvage the lender in 2012.
Although there are some small signs that Spain may be very slowly emerging from recession, the country's debt rose by 58 billion euro over the last year.
You can share this story on social media: