'No more cuts!' Thousands across Spain stage anti-govt protests (VIDEO, PHOTOS)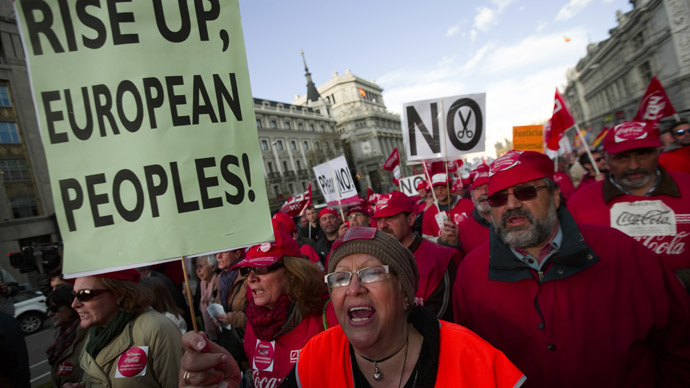 Thousands of people in dozens of Spanish cities have taken to the streets to voice their discontent with harsh government policies and the EU's plans for further austerity cuts which they claim are destroying their country.
The residents in over 50 Spanish cities, including the capital, Madrid, have taken part in the anti-government protests on Thursday, reported the local press.
The demonstrators were holding banners saying "Rise up European peoples" and "No social cuts, no pensions of misery."
Among those who rallied were also the employees of the local Coca-Cola factory in Spain, which is threatened with closure. "Don't drink Coca Cola" said their banners.
The rallies have been backed by over 100 organizations, including Spain's largest trade unions, the Workers' Commissions (CCOO) and General Union of Workers (UGT).
The protesters, waving red-and-white labor-union flags, have marched through the streets of Madrid behind a large black-and-white banner reading, "The austerity policies must end."
"With the so-called austerity it is the same people who are being left with nothing, those who already have little," said retired civil servant Maria Cruz Otero, 67, who attended the Madrid rally, reported AFP.
According to Cruz Otero, tax hikes, freezes and reductions in public sector pay have caused a "brutal loss in purchasing power" for many people.
Meanwhile, on the eve of the protest, the workers unions said they wanted 2 percent of Spain's GDP invested in their plans to stimulate those sectors of the economy which have been hard hit by austerity cuts, according to the Local.
"No more cuts! We must stop the austerity policies," CCOO posted on its official website.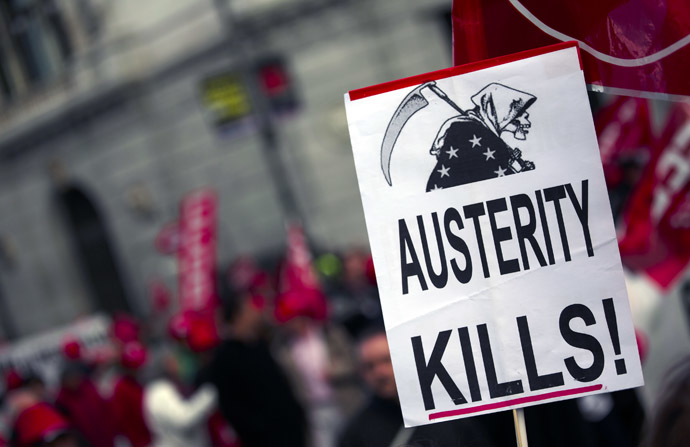 "This is what the EU has done," wrote UGT on its official website, "26 million unemployed, and 8 million young people with no future, increasing poverty rates in Europe…"
The demonstrations were held on the eve of the big march which was planned in Brussels by European Trade Union Confederation (ETUC), an organization which represents workers at the European level. The aim of the protests was the same – to end austerity policies in the European Union.
En Irun contra de las políticas de austeridad . Otra Europa es posible y necesaria. Hay que pensar en los ciudadan@s pic.twitter.com/sRH2fhg6vd

— Raúl Arza Vélez (@arzaraul) April 4, 2014
At least 50,000 workers from more than 20 European countries are expected to take part in the demonstration in the capital of the EU on Friday to express their unhappiness with the economic policies being pursued in Europe.
Spain has recently seen a wave of rallies, starting on March 22, when protesters clashed with police in Madrid to protest government policies and EU-imposed austerity during the so-called 'March for Dignity'. Police arrested at least 29 protesters following the clashes which took place after the march. According to emergency service, 101 people were injured - 67 of them police.
Pancarta FSC CCOO PV en manifestación Valencia contra recortes y austeridad de la U. E pic.twitter.com/0uFDI1QeEM

— Ciutadania CCOO PV (@FSC_CCOOPV) April 3, 2014
Just a week later, on March 27, thousands of university and high school students flooded central Madrid to protest massive cuts in education funding imposed by the government.
Spain has recently been struck by economic and political crisis. In 2012, Prime Minister's Mariano Rajoy's conservative government introduced a set of changes to the country to contain annual deficits by raising taxes, freezing public salaries and curbing spending in areas such as education and healthcare.
The economy fell into a recession in 2011 with the unemployment rate rising to 27 percent. In 2013 the government said it would save 6.5 billion euro ($8.6 billion) by 2015 by renovating the public sector. According to that project, at least 57 public entities, including weather agencies and competition watchdogs, would be shut down or merged.
Another 'notable' trait of the economic crisis in Spain is home evictions. At the end of March, Spanish courts reported that 67,189 people have been evicted in 2013 as debt-struck residents struggle with the aftermath of a 2008 property crash. It means that every day of 2013 at least 184 people became homeless in Spain.
The Euro-Demonstration in pictures #NewPath4Europe@ccoo@UGT_Comunica@emparpm@mcarmenbarrera@etuc_cespic.twitter.com/AYwUoOHDBh

— Cumbre Social (@SocialcumbreS) April 4, 2014
The Euro-Demonstration in pictures #NewPath4Europe@ccoo@UGT_Comunica@emparpm@mcarmenbarrera@etuc_cespic.twitter.com/jp2NwhSBlf

— Cumbre Social (@SocialcumbreS) April 4, 2014
This, combined with an enormous unemployment rate of 26 percent, the second-highest in Europe after Greece, left many Spaniards with nothing. This is reflected in the growing number of suicides in the country. According to Spain's National Institute of Statistics, at least eight people take their lives every day across the nation.
Hoy, cortando el puente de Hendaya con los sindicatos franceses para pedir el fin de las políticas de austeridad pic.twitter.com/pcUnpb9Qte

— UGT Aragón (@UGTAragon) April 4, 2014
The Euro-Demonstration in pictures #NewPath4Europe@ccoo@UGT_Comunica@emparpm@mcarmenbarrera@etuc_cespic.twitter.com/A1HnAkCVnP

— Cumbre Social (@SocialcumbreS) April 4, 2014
You can share this story on social media: