Spanish authorities 'determined to crush peaceful protest' – Amnesty Intl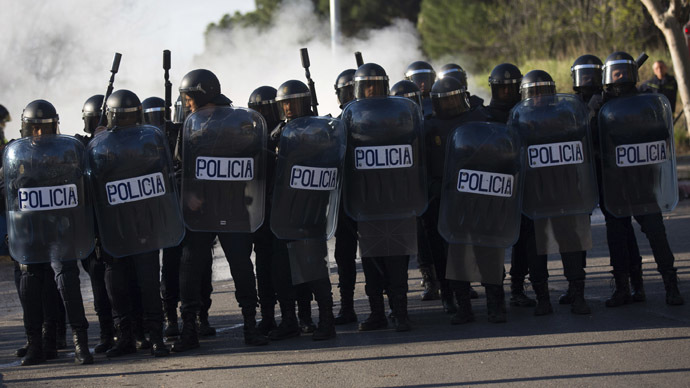 ​The Spanish government and police are using legislation and force to snuff out peaceful public protest across the crisis-stricken Iberian nation, claims human rights group Amnesty International in a new report.
"The Spanish government is using the full force of the law to suffocate legitimate peaceful protest," said Jezerca Tigani, Europe and Central Asia Deputy Program Director for the non-profit organization.
"The police have repeatedly used batons and rubber bullets against demonstrators, injuring and maiming protestors and bystanders alike. The police act with complete impunity, while peaceful demonstrators and leaders of social movements are continually harassed, stigmatized, beaten, sometimes arrested to face criminal charges, imprisonment and fines."
According to government figures, there were more than 4,300 protests in Madrid alone last year, with thousands more across the country. Police statistics show that less than 1 percent of those turned violent.
Yet, Amnesty says, police use "excessive force in many cases, including inappropriate use and misuse of anti-riot gear, and when carrying out arrests."
It details the case of Ester Quintana, a Barcelona woman who lost an eye during a protest in July 2012, after a projectile was fired into her eye.
"Due to the impact of the rubber bullet, I have a deformed nasal septum, injuries in my mouth and my ear, and have lost sensation on the left side of my face. I am still under psychological treatment, my daily routine has been affected, as well as the way I am connected with people, how I am seen by them. I've been denied any kind of social benefits I have applied for," Quintana told Amnesty.
But Amnesty says that it is not only during demonstrations themselves that police exceed their remit. The report outlines instances of incessant identity checks, harassment, and humiliation of female protesters as tactics used to dissuade demonstrators from attending in the future.
The most alarming aspect is the systematic hounding of organizers of "unsanctioned" demonstrations, whose leaders can be fine up to 30,050 euro.
"They want to destroy the leadership of the movements, and so are seeking out the spokespeople. I keep participating in demonstrations and other activities, because I've been told we'd all pay the fine jointly; but you can see that there is fear. Young people who have no job cannot afford to pay the fines," Maria, one organizer who refused to give her name, told Amnesty.
The government is planning a reform of its penal code, which could see fines for demonstrations increase manifold.
"Spanish authorities have restricted the enjoyment of human rights in Spain, in particular the rights to freedom of peaceful assembly and association and freedom of expression, in a way which is inconsistent with international human rights standards and with Spain's obligations under international law," sums up the report.
You can share this story on social media: