Hamas official admits group murdered 3 Israeli teens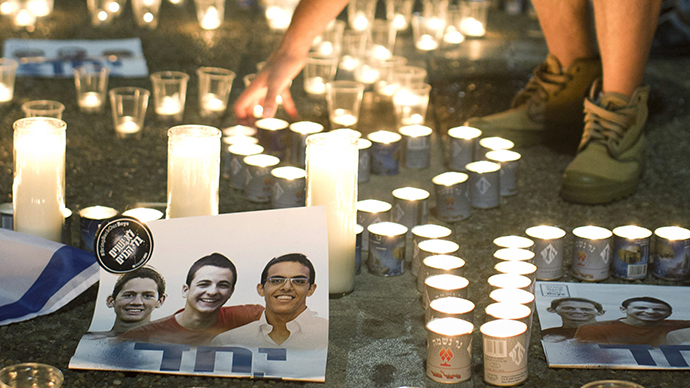 A Hamas official has admitted for the first time that members of its militant wing kidnapped and killed three Israeli teenagers in June. This fueled increased tensions with Israel and eventually led to the IDF's bombardment of Gaza.
Saleh Al-Arouri said the al-Qassam Brigades were responsible, after Hamas' leader Khaled Meshaal, who is in exile in Qatar, had earlier denied his group was involved. However, Meshaal did praise those who carried out the kidnappings.
The Palestinian militant group that controls Gaza had long been suspected of carrying out the abductions and murders of Eyal Yifrach, 19, Gilad Shaar, 16, and Naftali Fraenkel, 16. However, Saleh Al-Arouri, who is a senior official, admitted at a conference in Turkey that the al-Qassam Brigades were responsible for kidnapping them.
The conference brought together delegates from the International Union of Islamic Scholars, where Al-Arouri said, "There was much speculation about this operation, some said it was a conspiracy. The popular will was exercised throughout our occupied land, and culminated in the heroic operation by the Qassam Brigades in imprisoning the three settlers in Hebron," he said, referring to Hamas's armed wing, which was posted online by the organizers.
The statement led to increased attacks by Israel in the Gaza Strip.
Meanwhile, on Wednesday, the United States criticized Israel for targeting family members of Mohammed Abu Khdeir's - the 16 year-old Palestinian murdered in an alleged revenge attack by six Jewish extremists last month.
The teenager was abducted in east Jerusalem on July 2 and then burnt alive.
In the immediate aftermath of Abu Khdeir's murder, Israeli police arrested and beat Mohammed's cousin, 15 year-old Tarek Abu Khdeir, who is an American citizen. He has since returned to Florida, according to AP.
On July 28, another cousin of Abu Khdeir, who is also an American citizen, was arrested in Israel as well, the US State Department said on Wednesday.
According to AP, Deputy Spokeswoman Marie Harf identified him as "Mohammed Abu Khdeir," which would mean his name is the same as his murdered cousin's.
"We can confirm that Mohammed Abu Khdeir, a US citizen, was arrested on July 28. The US consulate general in Jerusalem is providing consular assistance. A consular official visited him on August 14th. The consulate is also in contact with Mr. Khdeir's family and his lawyer," Harf said.
The killing of the Palestinian teen led to mass protests by Palestinians demanding that the killers be brought to justice, fearing an Israeli cover-up.Israeli Prime Minister Benjamin Netanyahu deplored Abu Khdeir's murder as "loathsome." He ordered police to find the culprits swiftly and pledged to see them prosecuted to the full extent of the law.
Three Israeli Jews who were arrested for the murder of a Palestinian teenager confessed to kidnapping him and then burning him alive, Israeli officials stated. They said it was revenge for the killing of three Jewish youths in June.