US 'profoundly troubled' by brutal beating of Palestine teen who turned out to be American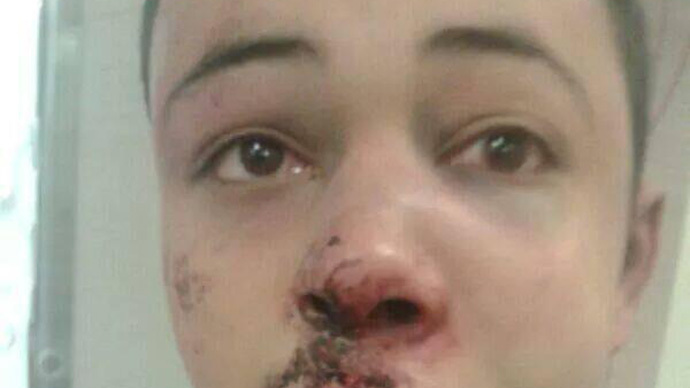 ​The US has condemned the beating and detention of a 15-year-old Palestinian-American by Israeli police after a massive social media campaign exploded in cyber space decrying the actions and hypocrisy of Israeli authorities.
"We can confirm that Tarek Khdeir, an American citizen, is being held by Israeli authorities in Jerusalem. [Tarek Abu Khdeir ] was visited by an official from the US Consulate General in Jerusalem today," US State Department spokeswoman, Jen Psaki, said in a press release.
The US is "profoundly troubled" by reports that the teenager was "severely beaten while in police custody" while visiting Israel on vacation from Tampa Florida, and strongly condemns "any excessive use of force."
"We are calling for a speedy, transparent and credible investigation and full accountability for any excessive use of force," Psaki said.
Is this the kind of action you are supporting financially and diplomatically @JohnKerry Israeli police brutality? #StandUpforTariq#Israel

— Clar Ni Fhearail (@clarefarrell) July 5, 2014
A shocking video of the brutal attack that was leaked on the internet, showing Israeli police officers savagely beating the 15-year-old cousin of Mohammad Abu Khdeir who was burnt alive in East Jerusalem, has prompted outrage in the Palestinian community.
Caught on camera: Israeli police beating 15yo cousin of murdered Palestinian teen (VIDEO)
His family has issued a statement saying that "Tarek is in dire need of medical attention and his family is calling for his immediate release after this brutal beating and arbitrary arrest."
Tarek Abu Khdeir, 15yo US citizen from Tampa, FL, beaten & held by Israeli police. #FreeTarekhttp://t.co/t9OE04vp1Jpic.twitter.com/TVO1v1tpkc

— Just Foreign Policy (@justfp) July 5, 2014
Despite the obvious need of medical attention, the Israeli authorities refused to provide him with such for 5 hours, the family said in a press release. According to the family, the teenager was denied an Arab doctor and when his father asked that his son be treated at a hospital of their choice the request was also denied.
"While in the hospital, his face had swollen to a degree to which he could not speak when conscious and blood was also found in his urine, concerning family that there could be internal bleeding," relatives say.
This unrecognizable Palestinian American child didnt deserve this nor does any child! @BarackObama#StandUpforTariqpic.twitter.com/acIdmdrSYA

— Esraa (@ESRAAisraw) July 5, 2014
The boy was then transferred directly to court but has not yet been formally charged, though authorities claim he was throwing stones "despite being unable to provide any evidence to the court."
When asked by the court under what basis Tarek was being held, prosecutors said they were still "collecting evidence."
Meanwhile the aunt of the teenager told the Electronic Intifada that Palestinians have no rights in Israel. "When I talked directly to [Tarek's] mother she said the consulate told them we have to follow the legal procedures here [in Israel]. But there are no legal procedures for Palestinians. Palestinians aren't considered human," Suhad said.
#SadTruth: If Tarek Abu Khdeir weren't a US citizen, his brutal beating by Israeli police would likely have passed without much notice

— Graham Liddell (@grahamliddell) July 5, 2014
The boy's father Salahedeen Khdeir said that Tarek was visiting his uncle's house in an area where clashes continue between Israeli forces and Palestinians when he and five other teenagers were assaulted in the yard by two masked Israeli police agents. Tarek was injured the most in the incident up to the point where he was beaten to unconsciousness.
ABC News' Alex Marquardt spoke to the Tarek's mother Suha Abu Khdeir, who said that she is petrified to see the video of her son's assault.
.Israeli forces beating a child http://t.co/qCKiFP3Son NOTHING JUSTIFIES THIS! #HUMANRIGHTS@hrw@amnesty#FreeTarekpic.twitter.com/ngoIYzhJDq

— Mahnaz (@BellaBehold) July 5, 2014
"I was infuriated, I was horrified, he is my son," she said when asked what it was like to see her son in that condition in a hospital. "You never want to see your son in pain, especially in that kind of pain. He was not recognizable." All the mother wants now is "justice."
A lawyer with Addameer human rights group, who represented Tarek in court on Friday, said that the "beatings he received were severe enough to kill him, and cause severe injuries to his face and bruises on his head and chest. "
"Despite this, the Magistrate's Court refused to release him and extended his detention to Sunday for interrogation, stating that he may flee the country as he is an American citizen," Addameer posted on their website.
It's sad when US politicians are more concerned with funding & protecting Israel than they are standing up for US citizens. #StandUpForTariq

— Remi Kanazi (@Remroum) July 5, 2014
"The judge viewing the reality of torture and attempted murder as recorded and documented on a video of the brutal beating suffered by the child, and the medical report submitted by Hadassah hospital, they chose to extend the child's detention, risking him being exposed to further physical and psychological torture at the hands of interrogators in the Moskobiyeh interrogation center."
@Remroum US support&funding is directly responsible for Tariq's torture and violations of human rights.

— roger the dodger (@reggibarbossa) July 5, 2014
The lawyer also said that Israeli forces arrested 11 children and young men from the Jerusalem neighborhood of Shuafat the same day.
When the video of the beating broke international headlines, hundreds gathered in front of White House to protest against "US-financed Israeli aggression."
Protesting in front of White House against US-financed Israeli aggression, ppl hold photos of Israel's latest victims pic.twitter.com/7VmnT1oTx8

— Rania Khalek (@RaniaKhalek) July 5, 2014
"Stop burning our kids, stop beating our kids, stop killing our kids," were slogans being shouted out from the crowd.
Relative of lynching victim Mohammed Abu Khdeir tells crowd not to forget the ppl suffering in Gaza, Syria and Iraq. pic.twitter.com/kvmVoWCsNy

— Rania Khalek (@RaniaKhalek) July 5, 2014
In response to inhumane treatment of Palestinian prisoners by Israel, the US Palestinian Community Network has organized global protests to take place in over 20 cities, starting Saturday.
"We call for an end to Israel's collective punishment and violence against Palestinian men, women, and children. We call on mainstream US media to stop with its biased reporting, focusing on the Israeli youth killed and ignoring Palestinian youth killed. We demand fair and accurate coverage of the situation," the network said.
Take action: Protests around the world respond to assault on Palestine http://t.co/H4cM7jCzLt#StandUpforTariqpic.twitter.com/efpT9xr8EM

— Khader Adnan (@KhaderAdnan) July 5, 2014
The enraged online community also mobilized the activists to bombard the American embassy in Israel, posting their contact details.
#FreeTarek#retweet#trending#waketheworldup#Palestine#Israel contact American embassy in Israel now +97235197575 pic.twitter.com/Yx09RgAseJ

— Emma Isitt (@emauve) July 5, 2014
CALL TO ACTION: American teen almost beaten to death by Israelis. Here's how you can help #FreeTarekpic.twitter.com/Z5xEhP68qV

— Maysoon Zayid (@maysoonzayid) July 5, 2014
Human rights groups such as End the Occupation and Palestinian Prisoner Solidarity Network, and Addameer also joined the campaign.
"Addameer urges immediate action and calls on the United Nations, the International Committee of the Red Cross, the United States consulate and all regional embassies and consulates, human rights organizations and journalists to attend Tarek Abu Khdeir's hearing on Sunday 6 July to investigate the intensified aggression against Palestinian children," the organization said in a statement.
As one mother to another, I beg you to #StandUpforTariq@MichelleObamapic.twitter.com/wdeogbx3Cx

— carrie mathison (@carrieprinceton) July 5, 2014
Just Foreign Policy campaign has also called for an action plan to "Urge the State Department, the US Embassy in Tel Aviv, and the US Consulate in East Jerusalem to protest Tarek's beating by Israeli police, to demand that he receive adequate medical attention and due process, and to attend his court hearing on Sunday morning."
Moment of Silence with Relatives of Tarek and Mohamed Abu Khdeir at DC White House protest #FreeTarek@US_Campaignpic.twitter.com/VKXjrkJU4T

— Gazanalysis (@Gazanalysis) July 5, 2014
You can share this story on social media: