Families of murdered Israeli and Palestine teens console each other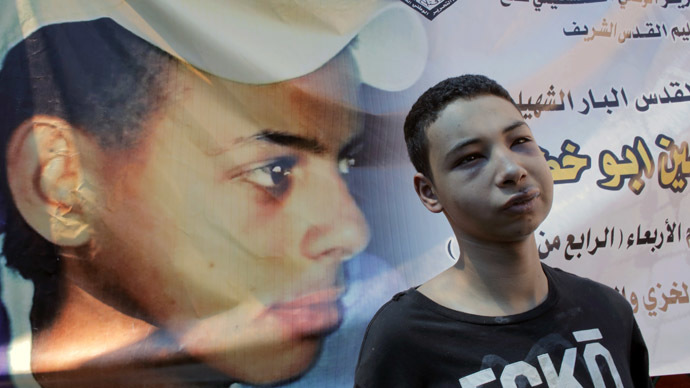 The families of murdered Israeli teen Naftali Fraenkel and the murdered 16 year-old Palestinian, Mohammad Abu Khdeir, who was killed on Wednesday, have been drawing comfort from an unexpected source – each other.
The Mayor of Jerusalem, Nir Barkat, wrote on Facebook about his "emotional and special telephone conversation between two families that have lost their sons." He went on to add that he had visited the Fraenkal family home, while he also took the opportunity to speak to Hussein Abu Khdeir, who is Mohammad's father. He expressed his pain at the "barbaric" murder of his son, the Jewish Daily Forward reports.
Barkat suggested to Abu Khdeir that he should contact Yishai Fraenkel, who is the uncle of Naftali Fraenkel. The uncle spoke to the press recently, saying, "The life on an Arab is equally precious to that of a Jew. Blood is blood and murder is murder, whether that murder is Jewish or Arab." The two took the advice of the mayor, and consoled one another by telephone.
Kidnapped and slain Arab teen was burned alive – autopsy results
An Israeli official announced Monday that three suspects in the killing of Abu Khdeir have confessed to committing the crime, according to the Associated Press. The official said the suspects were taking part in a police-staged re-enactment of the killing for the authorities.
On Sunday, Israeli authorities announced the arrests of six Jewish male suspects in connection with Abu Khdeir's murder. Their identities have not been released and the official spoke on the condition of anonymity because the investigation was still ongoing.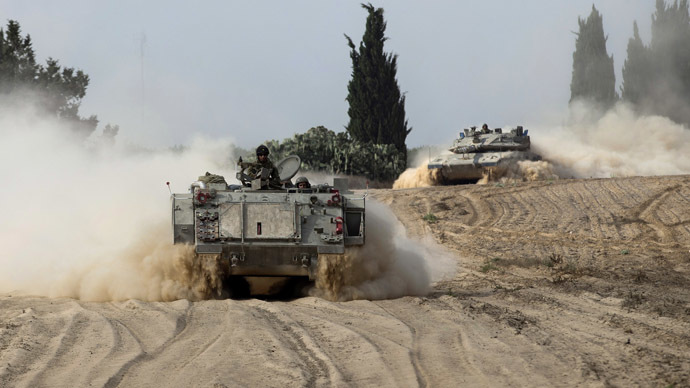 Israeli Prime Minister Binyamin Netanyahu also phoned Hussein Abu Khdeir on Monday to express his shock and horror at the murder of his son.
"I want to express my shock, and the shock of all Israeli citizens, at the heinous murder of your son," he said in the call, according to a statement put out by the Prime Minister's Office.
"We acted immediately afterward to locate the murderers, and they will be brought to justice," Netanyahu added. "We reject all cruel behavior, and the murder of your son is heinous and cannot be accepted by any human being."
Speaking on Sunday after a condolence call in Nof Ayalon to the parents of Naftali Fraenkel, Netanyahu said Israel will punish the murderers.
Referring to violence between Jews and Arabs, Netanyahu said, "We are opposed to 'price-tag' attacks in the same way that we are opposed to fire bombs, rock-throwing and blocking of roads."
Israel's outgoing president, Shimon Peres, and his successor, Reuven Rivlin, promised in a joint editorial published Monday in Yedioth Ahronoth, the country's best-selling newspaper, that there would be no cover-up in the investigation of the Palestinian's death.
Cautioning that "words can kill," they also appealed for an end to incitement by both sides in the decades-long Israeli-Palestinian conflict.
"The bloodshed will stop only when we all understand that it is not our unhappy fate to live together, but rather our destiny to do so," Peres, a Nobel Peace Prize laureate, and Rivlin, a veteran right-wing politician, wrote.
In a separate visit organized by Rabbi Rafi Ostroff, chair of the religious council of Gush Etzion, Palestinians from the Hebron area went to see the Fraenkel family, looking to comfort the bereaved.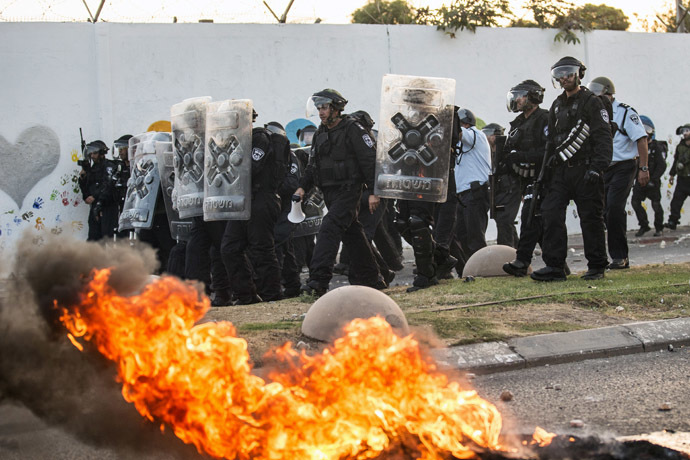 Asked why they had come, one of the Palestinians said, "Things will only get better when we learn to cope with each other's pain and stop getting angry at each other. Our task is to give strength to the family and also to take a step toward my nation's liberation. We believe that the way to our liberation is through the hearts of Jews."
He later said that the visit went very well from his perspective. "They received us very, very nicely. The mother [Rachel Fraenkel] was incredible."
"I see before me a Jewish family who has lost a son opening the door to me," he added. "That's not obvious. It touched my heart and my nation."
The Palestinian visitors to the Fraenkels also mentioned an initiative championed by both Jews and Muslims to turn the July 15, the Jewish fast day known as 17 Tammuz, into a joint fast day for people of both religions who wish to express their desire to end violence in the region.
The tension gripping the region started when three Israeli youths – Gilad Shaer, Naftali Fraenkel and Eyal Ifrach – went missing in the occupied West Bank and were found dead after 18 days of searches.
The disappearance sparked a massive door-to-door manhunt in the Palestinian city of Hebron and surrounding villages in the West Bank, with the Israeli authorities accusing Hamas of the crime.
During the 'Brother's Keeper Operation' to locate the missing teenagers, over 2,300 homes were searched in the West Bank and over 400 Palestinian suspects were detained.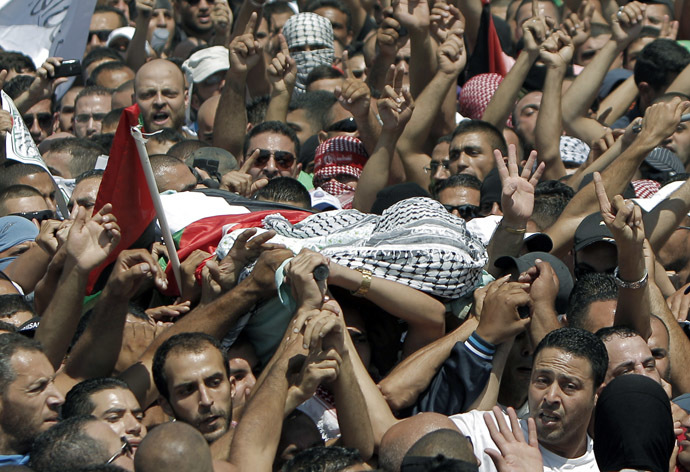 Many believe Abu Khdeir's killing was carried out in revenge by Israelis incensed at the killing of the three Israeli teens. He was kidnapped on Wednesday in his neighborhood in Arab East Jerusalem. His charred body was found several hours later in a forest on the outskirts of the city. Autopsy reports say that he could have been burned alive as soot was found in his lungs, a sign that he was still conscious when he was set alight.
Caught on camera: Israeli police beating 15yo cousin of murdered Palestinian teen (VIDEO)
A day after Mohammad Abu Khdeir was killed, his cousin, Tarek Abu Khdeir, 15, an American citizen, was brutally beaten and detained by police. Tarek's parents maintained his innocence and claim Israeli police officers committed an unprovoked attack on their son while he was handcuffed. He had been spending summer in East Jerusalem with his uncle's family.
An Israeli court ruled Sunday that Tarek Abu Khdeir should be subject to house arrest in the east Jerusalem neighborhood of Beit Hanina. Court spokeswoman Luba Samri said that police had asked the judge to extend the teenager's remand, claiming that he attacked police officers during violent protests over the death of his cousin.
You can share this story on social media: