Reports of Russia's military build-up on Ukraine border groundless - Moscow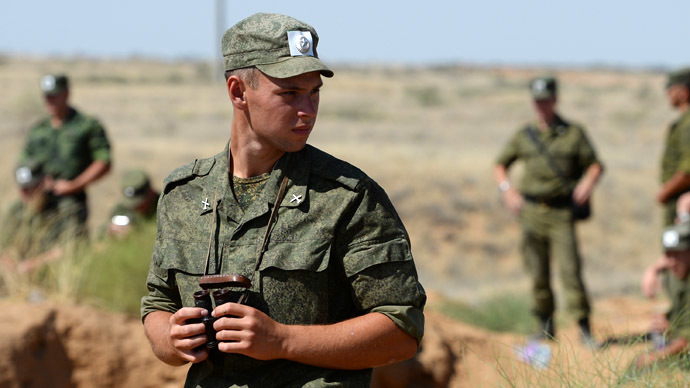 Moscow slammed NATO and Pentagon claims that Russia is amassing military near the border with Ukraine calling them unsubstantiated, according to a statement made by a Ministry of Defense spokesman.
"In Russia's Ministry of Defense such statements only raise sympathy for the speakers of the Pentagon, the US State Department and NATO. It seems the people are serious, but they have to constantly improvise during their speeches to somehow add seriousness to their statements," said Igor Konashenkov, spokesman for the ministry Major General, on Wednesday.
Pentagon spokesman, Rear Admiral John Kirby, told reporters on Tuesday that Russia has at least 10,000 troops on Ukraine's border.
Following this, on Wednesday, NATO spokeswoman Oana Lungescu stated that Russia has already amassed around 20,000 combat-ready troops on the border.
Konashenkov said that "we would like to explain to the Pentagon and NATO officials that it is impossible to perform such a manoeuver with thousands of soldiers with weapons and military equipment in such a short time, all the more to keep it secret from OSCE observers now in the region."
In late July, the OSCE deployed sixteen observers to two border-crossings in Russia - Gukovo and Donetsk, following a request to the organization by the Russian government.
The regular "tales" of Russian troops amassing near the border with Ukraine are reminiscent "of an auction selling soap bubbles, where the main goal is to set the price higher before the bubble bursts."
This is the reason Pentagon and NATO figures vary so much, he explained.
Russia has conducted a series of war games since the start of the crisis in Ukraine. The latest five-day military exercise started on Monday in Russia's south at the Ashuluk test site near Astrakhan, more than 700 kilometers away from the Ukrainian conflict zone.
The tests were scheduled last year, according to Russia's Ministry of Defense.
The Major General pointed out that the representatives of the US and NATO, which have been inspecting the border under the 'Open Skies' mission, "consistently cannot find" any evidence of a military build-up.
"At the same time, a grouping of 25,000 Ukrainian military forces leading military actions near the border with Russia, for some reason, does not cause any concern in Europe or the United States."
Earlier, Russia's Defense Ministry accused the US of releasing "fake" satellite images allegedly proving Russia had shelled Ukraine territory. The images were posted by the US ambassador Geoffrey Pyatt on his Twitter account on July 27. Moscow said that because of "extremely low resolution" and "due to the absence of any attribution to the exact area" the images' "authenticity is impossible to prove."
Read more: 'Fake': Russian Defence Min rebuffs US sat image claims
You can share this story on social media: