US allegations of Russia firing at Ukraine are 'baseless' – Russian MP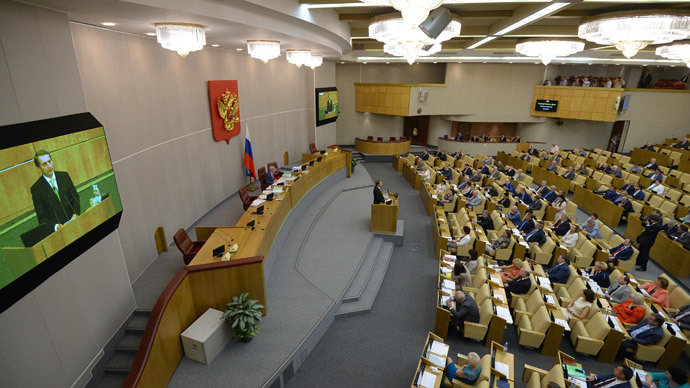 Satellite images released by the US allegedly "proving" that Russia fired rockets at Ukrainian troops across the border cannot be considered evidence, according to a Russian MP.
The imagery was released via email, along with a four-page document titled 'Evidence of Russian Shelling into Ukraine.' Four satellite images were included, all dating between July 21 and July 25/26.
They were all posted on Twitter by the US ambassador to Ukraine, Geoffrey Pyatt, on Sunday.
Read more: US releases satellite images 'proving' Russia is firing into Ukraine
The US "lies about obvious things," said Franz Klintsevich, deputy chairman of the State Duma Defense Committee, as quoted by RIA Novosti.
He stated that the satellite images are not enough to point fingers at Russia and accuse it of shelling Ukraine. In order to confirm such claims, the data must be backed by other sources as well.
"The American dialogue today is simply unsubstantiated," Klintsevich said, adding that he is not aware of Russia firing from its own territory into Ukraine.
While speaking about Ukrainian artillery frequently hitting Russian territory since the beginning of summer, Klintsevich said that several of his colleagues support the idea of precision strikes against those artillery machines used to target Russia.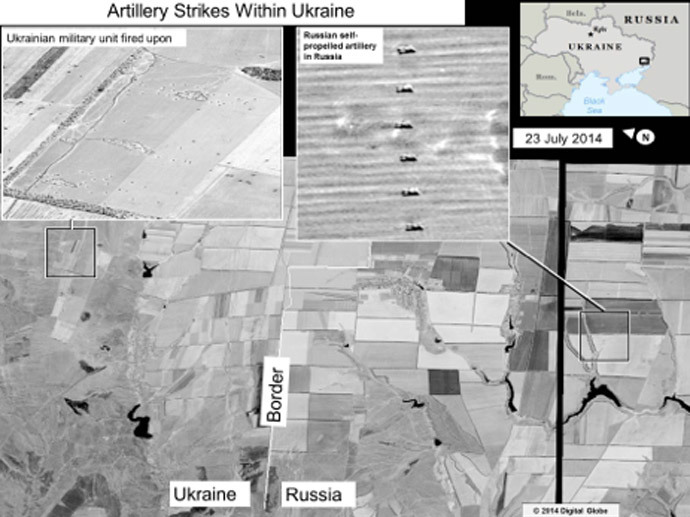 On Friday, Ukraine's army fired at least 45 mortar shells at targets located inside the Rostov Region, Russia's border officials said. The barrage destroyed houses and forced an evacuation of civilians.
Russia's Ministry of Defense said on Sunday that inspectors who came to check the state of Russian troops along the Ukrainian borders found no violations.
"No instances of violations by Russia along the Ukrainian border had been registered by the inspectors," the ministry stated.
This came in response to the US alleging that 15,000 Russian troops had amassed in the area.
Read more: Intl. teams find 'no violations' by Russia along Ukrainian border
Russia has repeatedly denied allegations that it is taking part in the Ukrainian conflict, and the Russian Foreign Ministry called Washington's charges "unsubstantiated innuendos."
'US allegations are ludicrous and unprofessional'
Military expert Igor Korotchenko challenged the so-called evidence released by Pyatt and questioned its authenticity.
"Publishing charges on the US ambassador to Ukraine's Twitter and using them as a basis to argue that Russia is firing at Ukrainian territory is ludicrous and unprofessional," Korotchenko told RT.
"In serious cases like that, I would recommend for the US to look into briefings, such as the recent briefing by Russia's Defense Ministry. In it, everything was clear: satellite images were presented, they were decoded, and the pictures were as detailed as possible; everyone could make out the details," he said.
"In addition to satellite imagery data, the satellite control and electronic intelligence were attached. There were also maps, plans, and diagrams included. On the US ambassador's Twitter you cannot make anything out, even with a magnifying glass."
"This is not serious at all, it is low-skilled work," he added. "What was published by the US ambassador is part of an information campaign to force European countries to agree on anti-Russian sanctions."
Observers on the border have not registered any discrepancies, Korotchenko said.
"During the last several weeks the combat area has been regularly monitored. At the time, a foreign military radar group, including individuals from the US, were working in Russia and nothing was found."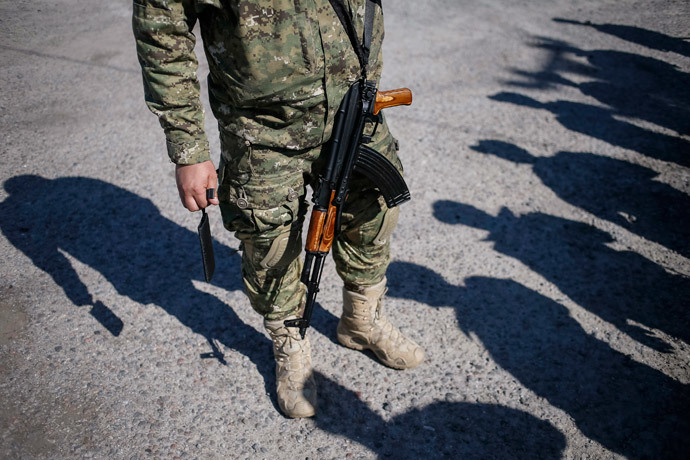 Meanwhile, columnist and head of the Institute for Political Economy, Paul Craig Roberts, told RT that he also doubts the credibility of the photographs released by the State Department.
"I can state with complete confidence that information this important would not be released in this way," Roberts said. "If this was released by the State Department, which I doubt, it is so unprofessional; it would mean that the State Department is trying to spread propaganda about Russia on social media. Now the way this type of information would be released would be at a press conference with a high level of government officials addressing the bureau chiefs of the major news organizations."
He said that experts would explain the meaning of the photographs and their validity.
"The US government has been desperate to produce information to back up its claims. It would not release information in this way," he stated, adding that anyone can spread information on social media.
Another military expert, Viktor Litovkin, said the US allegations are an attempt to distract the public from the downing of Malaysia Airlines flight MH17, which crashed in Ukraine on July 17.
"This is an information campaign to distract the people's attention from the tragedy of the Boeing 777, since more and more evidence is coming to light that Ukraine is responsible for the plane crash."
You can share this story on social media: