​Intl. teams find 'no violations' by Russia along Ukrainian border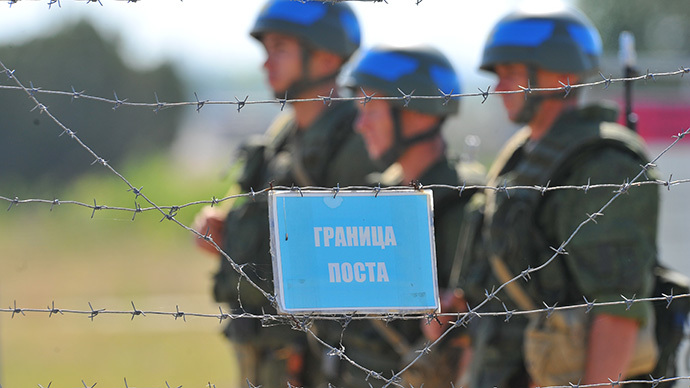 Inspectors who came to check the state of Russian troops along the Ukrainian borders have found no violations, Russia's Ministry of Defense said. This came as a response to the US alleging 15,000 Russian troops have amassed in the area.
"It has come to our attention that new allegations by top US officials as to the alleged amassing of Russian troops along the Ukrainian border have been voiced," the statement by the Defense Ministry read, following allegations by the US Permanent Representative to NATO, Douglas Lute, and State Department spokeswoman, Marie Harf.
"The last four months have witnessed 18 separate inspections along the Ukrainian border with the Russian Federation, all in line with the Vienna Open Skies Treaty and the Vienna agreement of 2011."
The statement goes on to list the international makeup of those inspections, which included representatives from the US, as well as NATO and Ukraine. The inspections also included flybys and visits to any military units that might have aroused suspicion.
Осколки от украинских снарядов попали во дворы жителей хутора Примиусский #Ростовhttp://t.co/A3BtZrpOWLpic.twitter.com/979xk2Ei3u

— Новости Ростова (@rostovnews777) July 23, 2014
"No instances of violations by Russia along the Ukrainian border had been registered by the inspectors," adding that in spite of the above, "frequent action by the Ukrainian military taking place on the Russian border has hindered our own ability to perform similar inspections and flybys along our border."
While no evidence of a Russian military buildup at Ukrainian border regions was registered, similar inspections in other regions, were they to be carried out, would undoubtedly find that the opposite is true for Ukrainian forces, who've had heavy equipment stationed there, firing regularly onto Russian settlements, the ministry states.
"Their actions have already led to casualties on our side," the statement concludes.
Just on Friday, Ukraine's army fired at least 45 mortar shells at targets located inside the Rostov-on-Don region, Russia's border officials said. The barrage destroyed houses and forced an evacuation of civilians. Ukrainian officials denied responsibility, and say that it is Russia that has been using its artillery to support anti-Kiev militants in the Donetsk region across the border.
Shells from artillery fights in Ukraine have frequently landed on Russian territory since the beginning of summer. Earlier this week, a temporary refugee camp for Ukrainians fleeing the conflict was relocated further from the border, after several mortars landed nearby.
You can share this story on social media: