'Fake': Russian Defence Min rebuffs US sat image claims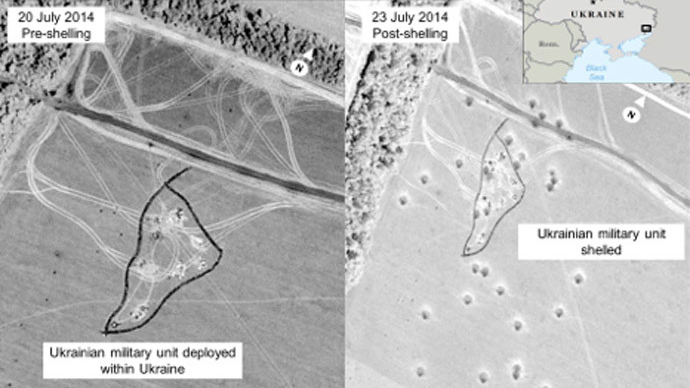 Russia's Defense Ministry has stated that "fake" satellite images of alleged shelling of Ukraine from Russian territory were created by US counselors "with close links to Ukraine's Security Council."
The authenticity of the images is impossible to prove, the ministry added.
The Defense Ministry stated that the images posted by the US ambassador Geoffrey Pyatt on his Twitter account, allegedly proving the shelling of Ukraine from Russian territory, are "fake," ITAR-TASS reports.

"These materials were posted to Twitter not by accident, as their authenticity is impossible to prove – due to the absence of the attribution to the exact area, and an extremely low resolution. Let alone using them as 'photographic evidence'," Igor Konashenkov, the official representative of the ministry, stated.

"Pictures" like this, the general continued, "have also been provided by Kiev representatives as an excuse for the usage of heavy artillery and other weaponry by the Ukrainian army – against the country's civilian population."
"Last Friday, Ukrainian Defense Minister Valery Geletey again tried to add a sensational side to photo collages like this in the Ukrainian media – in vain. But on Sunday, the US ambassador to the Ukraine joined in, posting those satellite images on his Twitter page, which secured him the attention of the loyal Ukrainian media," the Russian ministry said.

This scheme is called "an informational merry-go-round," Konashenkov added, using an expression commonly uttered in Russia relating to feeding the information to the media.

"It's no secret to anyone that fakes like this are made by a group of US counselors staying in the Kiev building of the Security Council, led by General Randy Kee," he noted.
The general outlined the cycle as follows: the US counselors in the Kiev feed the disinformation to the Ukrainian media, with the news being taken by the Washington official representatives and presented as statements.
Afterwards, the Ukrainian media cite the US authorities and publish articles like as "objective."
You can share this story on social media: