Nigeria football team says they took 'no witch doctor' to WC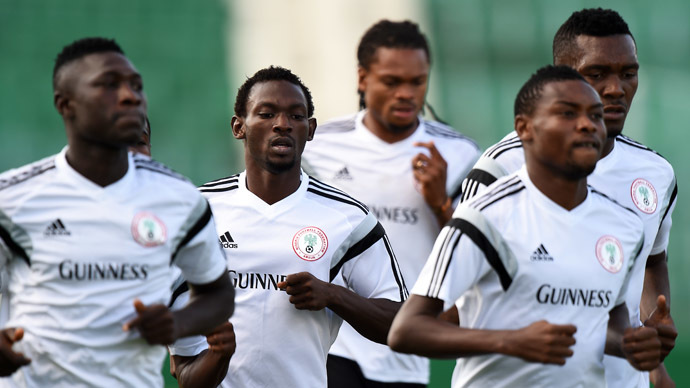 Even if Nigeria's football team ever had a witch doctor on their team, that was years ago - and now it is fair game only, says forwards Peter Osaze Odemwingie.
"Do we have a personal witch doctor in our team? Of course not," Odemwingietold ITAR-TASS. "If we ever had a witch doctor, then it was no less than 20 years ago."
Follow RT's updates on 2014 FIFA World Cup in Brazil
Odemwingie says his country is strongly determined to beat its previous World Cup record and make it through to the quarter finals.
"Nigeria's record of at the World Cup is preliminary finals. We are going to get surpass this achievement. [Our citizens] wait for something more from us than leaving our Group [F]," he added.
The team is in group F and is scheduled to play with Iran team on June, 16, Bosnia and Herzegovina on June, 22 and Argentina on June, 25.
The team had its last training session on Monday evening in the US and will depart Tuesday morning for Brazil pic.twitter.com/cVgUUGvfls

— Nigeria Super Eagles (@NGSuperEagles) June 9, 2014
Nigeria's preparation was somewhat marred this week due to constant interruptions of the team's open training session at the Brinco de Ouro stadium, Odemwingie said. Fans ran on to the field several times and some kids even stole two balls.
"The fans who ran into the field interfered with our training, ruined our concentration," he said, "I guess there were even five-year-old children there. What should we have done with them?"
The 20th football World Cup 2014 kicked off on Thursday, with the winner to be decided in Rio de Janeiro on July 13.
#OpWorldCup: Anonymous wages cyber-attacks against Brazil govt
As the tournament kicked up of Thursday, Brazil was engulfed by mass protests. The protesters criticize their government for prioritizing profits of national and multinational businesses over its own people.