2014 FIFA World Cup in Brazil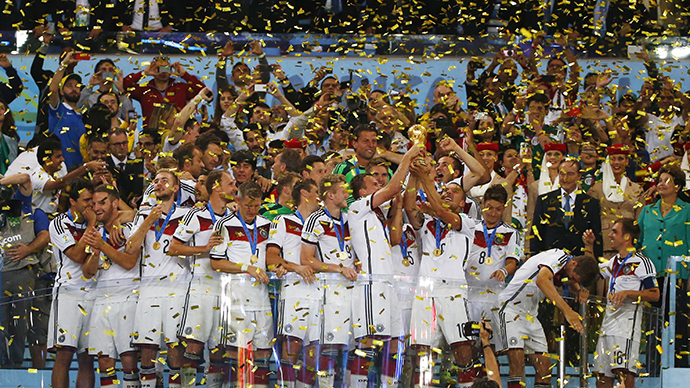 Five-time champions Brazil are hosting the 20th football World Cup, with Germany battling it out with Argentina to see who will be crowned champion in Rio de Janeiro on July 13. RT is providing full coverage of the match on its website.
14 July 2014

04:02 GMT

Luiz Felipe Scolari has been dismissed as the coach of Brazil's national football team, Globo TV reports. Brazilian Football Confederation has not yet confirmed or denied the report.

01:25 GMT

Argentinian fans teared up at the FIFA Fan Fest in Rio de Janeiro on Sunday as Germany beat their team in the World Cup final. Argentina supporters dominated the crowd on Copacabana beach, though some German fans were there to celebrate the win.

13 July 2014

23:58 GMT

A scuffle broke out at Fan Fest in Rio de Janeiro on Sunday following the FIFA World Cup Final between Germany and Argentina, Ruptly reports. The fight was between Argentinian and Brazilian supporters. No one was said to have been arrested.

21:36 GMT

Germany has won the 2014 World Cup following a 1-0 victory against Argentina in extra time. After a slow start, it was probably a deserved victory for the German's, who become the first European side to win the competition outside of their home continent. Mario Goetze got the only goal of the game, with seven minutes remaining, with an excellent finish, however, Argentina will be left to rue missing three very good chances, which should have wrapped up the match for them in normal time.

21:26 GMT

Mario Goetze could just have made himself the toast of Germany, with seven minutes to go in extra time. Germany lead Argentina 1-0. He chested down Schurlle's cross and pokes an excellent finish past Romero into the right-hand side of the net!

21:15 GMT

Aguero is very lucky to get away without a yellow card, which would have met the Manchester City forward would have been sent-off for a second bookable offense. Germany's Bastian Schweinsteiger has blood streaming from his face after he was caught by the Argentinian's swinging arm. Still 0-0 with around 10 minutes left in extra time.

21:05 GMT

Argentina create another very good opportunity, Palacio was put through by a fantastic ball by Rojo, however, the Inter Milan's first touch was heavy and then for some reason he tried to lift the ball over Neuer, which gave the German defense time to get back and clear. That is three excellent chances Argentina have had in this game.

20:52 GMT

A fairly uninspiring 2nd 45 minutes, with both sides not wanting to risk losing the game. The game is heading for 30 minutes of extra time.

20:40 GMT

It's all Germany at the moment, with Argentina unable to get control of the ball for any significant amount of time. Toni Kroos goes close with the a curling right footed effort from the edge of the penalty area.