Space football! FIFA president speaks about 'interplanetary competitions'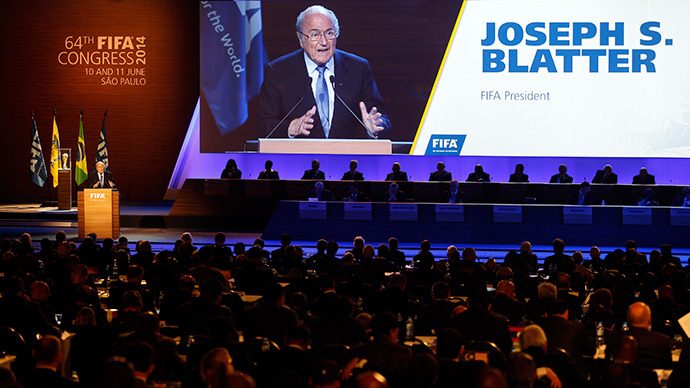 FIFA president Sepp Blatter has suggested that football could one day be played on other planets. The 78-year-old made his remarks to delegates from FIFA's 209 member nations on Wednesday, just two days before the World Cup is set to kick off in Brazil.
"We shall wonder if one day our game is played on another planet? Why not? Then we will have not only a World Cup we will have inter-planetary competitions. Why not?" he said.
Blatter's lighthearted comments were made at the start of a hugely important congress, as FIFA reels from a number of crises including corruption claims and the controversy surrounding Qatar WC 2022.
The FIFA president also hinted that the football association has not had the easiest of times recently.
However, Blatter's comments have produced mainly a sarcastic reaction on Twitter.
FIFA crackpot Blatter finding the Brazilian magic mushrooms to be to his taste. http://t.co/Ah0te9hIUC

— MarK037 (@mar_k037) June 11, 2014
Next up for @FIFAWorldCup? Interplanetary competitions. But what currency do you use to bribe aliens? http://t.co/LONs415k01 via @guardian

— Natalie Mounier (@NatMoonLV) June 11, 2014
It was reported earlier this month that Blatter is facing renewed pressure to hold a re-run for the 2022 World Cup in Qatar after a whistleblower leaked documents showing US$5 million worth of alleged secret payments to help Qatar win its bid to host the event.
The Qatari bid was controversial even before the corruption allegations, given the country's extreme heat in the summer months and the lack of domestic support for the World Cup.
There have also been huge human rights abuses, and workers' rights groups estimate that thousands of people could die building the infrastructure to hold the event – compounding a problem that already exists regarding the ill treatment of cheap immigrant labor.
Meanwhile, Brazil has seen massive protests in the run-up to the 2014 World Cup which kicks off on Friday. Millions have voiced their anger, stating that the $11 billion spent on hosting the event could have been better spent on healthcare, education, and transport.
Even graffiti which was designed to celebrate the country's football heroes was vandalized two weeks ago.
Blatter is expected to stand again for his fifth term as FIFA president in 2015.