​Facebook claims to become 'biggest stadium in the world' for World Cup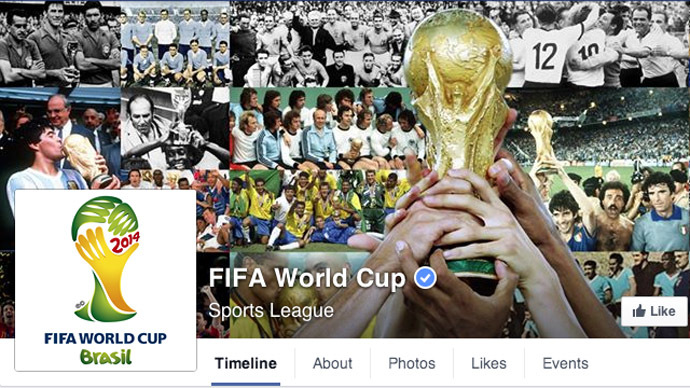 Facebook wants to become the biggest media source for the football World Cup in Brazil. The biggest social network says it'll outperform Twitter, because its 500 million users interested in football is twice the size of Twitter's monthly user base.
2014 will become the first World Cup followed on people's smartphones, as the Financial Times quotes Will Platt-Higgins, the director of global accounts at Facebook
"For the first time in 2014, we, all of us, are carrying around a mobile stadium in our pockets, where you will be watching, learning scores, team sheets, changes, injuries, substitutes – all of it – and sharing it," he said. "That is a hugely compelling thing for a marketer."
Twitter has been seen to dominate live events after record-breaking post with almost 3.5 million re-tweets at this year's Oscars.
However, the Facebook analysis is based on user activity, their likes and links shared shows that around half-a-billion of them are interested in football. This is double the number of the average monthly users on Twitter, giving Facebook a real chance to become the "biggest stadium in the world," as Platt-Higgins describes it.
The world's biggest social network doesn't see any barriers to it substituting for TV as a main source for football fans.
"This 500 million – it is very, very difficult to find, or reach it in TV," Mr Platt-Higgins said. Moreover he said it would be much easier to implement an advertising campaign right into the social service, embedding the adverts through a match as the scores come in.
For example, Visa aims to use Facebook to reach football fans based on users' preferences and offer them coupons with their partners.
"You can tell by looking at the social graph, if someone is also interested in music, shopping, fashion . . . which results in better target messaging to you as an individual," Kevin Burke, chief marketing officer for Visa, an official sponsor of the tournament, said.
The payment system is strongly oriented to digital media, allocating an average 30 percent of its marketing budget to it, while the global average is 23 percent.
You can share this story on social media: