​#OpWorldCup: Anonymous wages cyber attacks against Brazil govt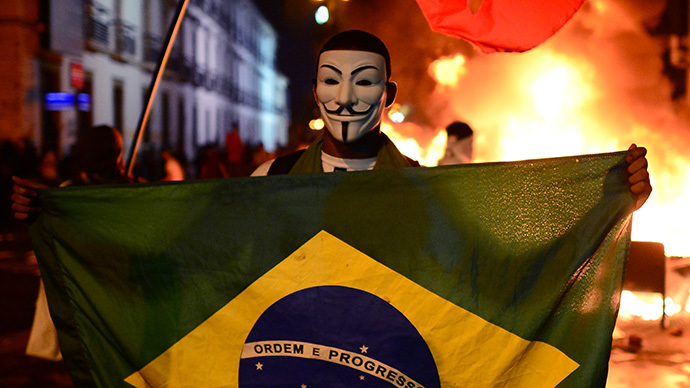 The hacktivist group Anonymous has claimed responsibility for cyber attacks on websites of the Brazilian government and major sponsors of the World Cup. Dubbed #OpWorldCup, the operation is protesting corruption and "actions against the people."
As of late Wednesday local time, major sites still crippled by alleged Anonymous-led hacks included those of Brazil's Department of Justice and Consumer Citizenship, the Military Police of São Paulo, the Bank of Brazil, São Paulo's subway system, FIFA Confederations Cup Brazil, and the websites of the municipalities of Igarapé do Meio, Nova Luzitânia, and Indaial, as well as Universal Music's Brazil-specific website, and the nation's official World Cup website.
#Anonymous#OpMundial2014#WorldCup2014#NaoWorldCup DDoS on http://t.co/MtqIzOaNaK#TANGODOWN still out of service pic.twitter.com/WUhG4oUh0d

— Anonymous (@OpGreenRights) June 11, 2014
The attacks started on Monday, according to Hacker News Bulletin, which is tracking all sites taken down or hacked by Anonymous.
Anonymous also took credit for other site-crashes that have since been repaired. Those include the sites of the Brazilian Intelligence System, the Brazilian Football Confederation, Brazil's main site for sporting matters, Hyundai's Brazil-specific website, and advertising agency Africa.com.br.
Anonymous said in a statement on Wednesday that it was "pursuing the government of Brazil because of their corruption and actions against the people."
"Anonymous demands that the Government of Brazil put an immediate end to corruption and stop the use of force and violence against peaceful demonstrators. We cannot stand idly while these injustices are being done. Know that we stand together and united to fight against this oppression."
#Brazil: #Anonymous Press Release, protest against #WorldCup2014http://t.co/uRnvqHaqQ5#opWorldCup#NaoVaiTerCopa#FIFA2014

— Anonymous (@YourAnonNews) June 11, 2014
Mass protests have occurred in Brazil in the run-up to the World Cup, as the host nation has been criticized for prioritizing profit ventures of national and multinational businesses over its own people, including the impoverished that have been cleared from the favelas, or slums, in the likes of Rio de Janeiro in preparation for the largest football tournament in the world.
Brazilian President Dilma Rousseff has claimed the protests have been orchestrated by political opponents of her central Workers Party.
"There is a systematic campaign against the World Cup – or rather, it is not against the World Cup but rather a systematic campaign against us," President Dilma Rousseff said Sunday in the southern city of Porto Alegre, AFP reported.
You can share this story on social media: