Thailand army detains ousted PM and her relatives to 'organise matters in the country'
Published time: 23 May, 2014 03:43
Edited time: 24 May, 2014 02:10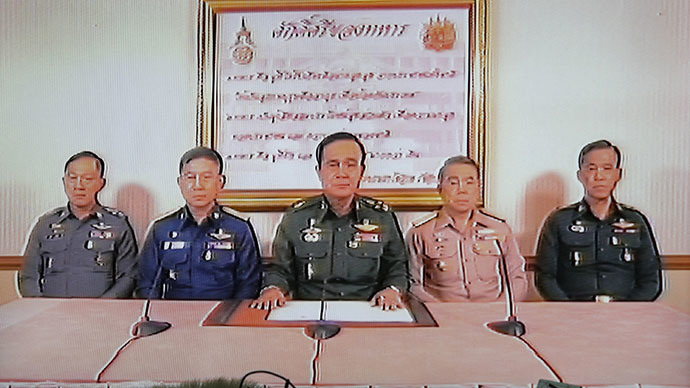 Thailand's military have detained ousted PM Yingluck Shinawatra and her relatives, holding top positions in her cabinet, after summoning them for 'talks', one day after army chief General Prayuth Chan-ocha seized power in a bloodless coup.
"We have detained Yingluck, her sister and brother-in-law," a senior military officer told Reuters, adding that the two relatives have held top political posts in Shinawatra's government .
"We will do so for not more than week, that would be too long. We just need to organise matters in the country first," said the officer on condition of anonymity.
It is unknown where Yingluck might be held, but media reports suggest she was at an army base in Saraburi province, north of Bangkok.
On Friday, the military summoned the ousted Yingluck for talks, her relatives and members of the cabinet, as well as over 100 prominent politicians and activists from rival parties. All of them were banned from leaving Thailand, Reuters reports.
Prayuth declared himself the acting Prime Minister on Thursday night, according to the Bangkok Post. His military took control of the country after various factions refused to negotiate in a power struggle between the royalist establishment and a populist government.
Thailand's army has suspended the constitution, TV and radio stations were ordered to broadcast only army material. Prayuth will head the military council that takes charge of Thailand.
Meanwhile, rival protesters in Bangkok have been dispersed, and a nationwide curfew is in effect from 10 pm to 5 am (1500 to 2200 GMT).
Yingluck – forced to step down by a court on May 7 while her caretaker government held power – is the sister of Thaksin Shinawatra, a billionaire telecommunications magnate who won support of the nation's poor by opposing the royalist establishment, mainly by denouncing its alleged corruption and nepotism. Thaksin himself was ousted as premier in a 2006 military coup.
US Secretary of State John Kerry condemned the coup, saying it would have "negative implications" for ties with the US, considered an ally.
"The path forward for Thailand must include early elections that reflect the will of the people," Kerry said in a statement, adding that any detained politicians should be freed.
Thailand has seen over six months of unrest as anti-government protesters, who want to rid the country of the influence of Shinawatra, were locked in a power struggle with opponents.