Military coup in Thailand: Constitution suspended, all TV & radio broadcasts halted
Thailand's army has taken over control of the country, suspending the constitution and imposing a curfew. TV and radio stations were also ordered to broadcast only army material. The coup follows months of political stalemate and turmoil.
"All radio and television stations, satellite and cable, must stop normal programming and broadcast army content until told otherwise," Winthai Suvaree, a deputy army spokesman, said in a televised statement.
Winthai also demanded the protesters disband, while several leaders had been detained. Gatherings of more than five people are now banned with one year prison term for violators. A 10pm to 5am curfew has been proclaimed.
Bangkok's rush-hour traffic same as ever. Only difference is that radio is playing military music and not slushy pop.

— AndrewBuncombe (@AndrewBuncombe) May 22, 2014
While national TV and radio stations are now allowed to broadcast only army-approved material, global news outlets are being taken off air, according to some reports. CNN and the BBC are unavailable at the moment, users on Twitter said.
No internet censorship has been reported as of yet.
Nation wide 10pm-5am curfew in Thailand... Only Thai Army approved TV shows can be broadcast on Thai TV #ThaiCouppic.twitter.com/0uv2zxX74H

— Andre (@phillytokorea) May 22, 2014

Several hours after the initial announcement, the military started arresting former government members. An ex-Labour Minister, Chalerm Ubumrung, was taken into custody, as was his son.In recent times, Ubumrung was a deputy prime minister of former PM Yingluck Shinawatra.
In an earlier announcement, the country's army chief General Prayuth Chan-ocha proclaimed he takes control of the government to restore order.
"In order for the situation to return to normal quickly and for society to love and be at peace again ... and to reform the political, economic and social structure, the military needs to take control of power," Prayuth said.
The army chief will head the military council which takes charge of Thailand. The prime minister and cabinet ministers were summoned to report to the military. At the same time, the Senate's upper house and all courts will continue to function.
A general election in August has been proposed as the best way forward, with proposed date of August 3 still to be finalized.
While Prayuth did not use the term 'coup' himself, Thursday marks the country's 19th coup in 82 years.
#ThaiCoup: This is what's showing on Thai TV now, after army imposed new rules on media outlets (Pic: @softpowerTR) pic.twitter.com/zMqsFEymqv

— Channel NewsAsia (@ChannelNewsAsia) May 22, 2014
However, the move by the military has prompted international concern.
The UN has issued a reminder directed at Thai authorities stating that international law "strictly limits" the implementation of emergency powers and has urged that fundamental rights be respected within the country.
The Pentagon has been reassessing its military assistance to and engagement with Thailand in the wake of the coup, the Pentagon stated on Thursday. The review included an ongoing naval drill in Thailand which includes 700 US Marines and sailors, Reuters was told.
Brad Adams, director of the Asia division at Human Rights Watch, told Al Jazeera that "while there has been sporadic violence in recent months, nationwide martial law was not necessary to prevent further violence." He added that the military has taken a 100-year-old law "off the shelf" which makes the civilian administration "subordinate to the military, effectively rendering the executive, legislative and judicial branches powerless."
Thailand's Martial Law Act of 1914 states that military commanders possess broad powers to suppress unrest, including the capacity to censor media and ban public gatherings.
At The Nation. RT @Pongz_NOW: #ThaiCoup (Pic: @natty_tang_ntv) pic.twitter.com/ti4e2DZaJO

— tulsathit (@tulsathit) May 22, 2014
Implications for travelers
The Russian consular service warned the imposed curfew affects all parts of Thailand.
"It is better not to leave your hotel during the curfew. If you are at the airport at night, you'd better stay there," the service told ITAR-TASS, initially urging tourists to comply with the new authorities' recommendations.
The curfew in Thailand does not apply to travelers arriving or leaving the country, according to a later military announcement, the agency reported.
"If you need to get to the airport during curfew hours by private transport, prepare your ticket and passport for the authorities to check. If you use public transportation, try to arrive at the airport early," Airports of Thailand said in a statement.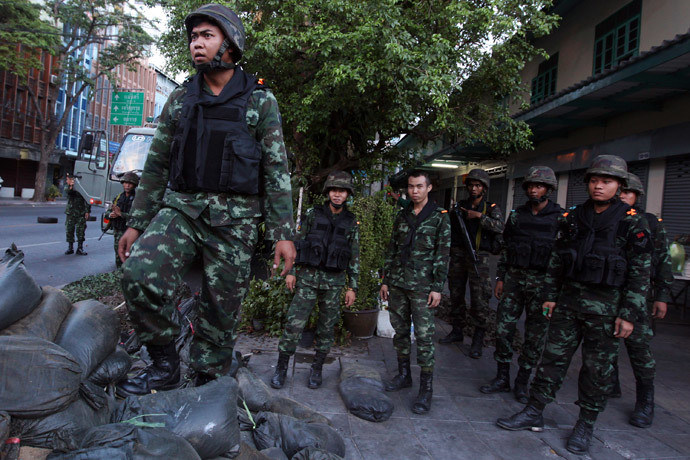 Thailand has seen over six months of unrest as anti-government protesters, who want to rid the country of the influence of Thaksin Shinawatra, were locked in a power struggle with opponents.
Thaksin was a prime minister since 2001 till 2006 when he was overthrown in a military coup. Since 2008 he has been living in self-imposed exile in order to avoid a jail term for graft. His opponents accuse him of cronyism and corruption as well as using taxpayers' money to buy votes with populist giveaways.
Prime Minister Yingluck Shinawatra is Thaksin's sister and is believed to be much affected by him in her policies. She was dismissed from her office on May 7, but her caretaker government had remained nominally in power.
The protesters have been demanding a "neutral" interim prime minister to oversee the electoral reform.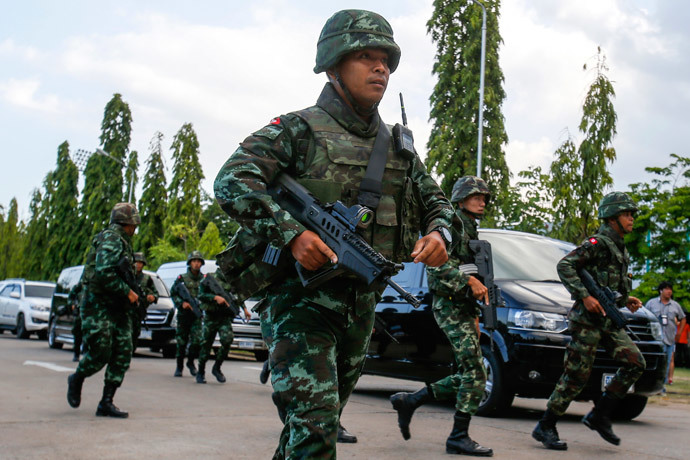 Last week, tensions escalated after gunmen started firing at a 'yellow shirt' protest camp, killing three and wounding a further 23.
'Red shirts' and 'yellow shirts' are the identifying symbols of the two camps – those dressed in red are supportive of the government that until recently held power, whereas the yellow shirts oppose Thaksin Shinawatra's role in Thai politics.
Shortly before the coup was announced, hundreds of soldiers gathered at Bangkok's Army Club and forcibly removed the leader of the protests against the pro-Thaskin government, Suthep Thaugsuban. Soldiers unleashed gunfire into the air to disperse the pro-government activists who had been rallying in the west of the captial, said a 'red shirt' spokesperson.
You can share this story on social media: