Thai protest leader killed during rallies to curb early elections
An anti-government protest leader was shot dead in the Thai capital, where demonstrators have blocked most of the polling stations, preventing people from taking part in early voting ahead of the February-2 elections.
The protest leader, identified by police as Suthin Taratin, was killed in a stand-off with police, which erupted at a polling station blocked by demonstrators.
"Suthin Taratin was shot in the head while giving a speech from a pick-up truck," Akanat Promphan, the protest movement's spokesman told a televised press conference, Cannel News Asia reports.
At least eleven other people were reportedly injured during the same confrontation.
All over Bangkok protesters waving Thai flags blocked entrances to polling stations. Some demonstrators used trucks for the purpose. 48 out of 50 polling stations in Bangkok were obstructed this way, AP reported. Advance voting was disrupted in 10 of Thailand's 76 provinces, according to the deputy prime minister, cited by Reuters.
"Protesters blocked voters. In many areas of Bangkok protesters used force to prevent people from voting," Foreign Minister Surapong Tovichakchaikul, also the deputy prime minister, said in a televised address. "This is a very serious offence indeed."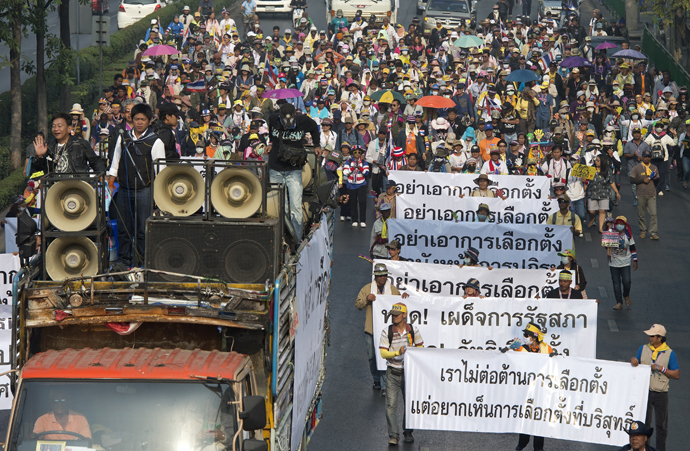 The early voting is for those unable to take part in next week's elections, which were scheduled last December by
Thailand's Prime Minister Yingluck Shinawatra, following weeks-long protests, which forced her to dissolve parliament.
The protesters in Bangkok have, however, not been mollified by the prospect of early elections. They have kept on rallying for the PM's ouster and the setting up of a non-elected "people's council", which would reform the country's political system before a new vote can take place.
Anti-government protesters have accused Yingluck of being the puppet of her brother, Thaksin Shinawatra, an exiled tycoon and the country's former prime minister ousted after a 2006 coup. Both sister and brother have been blamed for subverting democracy with populist policies that buy them the support of poorer rural voters.
The Thai Election Commission has already called for a delay to next week's elections. There are concerns that massive and violent protests could grip Bangkok once again.
The death of Suthin Taratin brings to 10 the overall death toll in the Thai protests, which started in November 2013.
The violence has been intensifying as the elections draw nearer. A state of emergency was introduced on Wednesday.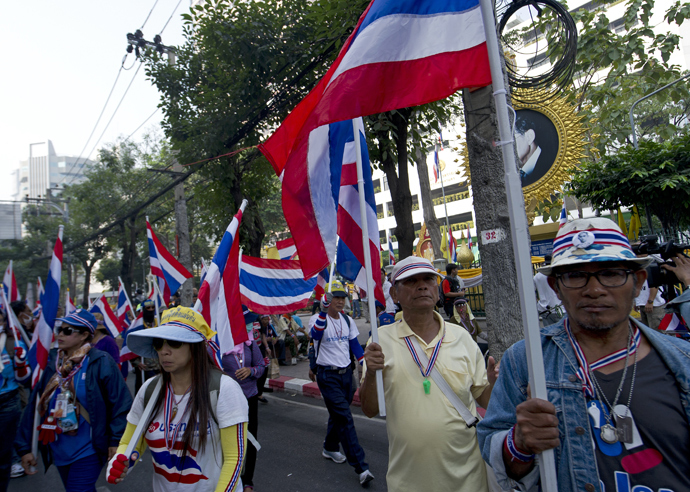 You can share this story on social media: