Fatal gun attack on Thai protester camp, violence escalates ahead of elections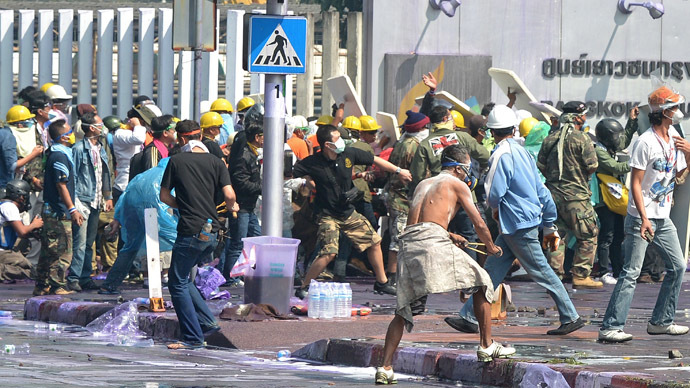 Anti-government protests in Bangkok have seen one person killed and four injured, after an unidentified assailant opened fire on a camp of demonstrators on Saturday, amid an atmosphere of unease ahead of the February 2 election.
The slain protester was a man in his 30s, the director of the capital's Erawan Emergency Center told Reuters, adding that four others also suffered gunshot wounds.
The incident occurred two days after another fatal incident, in which 500 protesters gathered at a voting center to oppose plans for an early snap election by the Yingluck Shinawatra's government. The clash with police on that occasion resulted in two deaths.
As of early Saturday morning, several hundred tents had been set up around Government House in the city. The protesters were asleep when they were woken up by gun shots at around 3:30AM, witnesses told Reuters.
"I was sleeping and then I heard several gunshots. I was surprised," an 18-year-old protester said.
Others added that the source of the gunshots might have been a vehicle driving past the camp. Footage shared by Reuters TV showed bullet holes in a concrete wall, as well as bloodstains on some of the tents. Slugs were picked up by protesters as evidence of the shooting.
Registration was suspended in four of the 77 constituencies. The troubled constituencies are located in the south of the country. The protesters there blocked the venues, which were closed in order to avoid more violence.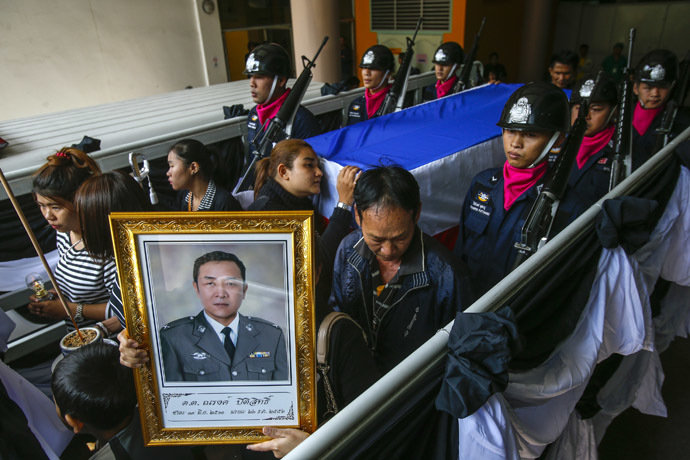 Voter registration was due to continue after Thursday's events, but was disrupted by Saturday's shooting. As a result of the sudden escalation in violence ahead of the February-2 date, the electoral commission recommended that Thailand put off the election.
The protesters have threatened in the past that they will attempt to disrupt the election. They have been trying to topple Yingluck for several weeks, accusing her of being her brother's puppet, the former ruler and billionaire tycoon, Thaksin Shinawatra.
But the leader remains determined to go ahead as planned.
At the center of its politics, Thailand has suffered a long-running feud between its major political factions. Protests erupted in November, after Yingluck tried to introduce an amnesty for her brother, Thaksin, to ensure the former PM does not serve a prison sentence on corruption charges.
Saturday's events also follow statements by the chief of the Thai military, who on Friday said that a coup may be a possibility – something that might plunge the beautiful country famed for its tourism into chaos.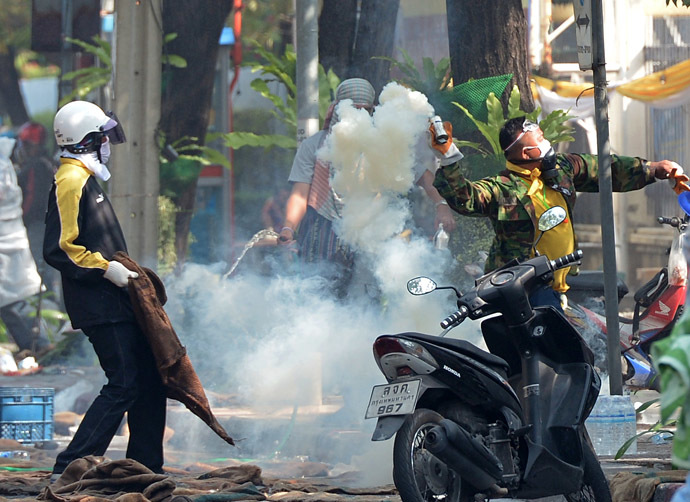 "That door is neither open nor closed... it will be determined by the situation," said General Prayuth Chan-ocha of a possible coup. Thailand's military has successfully staged 11 coups in the past, including one in 2006, which ousted Thaksin. In total, 18 coups have been made in the country's 81 years of democracy, a fact that has everyone scrutinizing the army's actions very closely at this point.
Yingluck is popular mainly with the rural poor in the north and north-eastern parts, while those protesting come mainly from Thailand's middle classes and elite – mainly in Bangkok. Many among them also have ties with the military and the country's legal system. They are disgruntled with the Shinawatra government for its alleged manipulation of Thailand's democracy by buying off poor voters with populist policies, focusing mainly around healthcare and easy bank loans.
You can share this story on social media: