Thai protesters reach PM office after police remove barriers
Thai police have changed tack, removing fortified barriers blocking anti-government protesters from entering the prime minister's office. At least three people have died and 230 were injured in a week of protests aimed at ousting Thailand's government.
Early on Tuesday police cleared the barbed wire barriers protecting Prime Minister Yingluck Shinawatra's office from the onslaught of anti-government protesters. Footage from Thai television showed the protesters milling around outside the Government House waving flags. Some of them even took their photograph with policemen.

Prime Minister Yingluck was moved to a secret location on Sunday after activists stormed the police sports club where she had been staying.

The Thai police's change of strategy seeks to defuse rising tensions following a week of protests. City Police Chief Kamronvit Thoopkrachang told Reuters that riot officers have been ordered to stand down.

"In every area where there has been confrontation, we have now ordered all police to withdraw. It is government policy to avoid confrontation," Kamronvit told Reuters. "Today, we won't use tear gas, no confrontation, we will let them in if they want." 
Protest leader Suthep Thaugsuban resolved to keep on fighting in spite of the police's decision to cease confrontation.
"Today we won a partial victory but we will fight on until the Thaksin regime has been driven out," said Thaugsuban.
Police clashed with protests attempting to break through the barricades to Government House on Monday. Officers used tear gas, water cannons and rubber bullets to repel the activists, who threw rocks at police.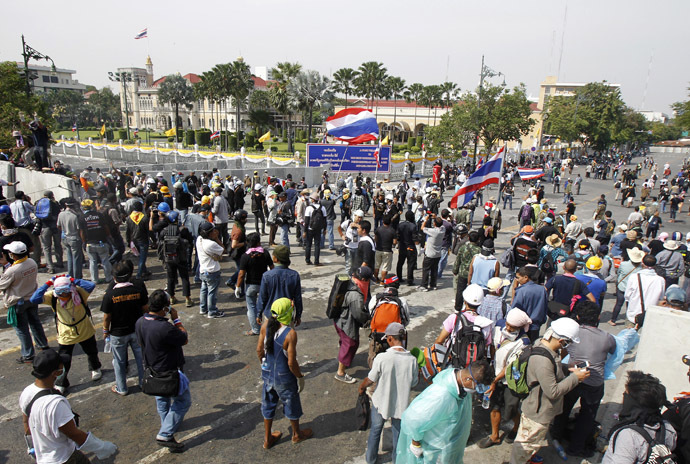 The worst violence of the week came on Saturday evening when a group of protesters opened fire at a pro-government rally, killing at least four people and injuring dozens more. Around 70,000 supporters of PM Yingluck had gathered in the Ramkamhaeng area of Bangkok.

Yingluck's government has refused calls by the protest movement for snap elections and has dismissed their demands as "unconstitutional."

Protest leader Suthep Thaugsuban – a former politician for the opposition Democrat Party – has demanded that Yingluck resign to make way for the formation of a "people's council" made up of "good people." Thaugsuban called for a nationwide strike on Monday

He has accused Prime Minister Yingluck of being a "puppet" for her billionaire older brother Thaksin Shinawatra. Thaksim was ousted from government by a military coup in 2006 and subsequently fled the country after being found guilty of corruption. He now lives in exile in Dubai, but remains an important part of the current government. 
Thai authorities announced over the weekend that Suthep was wanted for "the charge of insurrection which shall be punished with death or life imprisonment." An arrest warrant had already been issued for Suthep last week on charges of orchestrating the occupation of government ministries.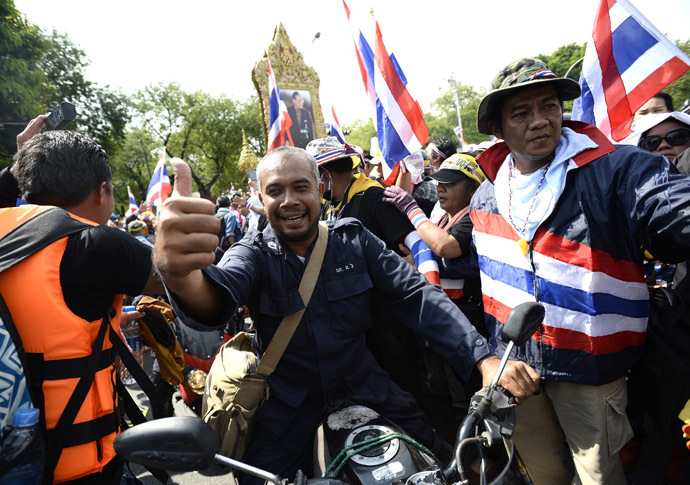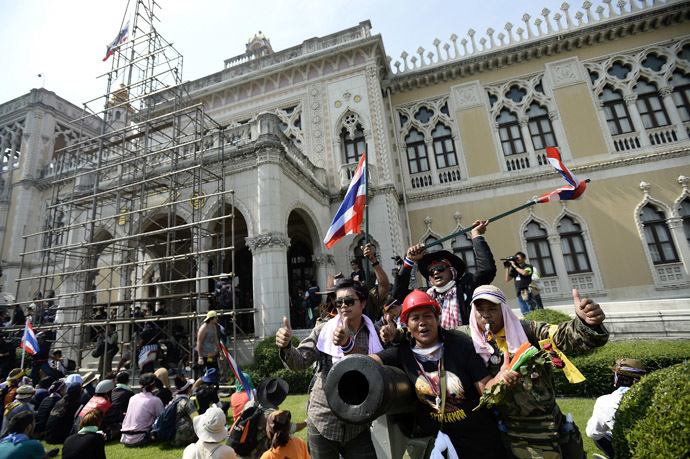 You can share this story on social media: