Govt activists clash with PM supporters in deadly Bangkok protests (PHOTOS, VIDEO)
Gunshots have been reported in the Thai capital as clashes between thousands of protesters turned violent. While anti-government activists call for the removal of the Prime Minister, proponents took to the streets to "protect democracy."
Gunshots have been reported in the Thai capital as clashes between thousands of protesters turned violent. While anti-government activists call for the removal of the Prime Minister, proponents took to the streets to "protect democracy."

Two persons were shot dead and at least 35 wounded in the outbreak of violence which took place between rival parties near a Bangkok stadium, Itar Tass news agency reports citing local police.  Thousands of Red Shirt supporters of current Prime Minister Yingluck Shinawatra had been staging a rally at the venue. 
However, following the violence, the leader of the Red Shirts, Thida Thavornseth, ordered tens of thousands of their supporters to end the demonstartion.
"In order to avoid complicating the situation for the government further, we have decided to let people return home," Thavornseth told protesters gathered in a Bangkok stadium, according to AFP.

At least five people received gunshot wounds and five others were injured by knives or rocks, according to officials at both the nearby Ramkamhaeng Hospital and the Dr Panya General Hospital who spoke to Reuters.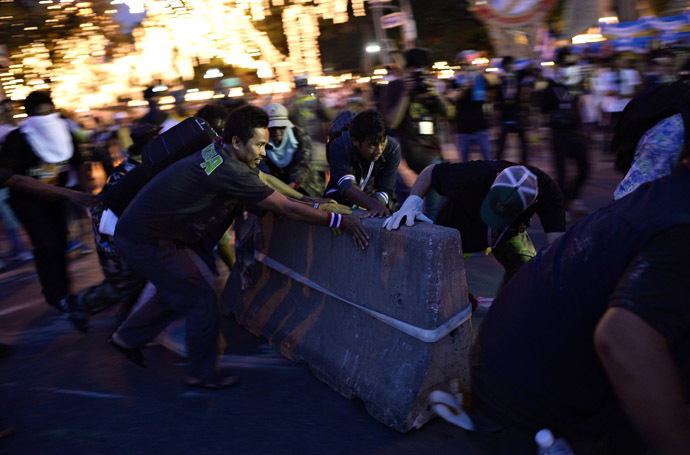 Earlier on Saturday, anti-government activists, or so-called Yellow Shirts, attempted to force entry into the Government House in Bangkok.

Protesters also attacked a bus near a pro-government rally, reported AFP. 
Meanwhile, over 750,000 web users employing the services of state telecom firm, Telephone Organization of Thailand (TOT), were left without internet access due to technical problems. TOT did not clarify whether the problems had been connected to the protests, but it had previously been reported that hundreds of opposition protesters occupied parts of the building housing its services. They also gathered briefly near Communications Authority of Thailand (CAT), another key state telecoms firm.
Over the last six days Bangkok has played host to the biggest anti-government rallies since 2010, with thousands of protesters calling for the removal of Shinawatra.
"Dozens of anti-government protesters are attacking a bus with paving stones and other plastic chairs, there are people in the bus," said an AFP photographer at the scene. Reuters witnesses said that two people were badly beaten in the incident. 
Following the violence, police said some 3,000 troops will be deployed to reinforce security in Bangkok.

"From tonight there will be soldiers out to take care of security," national police spokesman Piya Utayo said in a televised address.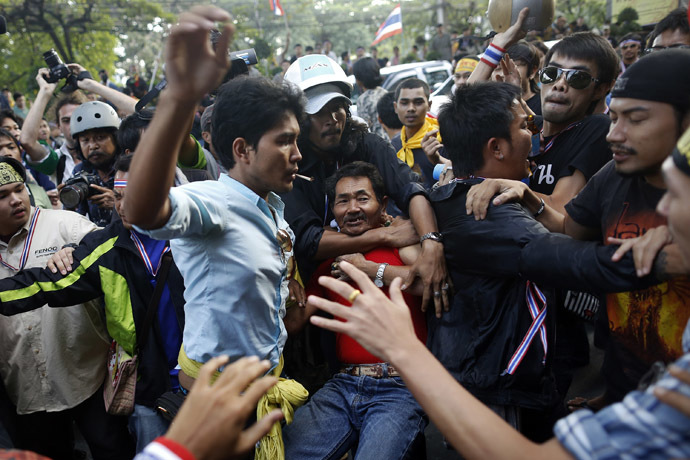 Earlier in the day, pro-government demonstrators took to the streets of the Thai capital on Saturday to support democratically elected Prime Minister Yingluck.

Organizers of the rally said that around 13,000 people gathered in Bangkok's Rajamangala stadium "to protect democracy" on Saturday. Supporters of the political group, the United Front for Democracy Against Dictatorship (UDD), flocked to Bangkok to defend the government elected by the majority of Thai people.
The 'red coats' chanted pro-government slogan and waved banners in solidarity with Prime Minister Yingluck Shinawatra. Sompote Prasartthai, a co-leader of the UDD group in Nakhon Ratchasima province told the Bangkok Post that there would be no confrontations between the 'red coats' and anti-government activists.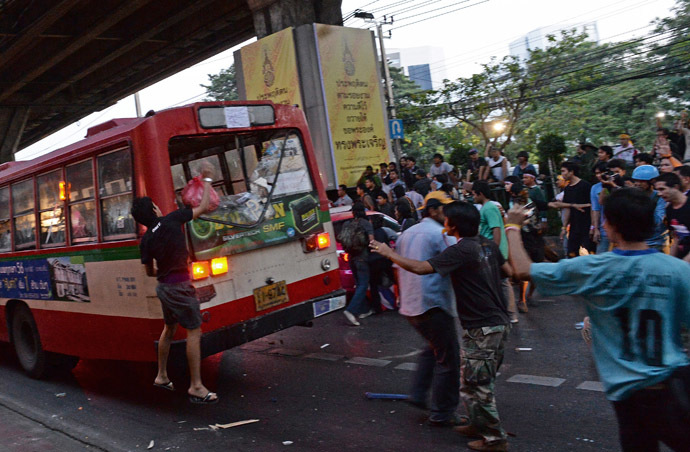 Meanwhile, opposition leader, Suthep Thaugsuban, promised the "defeat of the Thaksin regime" to his followers on Friday night. Anti-government protesters have staged a number of rallies over the last six days with attempts to occupy various ministries which culminated in the storming of the Royal Thai Army headquarters on Friday - in a bid to win military support.
The opposition wants to remove Prime Minister Yingluck Shinawatra and allege that her government is being controlled by self-exiled former leader Thaksin Shinawatra. Billionaire Thaksin was ousted in a 2006 coup, but still enjoys a lot of popularity in rural Thailand.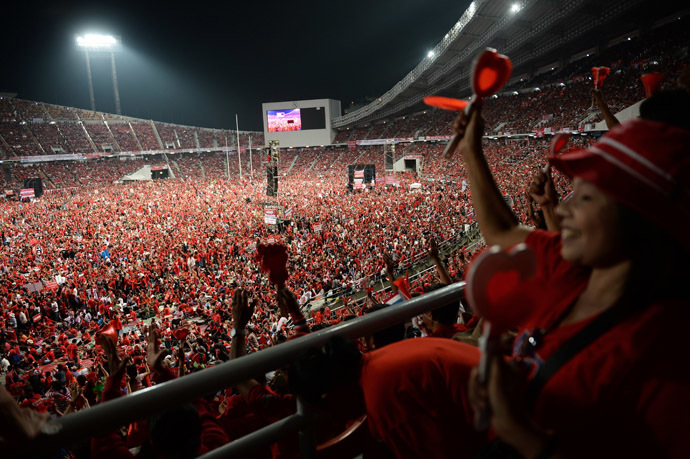 The former leader was convicted with power abuse two years after he was removed from power. Tensions were newly ignited in Thailand after the government attempted to pass a controversial Amnesty Bill at the beginning of November. The legislation, which was kicked out by the Senate, would have allowed Thaksin to return to Thailand without serving a jail sentence for his crime.

Prime Minister Yingluck has offered to negotiate with the opposition and has introduced special powers, allowing curfews and road closures in response to the unrest.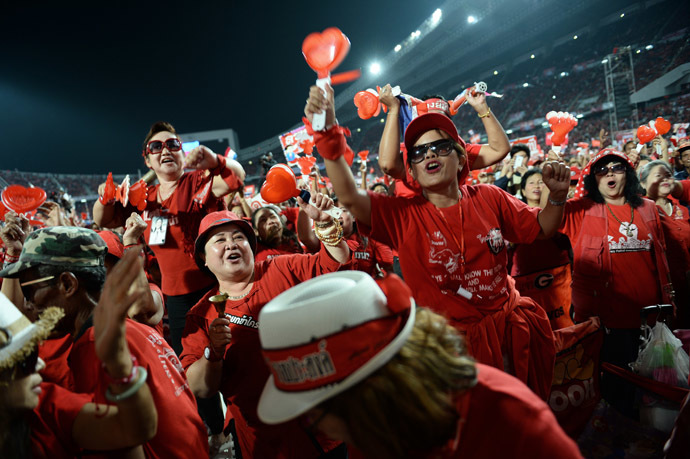 Suthep has refused to enter into dialogue with the Prime Minister and resolved to "demolish" her government and replace it with a "people's council."
"Our only goal is that there must be no Thaksin regime in Thailand anymore," protest leader Suthep said.
The main opponents of the current government are the middle classes who sharply disagree with the current government's authoritarian rule. Also Thailand's generals, aristocrats, big businessmen and royal advisers are embittered by the party's perceived disloyalty to the monarchy. 
You can share this story on social media: