Thai police crackdown on protesters as government rejects their demands (PHOTOS)
56 people have been injured as Thai police used tear gas, water cannons and rubber bullets against anti-government protesters, who are demanding the premier and government step down. The premier says their demands are unconstitutional.
"We are alternating between the use of water cannons, tear gas and rubber bullets. Rubber bullets are being used in one area only, and that is the bridge near Government House," the police told Reuters.

Protesters regrouped outside the heavily barricaded prime minister's office compound on Monday and repeatedly clashed with security services.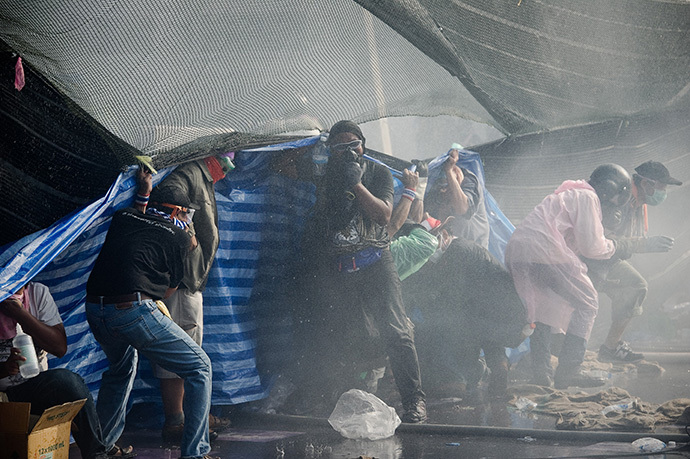 They threw rocks at policemen and tore down wire and concrete barriers.

Monday's violence took place around major institutions: Government House and Parliament and Metropolitan Police Headquarters in the historic quarter of the capital, which is very popular tourist destination.

It follows a deadly weekend of chaos in Bangkok, with three people killed and over 100 injured. 
ผู้ชุมนุมช่วยกันนำกระสอบเปียกน้ำคลุมแก๊สน้ำตาที่ถูกยิงมาจากฝั่ง ตร. pic.twitter.com/M64aLSk6Ti

— FM100.5 News Network (@news1005fm) December 2, 2013
Thailand's Prime Minister Yingluck Shinawatra has rejected protesters' calls for an unelected "people's council" to pick a new leader for the country.

The PM said a "people's council" is an unelected body of "good people" that would virtually suspend the country's democratic system.

"We don't know how to make it happen. Right now we don't see any way to resolve the problem under the constitution," she said in a 12-minute televised news conference.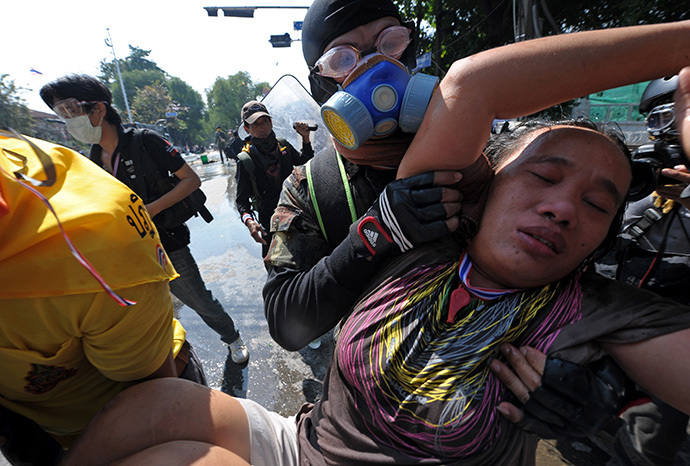 However, the premier said the government was willing to "open every door" for negotiation. That came after protest leader, Suthep Thaugsuban, indicated he wouldn't be satisfied with Yingluck's resignation or new elections.

"If there is any way I can restore peace I am willing to do it. The government does not have to hold on to power, we only want peace," Shinawatra said.

She also told the news conference that police would not use force against the protesters, which apparently proved false later.

Taken as a whole, the demonstrators' statements and the premier's words appear to indicate that negotiations aren't going to take place any time soon. 
Thailand's opposition movement leader Suthep Thaugsuban called for demonstrators to take over the police headquarters in Bangkok in a speech late on Monday as protests appear set to continue, the Canadian Press reports.

Earlier on Monday a Thai court issued a second arrest warrant for the protest leader on charges of "insurrection" over Suthep's attempt to topple the country's government, police said.

The warrant was issued "for the charge of insurrection which shall be punished with death or life imprisonment," said Chayut Thanataweerat, deputy police chief.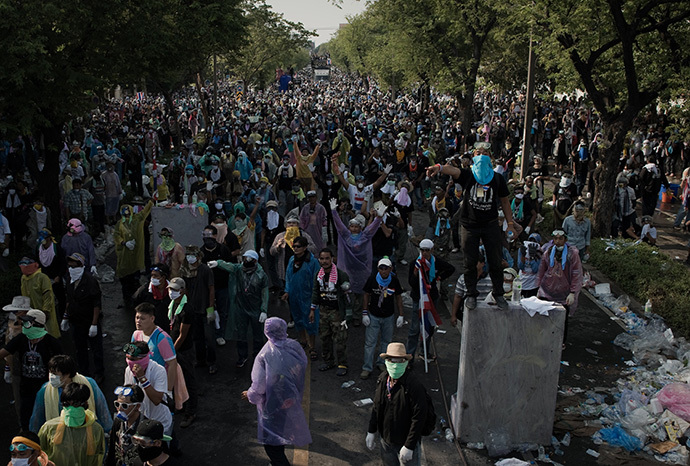 The protesters, mostly middle-class Bangkok supporters of the opposition Democrat Party, are demanding the prime minister's resignation, claiming she is a proxy for her brother: former Prime Minister Thaksin Shinawatra. He was deposed in a 2006 military coup, accused of widespread corruption and abuse of power. 

The unrest in Thailand has already led to a major international sport event being canceled there. It's been announced that the 2013 Race of Champions would not take place as planned on December 14-15 in Bangkok.

"Our thoughts are with the Thai people during this difficult period and we wish that a peaceful solution will soon be found," the event's official webpage reads.