Thai protesters cut lights to national police force, PM calls for talks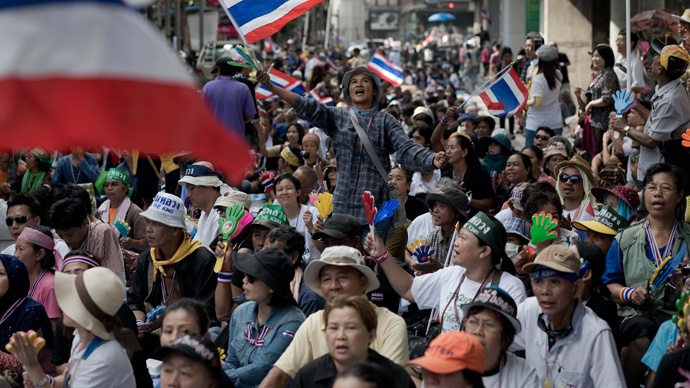 Anti-government protesters cut power at the Royal Thai Police Force headquarters and an adjacent police hospital. The move comes as the embattled Thai PM called on the opposition to enter talks after surviving a no confidence vote in parliament.
"I confirm the protesters pulled down several electricity cables outside the police headquarters. We are now on back-up electricity, we are using a generator. Electricity at the police general hospital has also been affected," Anucha Romyanan, deputy national police spokesman, told Reuters on Thursday.
Protesters also began marching towards the defense and education ministries, a day after demonstrators swarmed the government complex housing the Department of Special Investigations (DSI). The agency, often likened to the US Federal Bureau of Investigation, was evacuated as a precautionary measure.
The move was prompted by the DSI's decision to indict firebrand protest leader Suthep Thaugsuban.
Since occupying Thailand's Finance Ministry on Monday, Suthep has directed protesters nationwide in an attempt to paralyze the government. The protests, which first hit the streets of Bangkok three weeks ago, reached a fever pitch on Sunday.
Meanwhile, lawmakers in the ruling Pheu Thai Party-controlled lower house voted down a censure motion against Prime Minister Yingluck Shinawatra 297-134, AFP reports speaker Somsak Kiatsuranont as saying.
Following the vote on Thursday, Yingluck delivered a televised national address urging demonstrators to end their anti-government rallies.

"I propose to protesters to stop protesting and leave government offices so the civil service can move forward," she said.
"The government does not want confrontation and is ready to cooperate with everybody to find a solution," she added.
The PM also said the rallies were hurting the economy, and implored the political opposition to join a panel in order to find a way out of the current crisis.
"The government doesn't want to enter into any political games because we believe it will cause the economy to deteriorate," Yingluck said.
Yingluck has said authorities will "absolutely not use violence" to quash the demonstrations. Since then, protesters have accused Yingluck, who was voted into power two-and-a-half years ago, of being a mouthpiece for her self-exiled brother and former PM Thaksin Shinawatra.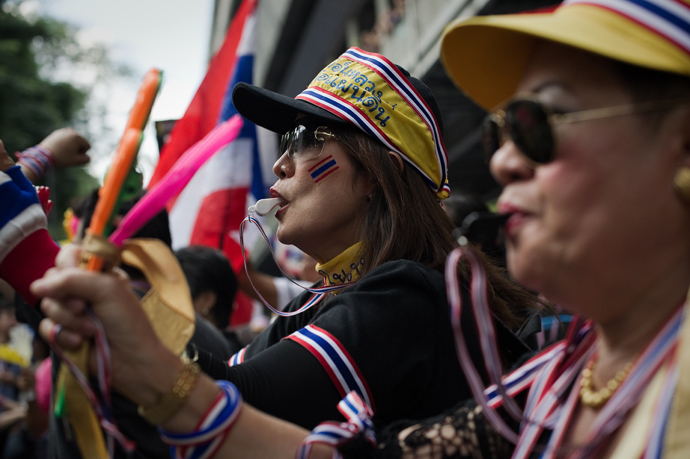 The PM has invoked special powers allowing curfews and road closures, although the protests have thus far remained peaceful. Authorities have also made no attempt to arrest Suthep, indicted for his alleged role in causing the deaths of more than 90 people in a 2010 military crackdown against the so-called 'red-shirt' protesters loyal to Thaksin.
"We like peaceful methods," Suthep told reporters on Wednesday.
Suthep, added, however, that if the opposition did not succeed, "I am prepared to die in the battlefield."

"The people will quit only when the state power is in their hands," the former deputy prime minister for the opposition Democrat Party said. "There will be no negotiation."
UN head Ban Ki-moon has voiced concern over the protests and called for all sides to exercise restraint.
The opposition has promised to put an end to the 'Thaksin regime,' marching on ministries and government bodies in a bid to shut them down. The have also demanded the government be replaced with an unelected 'people's council,' a move Yingluck rejected as unconstitutional.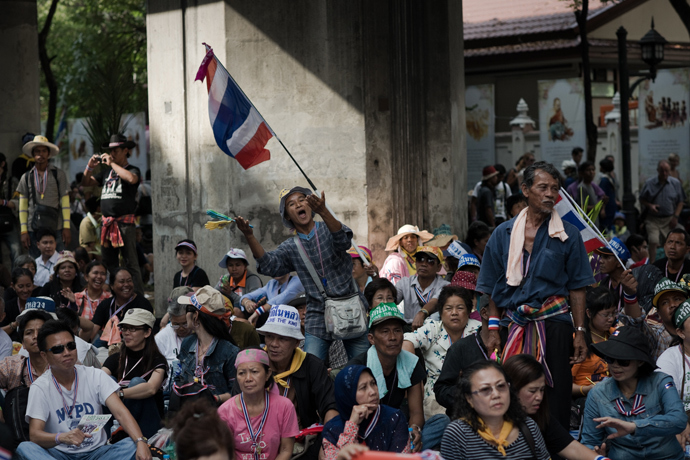 On Wednesday, thousands of flag-waving protesters had amassed around at least half-a-dozen of the government's 19 ministries, though many had left by late afternoon.

Protesters also descended on around 25 provincial halls mainly in the opposition Democrat Party's southern heartlands.

Thaksin, a billionaire telecommunications mogul who built his political power via a series of populist measures, has ensured the unfaltering allegiance of the rural poor, who twice voted him into office in 2001 and 2005. In 2006, he was ousted in a military coup.

His government faced allegations of corruption, authoritarianism, and suppressing the press. Thaksin was personally accused of tax evasion, lese majeste (insulting revered King Bhumibol – a major crime), and selling off assets of Thai companies to international investors.

Following his 2006 ouster, he briefly returned to Thailand in 2008, where he was convicted by a Thai court later that year of corruption and sentenced in absentia to two years in prison over a controversial land deal.

Failed efforts by his younger sister Yingluck to introduce an amnesty which would see her brother came home sparked the latest round of protests, predominately supported by a coterie of rich and powerful conservatives, military brass, bureaucrats and royalists with influence over the country's urban middle class.

You can share this story on social media: