'Get out! Get out!': Thai protesters demand 'people's revolution'
Tens of thousands of demonstrators took to the streets of Bangkok on Monday as peaceful protests from the previous day escalated into the occupation of key government buildings.
While initially spurred by a controversial amnesty law scuttled by parliament last month, protesters have become emboldened, and are now demanding the resignation Prime Minister Yingluck Shinawatra.

Opposition leader Suthep Thaugsuba initially assured the massed ranks of police that the demonstration would be peaceful, claiming that his supporters would be "blowing whistles and handing out flowers." But as Sunday's street crowds swelled to over 150,000 – the biggest since the last violent political crisis in 2010 – Thaugsuba called for a "people's revolution."

On Monday, thousands occupied about a dozen buildings throughout the center of the Thai capital, including the Army HQ and the Finance Ministry.

Most remained peaceful, but shouted "Get out! Get out!" in chants aimed at Shinawatra.

The prime minister, who faces a no-confidence debate in parliament Tuesday, has remained defiant in the face of the protests.

"I have no intention of resigning or dissolving the parliament," she told reporters. "The Cabinet can still function, even though we are facing some difficulties. All sides have shown their political aims, now they must turn to face each other and talk to find a peaceful way out for the country."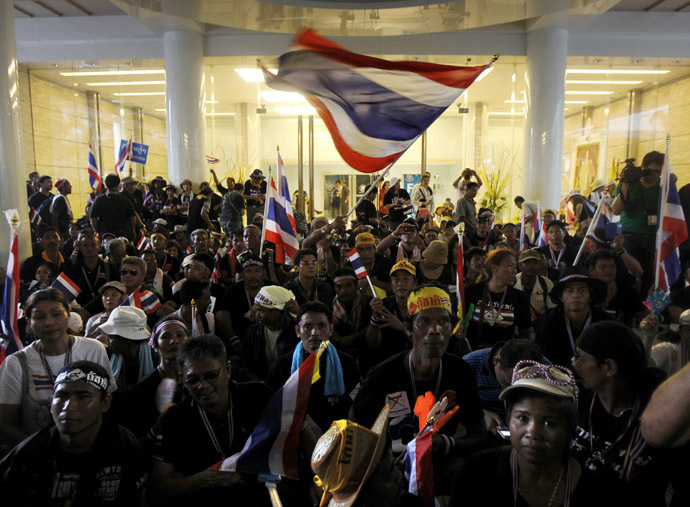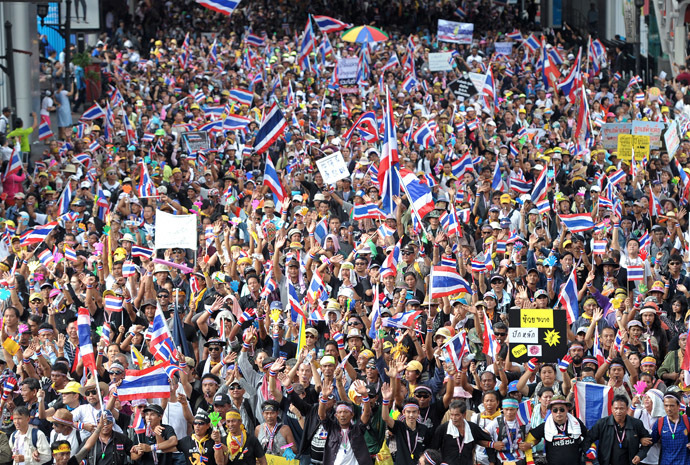 Shinawatra has condemned the occupation of the ministry saying that the mass protests could hurt investor confidence and undermine tourism.
Current Thai Prime Minister is the younger sister of former premier, who has been living in exile since 2008 to avoid a two-year jail term for abuse of power.

The protests follow weeks of rallies sparked by an amnesty bill that would allow the return of the former PM from exile and a pardon for those responsible for an army intervention in bloody rallies of 2010, in which over 90 people were killed. The legislation was rejected by the country's parliament but protesters remained in the streets, trying to topple the government, which they say acts as a stooge for former leader Thaksin Shinawatra.

Addressing the "People's Day" rally the opposition Democrat Party leader Satit Wongnongtaey hailed the big turnout on Sunday.

"How can this government survive? How can the Thaksin system survive?" he said to applause from the crowd.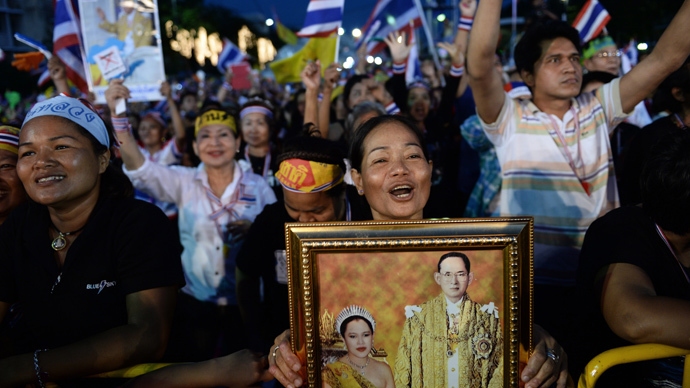 On Sunday, at least 20,000 pro-government Red Shirt activists staged a rally at a local football stadium to support Yingluck. Government supporters have vowed to stand by their prime minister, accusing the opposition of trying to provoke intervention by the army.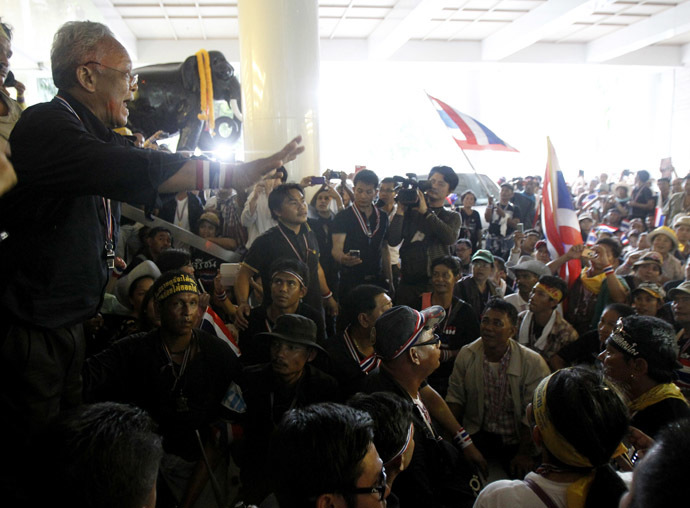 "It's not really important how many anti-government people there are," the group's leader Thida Thavornseth told AFP. "What matters is if they try to do something violent that could change the situation."

Both groups have vowed to stay in Bangkok and continue protesting as tension mounts. Police are preparing measures to prevent escalation of violence. 

"We will not use force and we will try to avoid any casualties," police spokesman Piya Utayo told AFP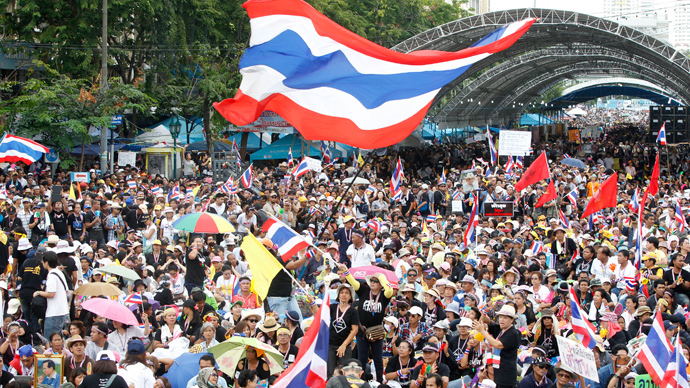 You can share this story on social media: