Thailand army declares martial law, insists move 'is not a coup'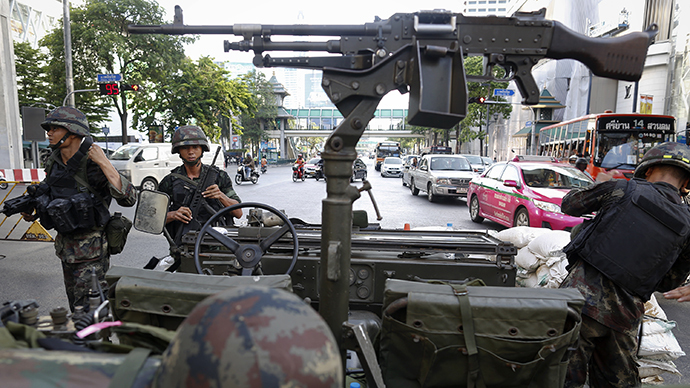 Thailand's military leaders declared martial law Tuesday in a surprise move which they say aims to restore peace and order after months of anti-government demonstrations and unrest have left the nation teetering.
Army chief General Prayuth Chan-ocha made the announcement on military television at 3:00 a.m. local time and assured the public that even though soldiers will now be in command of public security, order will rule the day. Dozens of people have been killed as a result of the protests since the demonstrations began in November 2013.
"We are concerned this violence could harm the country's security in general. Then, in order to restore law and order to the country, we have declared martial law," Prayuth said, as quoted by Reuters. "I'm asking all those activist groups to stop all activities and cooperate with us in seeking a way out of this crisis."
A decades-long dispute over power has culminated within the past six months with large demonstrations and unrest. The situation escalated earlier in May, when Prime Minister Yingluck Shinawatra was forced from office. Her ouster made way for sitting Prime Minister Niwatthamrong Boonsongphaisan, who said Monday that his administration would not step down.
The opposition demands that the government give way to an unelected administration that would then rewrite the constitution.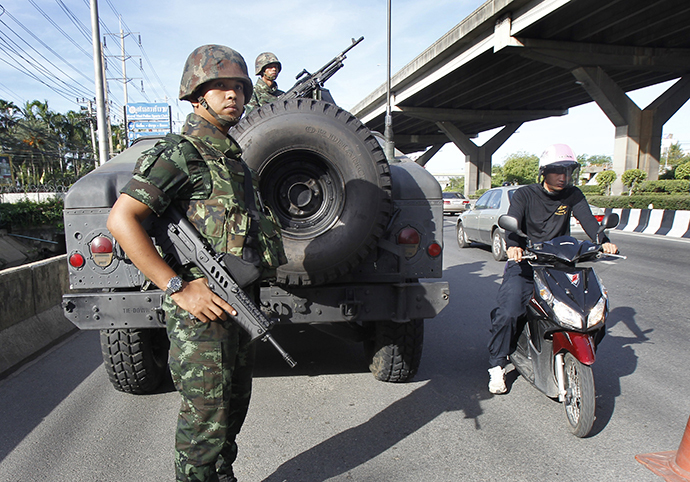 An army official speaking on condition of anonymity told the Associated Press that "this is definitely not a coup. This is only to provide safety to the people and the people can still carry on their lives as normal."
A decree put out by the country's armed forces has enacted media censorship that "prohibits all media outlets from reporting or distribution of any news or still photographs detrimental to national security," said a statement by General Prayut Chan-O-Cha.
Almost immediately following that declaration, satellite stations went off-air. AFP reported that broadcasts by television channels have been suspended, while an army statement read that the stations were taken off the air "in order that people will get the correct information and not distort information to deepen the conflict."
Thailand's armed forces have either launched or attempted 18 coups in the country's 81 years of parliamentary democracy.
Despite the army's claims, many analysts remain unconvinced that the action is not a move towards a full-blown coup.
Pavin Chachavalpongpun, associate professor at the Centre for Southeast Asian Studies at Kyoto University, told AFP that he believes martial law was simply a prelude to the military taking full control.
"I think what we are looking at is a prelude to a coup," he said. "It is all part of a plot to create a situation of ungovernability to legitimise this move by the army. I would not be surprised if the next step is a military coup or the military taking charge with the advice of the senate and leading to the appointment of a new prime minister. But certainly the military is trying to take power from the government."
You can share this story on social media: