Twitter sheds secrecy in $1bn IPO
Published time: 3 Oct, 2013 21:46
Edited time: 4 Oct, 2013 09:15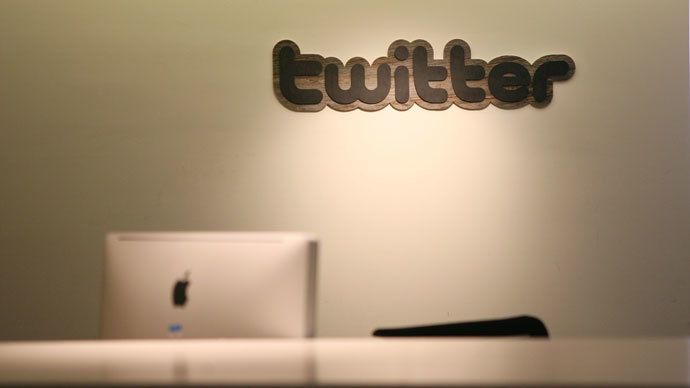 The value of the world's most popular microblogging site is no longer a secret. Twitter estimates valuation at $9.7 billion, and seeks to raise $1bn in its IPO, finally making financials public after filing for a 'confidential' IPO in September.
The eight-year-old service gave potential investors a first peek into its financial records when it released its prospectus in a Security Exchange Commission (SEC) filing on October 3 2013, nearly a month after Twitter announced it confidentially filed for in IPO on September 12.
The papers reveal the social media hub had revenue of $253.6 million in the first six months of 2013, coupled with a net loss of $69 million. In 2012, revenue almost tripled and reached $317 million. The filing predicts sales will hit $1 billion in the next year.

Our S-1 will be filed publicly with the SEC momentarily. This Tweet does not constitute an offer of any securities for sale.

— Twitter (@twitter) October 3, 2013
The most anticipated IPO since Facebook went public last year; the Twitter IPO will be an opportunity for investors to get in on a hot social media company.
Compared to Facebook, Twitter is much smaller. Twitter's 218 million monthly average users are only a fifth of Facebook's billion plus users. In Q2, Twitter posted $140 million in revenue, compared to Facebook's $1.8 billion over the same period.
Twitter is hoping to avoid the Wall Street fiasco of Facebook's IPO. After the social media site went public on May 18 2012, shares plunged an average of $1 per trading day, eventually settling near $38.00, far below the $50.00 starting price.
On Wednesday, before Twitter released its filing, Facebook CEO Mark Zuckerberg joked that he wouldn't be the best person to consult on "how to make a smooth IPO."
By confidentially filing earlier in September, under a new law that allows companies with up to $1 billion annual revenue to submit IPO filings without making their details public until shortly before the sale, Twitter sought to  minimize the public hoopla and intense scrutiny that surrounded the recent IPOs of high-profile internet companies like Facebook. 
According to the law, Twitter is required to make the documents public three weeks before it starts meeting with possible investors.
Analysts warn Twitter's IPO could flop because of the threat posed by new social media players such as Pinterest, Snapchat, and Instagram. 
The offering will be a big test for CEO Dick Costolo, who took over company reins in 2010, Twitter's third CEO in 3 years.
The Nitty-gritty
Twitter hasn't yet said which stock exchange it plans to list its shares on, though the company said it intends to use the ticker symbol 'TWTR'.'
Goldman Sachs was listed as the main underwriter, along with Morgan Stanley, JPMorgan Chase & C., Bank of America Corp., Deutsche Bank, AG, Allen & Co., and Code Advisors.
Jack Dorsey, the founder and chairman holds 4.9 percent of the company. Other shareholders include Evan Williams, co-founder with a 12 percent stake, Peter Fenton, a Benchmark Capital partner with 6.7 percent, and CEO Costolo with 1.6 percent.
At the end of June 2013, Twitter had a reported year-to-year revenue of $450 million, two thirds of which came from advertising, an indicator of how reliant the company is on ad money. In the same period, the company incurred a net loss of just over $100 million.
In the first half of 2013, more than 87 percent of income was sourced from advertising. This could prove to be a problem for the company, and investors during the IPO, since Twitter has acknowledged ad prices have been falling for the past five quarters. 
Twitter was launched by CEO Jack Dorsey on March 21, 2006 with just 24 characters, and has so far attracted more than 200 million users and become one of the most popular ways to share information online. It has become a uniquely live way to share information that newsrooms, protestors, and public figures use to transmit information in real time.