Twitter 'whispers' its IPO plans to Wall Street
Published time: 12 Sep, 2013 21:25
Edited time: 26 Sep, 2016 11:23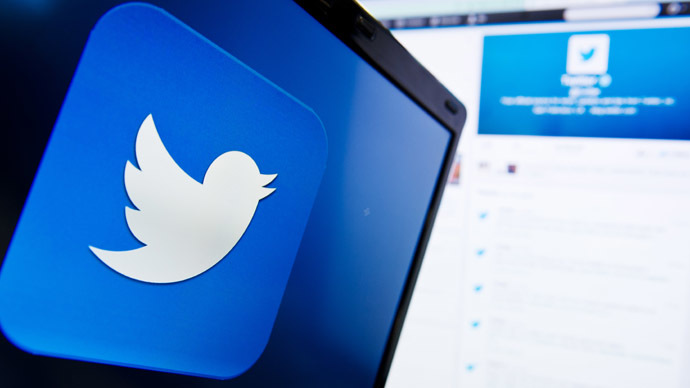 Messaging service Twitter has filed for a 'confidential' IPO, keeping its prospectus under wraps until shortly before a price is set. The IPO is likely to generate the biggest market buzz since the May 2012 debut of social networking giant Facebook.
San Francisco-based Twitter Inc. announced its plans on its official Twitter account.
We've confidentially submitted an S-1 to the SEC for a planned IPO. This Tweet does not constitute an offer of any securities for sale.

— Twitter (@twitter) September 12, 2013
Twitter is taking advantage of federal US legislation passed last year that allows companies with less than $1 billion in revenue in their previous fiscal year not to publicly disclose its IPO documents until the final few weeks before a price is set on the stock offering, AP reports.
By keeping some details of its business private for a little while longer, Twitter hopes to minimize the public hoopla and intense scrutiny that surrounded the recent IPOs of Facebook and other high-profile Internet companies such as online coupon service Groupon and web game maker Zynga.
Under the law on "confidential" IPOs, Twitter's financial statements and other sensitive information contained in the filing must become publicly available at least 21 days before company's executives begin marketing the IPO in a roadshow to investors.
Goldman Sachs will reportedly be a lead underwriter with a primary directive for organizing an initial public stock offering for Twitter, Bloomberg reports.
The messaging service is one of the fastest-growing social media services worldwide, and its IPO has been long awaited. Last month, GSV Capital Corp, one of Twitter's investors, valued the company at over $10 billion, putting Twitter's growth at about 5 per cent in the last three months.
However, some potential investors are worried that listing Twitter shares will suffer a similar fate as Facebook's after its IPO in May 2012.
The Facebook IPO was the biggest in Internet history with a peak market capitalization of over $104 billion. But the initial success quickly eroded after the shares hit the market with stock value falling sharply almost immediately once trading started. By June 6, $40 billion had been wiped off the company's value.
But speaking at the TechCrunch conference in San Francisco on Wednesday, Facebook CEO Mark Zuckerberg said that Twitter IPO has every chance of succeeding if the social network "focuses on what they're doing."
One reason for optimism is that Twitter has been able to capture mobile platforms with the app market, making it easier for people to tweet on the move.
Most of Twitter's revenue comes from advertising. Research firm eMarketer estimates that Twitter will generate $583 million in worldwide ad revenue this year, up from $288 million in 2012. By comparison, Facebook had ad revenue of $1.6 billion in the second quarter of 2013 alone. By 2015, Twitter's annual ad revenue is expected to hit $1.33 billion.
Twitter is also trying to capitalize on advertising in an effort to raise revenues with the purchase of MoPub, a mobile-focused ad exchange.
Since its March 2006 inception, Twitter has grown from a few thousand users to a mainstream service that counts presidents and politicians, celebrities, revolutionaries and journalists among its avid users. Unlike Facebook, which insists that its users go by their real names, Twitter leaves room for anonymity. Among Twitter's users are accounts for Jesus Christ, Lord Voldemort, Harry Potter's mortal enemy, and Dr. Samuel Johnson, the 18th century moralist and lexicographer.
Twitter's main appeal is in its simplicity and ability to distribute information quickly. Users can send messages of up to 140 characters, publicly or privately. Users can follow any other user, but the relationship doesn't have to be reciprocal. This has made the service especially appealing for celebrities, politicians and companies using the service to communicate directly with customers.