You tweet, you quit: New app tracks job haters on Twitter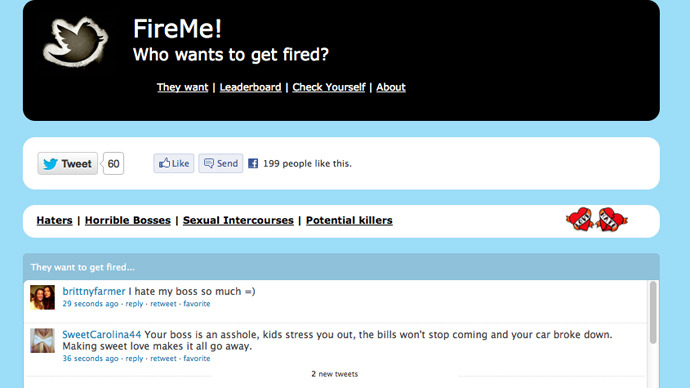 A new Twitter application has entered the market with the promise of tracking people who voice anger against their bosses and colleagues on social networks.
Think twice before sharing it with your followers on twitter as the FireMe! App will track and display less than appropriate tweets. Once tracked, messages are divided into four categories: "Haters," "Horrible Bosses," "Sexual Intercourses," and "Potential Killers."

Developers at the University of Hanover in Germany studied the market before product launch and discovered that 22,000 people in a single week last June tweeted negative messages regarding job related issues.
Tracking messages is done through an algorithm that scans for telltale phrases indicating someone had tweeted something negative about an employer. 
Once spotted, FireMe! sends out an alert to the account holder with the message.
"Can you imagine if your boss gets to know that you said: 'I hate my job so much!' You said that on Twitter and the whole world can see it!" 
The application also includes a FireMeter!, a scale, calculated on the basis of how often they mentioned their job negatively in the past 100 tweets, which measures the chance of being fired for misconduct on the web.  
The German team says that inexperienced users should benefit from FireMe! alerts as the "potential dangers of personal, negatively loaded tweets remain abstract for most users, until the damage has been done," the Economic Times reports.
I hate my job. Can't wait to get out that place. I'm gonna miss my peeps though.

— Jahaira (@AlvaradoJahaira) March 27, 2013
Great.... Now I have to work all this weekend. I hate my job with a burning passion.

— Megan Graham (@mlgraham11) March 27, 2013
I swearrr im kill my boss if he dont STOP hittin on me lol

— ♥♥Jazz♥♥ (@baddyella_jazz) March 24, 2013
You can share this story on social media: