De-invest from the West: Russia urges companies to return assets to the motherland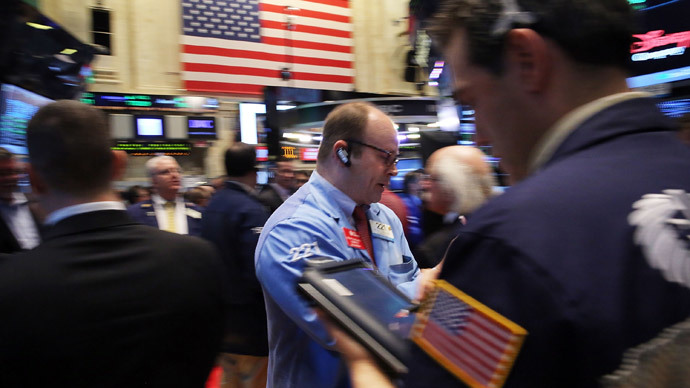 As the US and Europe escalate talks of sanctions, Russia is recommending companies unregister abroad and bring their shares to the Moscow Exchange to protect from possible future sanctions and provide economic security.
"Companies that have listed shares on the New York Stock Exchange, London need to seriously reconsider," Russia's Deputy Prime Minister Igor Shuvalov told reporters in Moscow on Tuesday.
Sanctions by the West have ramped up over the geopolitical action in Ukraine, and Russian business and politicians have been the target of asset freezes and visa bans.
The government will not force companies to delist and return to Russia, but Shuvalov said the Russian state and the Moscow Exchange will work together to create "attractive conditions" for companies to make the switch.
"This is a question of economic security," the minister said. The US continues to ramp up economic sanctions against Russia, which has spooked investors and resulted in a massive $70 billion outflow of capital since the beginning of 2014, according to Economics Minister Andrei Klepach.
Russian stocks have plummeted over the crisis in Crimea and Ukraine, and are the worst performing stocks worldwide. Since the beginning of the year, stocks have dropped more than 10 percent. Poor performance is also linked to a general trend in emerging markets, which are losing as the US Federal Reserve cuts back its multi-billion dollar bond-buying program.
Looking east to Singapore, Hong Kong
The ruble has been the worst-performing currency amongst emerging markets, and has lost roughly 10 percent since January 2014.
But the Kremlin is making moves to hedge against future sanctions, and is already discussing pricing oil and gas in the ruble, not the dollar. Moscow is also looking to Eastern markets, seeing financial exposure to the West as a threat.
"With such complexities in capital markets in the West, I hope there will be new opportunities for our issuers in other markets, including Singapore and Hong Kong," Shuvalov said.
Among other economic woes, the government's firm-handed suggestion should be taken up by company boards of directors, Shuvalov advised. Once companies are ready to switch back to the Moscow Exchange, consultants and investment banks will handle the transition.
Much smaller than New York's $13.4 trillion, or even London's $3.6 trillion exchanges, Moscow's Exchange has about a $1 trillion market capitalization. There are 68 Russian companies listed on the London Exchange and 2 on the New York Stock Exchange.
Listing Russian companies on the Moscow Exchange for IPOs and the privatization of state-companies will also be made a priority, Shuvalov said. Many Russian companies choose London as an IPO location, as it's closer to investors and less volatile. In 2014 hyper-retailer Lenta launched an IPO in London raising $952 million, which fell short of expectations. Other Russian retailers, like Detsky Mir, are postponing planned IPOS, and are waiting for market conditions to improve.
In 2016 the Kremlin plans to privatize large portions of several state-owned companies, which could raise up to $28 billion for the budget.
You can share this story on social media: