Putin promises crackdown on $111bln offshore money leak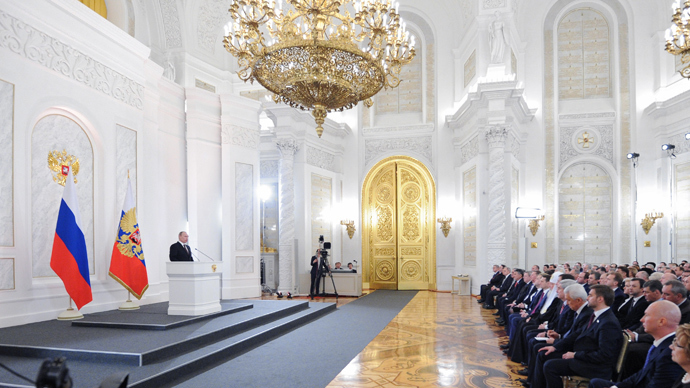 An estimated $111 billion of Russian money, or 20 percent of the country's exports, is 'lost' offshore, President Putin said. To make Russian companies more transparent, he proposes stricter penalties for firms that avoid paying domestic taxes.
Addressing officials in a state of the nation address in Moscow, Putin balked at the capital flight and said losses incurred have directly damaged the state budget, and that forces behind Russia's economic slowdown are internal, not external.
Half of Russian companies' foreign investments each year leave Russia, Putin explained in front of Assembly members at the Kremlin hall on Thursday.
Rosneft's March acquisition of TNK-BP for $55 billion made it the world's largest listed crude oil producer, but Russia lost out because it took place outside Russian jurisdiction. Another $25 billion was lost to offshores as well.
"These numbers stand for the drain of capital that should be working in Russia and direct losses for the national budget," the President said.
To keep tax money in Russia, Putin proposed companies that wish to register offshore will still be subject to Russian state taxes, and won't receive any government funding. They also will be barred from participation in bidding at state auctions, like that of Rosneft.
"If you want to go offshore, be my guest, but the money stays here," Putin said.
Putin's message on the dangers of an offshore economy echo his comments from last year's address, but he hasn't seen any tangible results.
"Frankly speaking, the results (of fighting money leaking offshore) are hardly noticeable," the President said. Company directors that try to conceal or distort the status of their company, in the future could be criminally liable, won't receive any government funding, but will still need to pay Russian taxes.
Russians invested $70 billion during the first quarter of 2013 into their offshore jurisdictions, according to the data from the Central Bank of Russia.
Companies that want to register in foreign countries will no longer receive perks from the Kremlin- no access to government funds, including loans from the state bank Vnesheconombank, and state agency contracts will be forfeited.
Russia's economic growth is unlikely to exceed 1.5 percent in 2013, and with a slump in oil prices expected, collecting companies' tax contributions is vital in funding the budget.
In the first 11 months of 2013, the Russian federal budget has a surplus of $17.1 billion, or about 1 percent of GDP, according to Finance Ministry released today. Between January and November, revenue totaled $358 billion, 91.1 percent of the total budget revenue for 2013.
In May 2013, it became illegal for Russian government officials and their families to own foreign assets abroad. Real-estate and bank accounts were ordered to be sold, and assets were ordered back to Russia.
Creating an internal domestic offshore tax zone, likely in Russia's Far East, had been under serious consideration among finance ministers, but was later shelved.
Developing economies are especially susceptible to capital flight, as tax-dodgers, corrupt officials, and criminals stash their wealth abroad.
You can share this story on social media: