Russian retailer Lenta shares dip on London IPO debut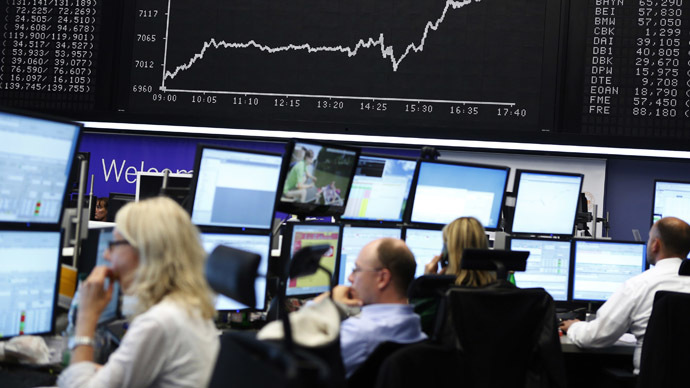 Shares in Russian hypermarket chain Lenta have dipped on the first day of trading on the London Exchange. The company only managed to raise $952 million in its IPO, short of the estimated $1 billion.
Lenta, trading under the ticker symbol 'LNTA:LI' fell to $9.735 at 8:10a.m. in London, before recovering to $9.94 at 11:03a.m.
A $10.00 share price was decided on Thursday, after the company narrowed the price range twice. The original global depository receipt (GDR) range was set at $9.50-$11.00 on February 14, which would have set an upper range market capitalization at $4.95 billion. The upper limit was reduced to $10.25 on Thursday, with the company valued at $4.32 billion.
Trading on the Moscow Stock Exchange, MICEX, will begin on March 6.
The IPO "was a success given very turbulent markets and investor concerns over the ruble rate and Ukraine," Natalya Kolupaeva, a Moscow-based analyst at Raiffeisen Bank, said, as quoted by Bloomberg.
An ousted president, unrest in Crimea, and political uncertainty have taken its toll on the Ukrainian economy, which is nearing default.
A weakening ruble is also reason for a disappointing IPO. The Russian Central Bank has stopped intervening, and instead is widening the trading corridors of the ruble, which on Friday was 36.1327 against the US dollar. 2013 disappointed with 1.3 percent growth, which dramatically slowed, but is still much higher than European economies.
TPG Capital, a US investment fund with a Moscow office is co- managing the Lenta IPO, and Rothschild is acting as financial advisor.
Banks advising Lenta's IPO are JP Morgan Chase & Co., Credit Suisse, UBS, Deutsche Bank and VTB Capital.
TPG owns a 49.8 percent stake, the European Bank for Reconstruction and Development holds 21.5 percent, and Russia's second largest state bank VTB has 11.7 percent.
The main underwriters will be granted a 15 percent option. Up to 15% of the placed securities - an option that will provide shareholders an offer price of the book runners. The company itself does not receive funds from the IPO.
The Lenta chain was founded by Oleg Zherebtsov in St. Petersburg in 1993, and has 77 stores in Russia, and five distribution centers.
A number of Russia retailers are eying 2014 for an IPO. Russia's largest children's retailer, Detsky Mir, plans to offer an IPO in London mid-March, which could raise up to $500 million, according to the director of strategy and analysis Aleksey Voskoboynikov.
The Russian arm of German-based retailer Metro is also expected to file for an IPO in the first half of this year.
You can share this story on social media: